In commemoration of a long standing international partnership of more than 20 years with UK's leading business-facing university, The University of Hertfordshire (UH), INTI International University & Colleges recently hosted the launch of the Centre for UH Programmes at its Subang campus. Officiated by His Excellency Paul Rennie, Deputy British High Commissioner to Malaysia, Professor Damian Ward, Dean of the Hertfordshire Business School, University of Hertfordshire and Mr Timothy Bulow, Chief Executive Officer of INTI International University and Colleges, the event saw over 350 INTI students across various disciplines of the UH programmes at INTI along with fellow alumni to celebrate the momentous occasion.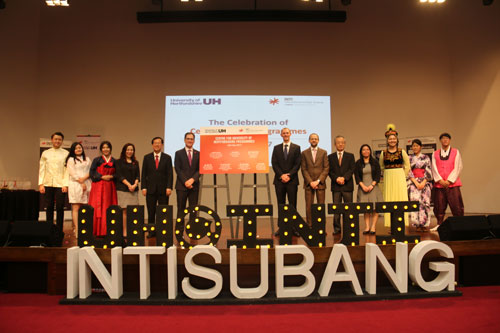 (third from left to right) Dr Jane Lim, Chief Executive of INTI International College Subang, Dr Tan Yew Sing, Co-Founder of INTI, Mr Timothy Bulow, Chief Executive Officer of INTI International University & Colleges, His Excellency Paul Rennie, Deputy British High Commissioner to Malaysia, Professor Damian Ward, Dean of the Hertfordshire Business School, University of Hertfordshire, Emeritus Professor Dr Lee Fah Onn and Ms Irene Wong, Dean, Centre for UH Programmes, INTI International College Subang flanked by international students from the UH programmes during the launch of the Centre for UH Programmes.
A partnership which started in the early 1990s that introduced the 2+1 degree module for Malaysian students to spend their final year of degree abroad in the UK, has grown tremendously to the current 3+0 degree in seeing thousands of graduates earn their degrees and gain employment all over the world with some even becoming successful entrepreneurs. From the onset of the collaboration, INTI's enterprising co-founders, Dr Tan Yew Sing and Emeritus Professor Dr Lee Fah Onn, were propulsive in ensuring the collaboration promoted cross-cultural interactions and immersion to help develop a globalized generation of graduates.
Sharing the same vision as the co-founders, Chief Executive Officer of INTI International University and Colleges, Mr Timothy Bulow, in his opening remarks elaborated INTI's strength in being a partner of the Laureate International Universities network which has enhanced the relationship with UH over the 20 years to promote a globalized way of teaching and learning for today's young learners.
"One of the greatest testament to this meaningful partnership between INTI and UH is the aligned vision on employability, which is at the core of our programmes and processes, enabling students to gain practical experiences and hands on learning into actual business issues both in and outside of the classroom," shared Mr Bulow in his remarks.
The event also featured a panel discussion on the importance of gaining a degree which brought together a panel of INTI alumni and students from the UH programmes at INTI. Coming from diverse work backgrounds, the panel shared their experiences on being students and how life at INTI prepared them with the necessary skills to excel at their respective work places.
"You should not mistake skills for education. Skills are things you learn to make you better whereas education gives you experience, relationships and a personal connection – a people element that online sources can't usually provide. These are instrumental especially when it comes to sharing knowledge and these are the kind of things an education can give," shared Justin Yong, INTI alumni from the class of 2016 who is currently on an apprenticeship programme with the Chief Information Officer at DiGi Malaysia.
Elaborating on the point, fellow panelist and UH alumni from INTI, Lester Hiew, shared how he gained valuable leadership experience as the former President of the UH Club at INTI to helming other leadership roles which reflected greatly on his resume and impressed his employers at his first interview upon graduation.
"All the experiences you gain from your time at college make up the person you are when you go out to the working world. Employers are looking at your experiences beyond your academic qualification and you need to be able to showcase that. Beyond having it written on paper, it is also important to be able to tell your story and articulate how you have demonstrated these leadership skills in college," shared Lester who is currently a Management Associate with Coca-Cola Bottlers Malaysia Sdn Bhd.
INTI student and successful social entrepreneur who founded Refuge for the Refugees, Heidy Quah, advised students in attendance to not limit their whole education experience and to get involved in activities outside of the classroom. Focusing on maximizing the college experience, Heidy shared how her own out-of-classroom experiences ended up tying back to what she studied which she feels has enriched her college experience so far. Izzat Shaharel, Director of Business Development at DJ & Izzat Enterprise shared, "A degree will help you get one foot in the door and it may not be the thing you will be end up doing for the rest of your life. For example, I graduated with a background in finance but I have not ventured into the finance industry yet. While that may be the case, I have been able to seamlessly transition into any work environment based on the experiences I gained in college and the ability to adapt to any situation."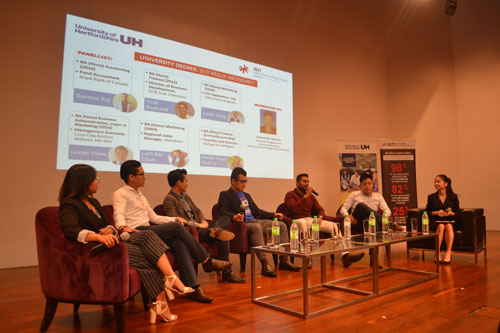 (left to right) Fellow INTI student Heidy Quah, along with INTI alumni Izzat Shaharel, Justin Yong, Lester Hiew, Ganesa Raj and Lum Kar Chun during the panel discussion which was moderated by Emery Tan Siew Pei, Head of Programme from INTI Subang's Centre for UH Programmes.
Echoing the message of the alumni, His Excellency Paul Rennie, in his address to the students during the launch, emphasized the importance of a degree paving the way for future possibilities. His Excellency shared how the learning at university further to the various skills and knowledge students gain are all critical to getting them through the door on day one. Driving the point back home, His Excellency share that a graduate's ability to work together, collaborate, think and challenge ideas with people of different cultures and background is what sets them apart to thrive in their careers.
The event came to a close with an award ceremony to which successful UH alumni and students from INTI were recognized for their great accomplishments in various areas. Furthermore, 15 of INTI's lecturers and administrative staff from INTI International College Subang were recognized for their service, spanning 10 to 25 years, which testifies to the dedication and hard work in maintaining the high standards of the UH programmes offered at INTI.
With over 20 years of collaboration, INTI and UH continue to be a force to be reckoned with in providing quality education for young Malaysians who are now sought after by some of today's leading multinational companies. This is further demonstrated through INTI's strong industry linkage with over 450 companies which has resulted in INTI's high employability rate in 2015 validated by BDO Governance Advisory with 98% of INTI graduates being employed within six months of graduation with 82% earning incomes higher than the market average and 25% of graduates receiving job offers even before they graduate.