Finding ingenious ways to automate for a greener environment, four mechanical engineering students from INTI International University (INTI) developed a robot with built-in Artificial Intelligence (AI) for the purpose of keeping recreational parks clean by picking up and sorting out garbage for recycling. The second year students who recently returned from their journey to Universidade Salvadore (UNIFACS) in Brazil, where they competed at the Laureate Award for Excellence in Robotics Engineering, proudly flew the Malaysian flag high by snatching the second place title at this year's competition.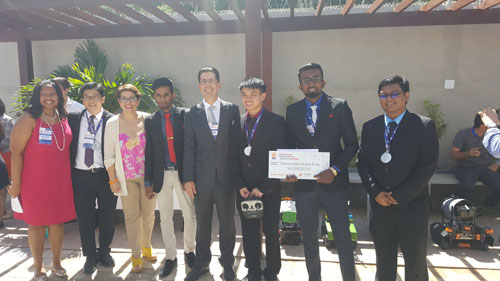 (left to right) Diana Faraón, International Office Coordinator, UNIFACS; Ir. Dr. How Ho Cheng, Imarú Arias, Academic Director for Engineering and Business, Laureate Network Office; Sunder Raj Sundara Murthy; Gustavo Fiod, Electrical Chief Engineer, Ford Motor Company; Chan Wah Biao, Tushentan Ravishandran and Vinod Krishnan K Arvindra Dass.
Under the proper guidance of faculty members, Associate Professor Ir. Dr. How Ho Cheng and Dr. Gilbert Thio from INTI's Faculty of Engineering and Quantity Surveying, the four friends came together to develop a proposal plan for the building of a robot that fit the year's competition theme, 'Environmental Sustainability' with an emphasis on cleaning and maintaining parks with the use of a robot.
A process which started last year, the students worked tirelessly on brainstorming with their supervisors to generate ideas and work out creative solutions for their proposal. Having received news in November 2016 of their proposal being successfully shortlisted to be one of the top six selected proposals of 16 other worldwide submissions from partner universities within the Laureate International Universities network, the students then embarked on the next phase of their robotics journey, which was to build and complete a functional AI robot prototype which was then brought to the finals of the competition held in Brazil.
Despite being only second year students from the mechanical engineering programme and having limited knowledge and experience in electronic circuits and coding, Sunder Raj Sundara Murthy, Vinod Krishnan K Arvindra Dass, Chan Wah Biao and Tushentan Ravishandran creatively picked up the necessary skills to learn the trade from fellow faculty members, friends and online videos via YouTube.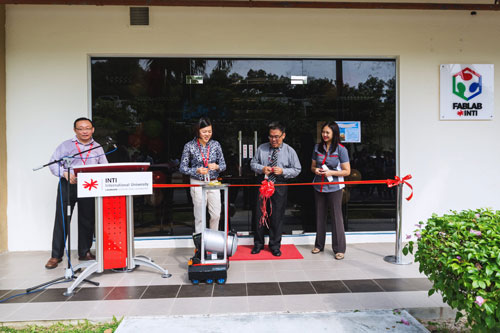 (left to right) Dr Tezara Cionati, Head of Discipline for Engineering from the Faculty of Engineering and Quantity Surveying, INTI International University; Dr Joseph Lee, Deputy Vice Chancellor, INTI International University and Dr Lai Yin Ling, Dean, Faculty of Engineering and Quantity Surveying, INTI International University officially launching FabLab INTI with the help of the Eco Park Rider.
"Self-learning was definitely key for these students and they made the most of all the resources available to them. I was very impressed by their learning capability and unconventional means of picking up important skills through the Internet and by observation, as it helped them tremendously in developing the robot," shared Associate Professor Ir. Dr. How who was the lead supervisor for the team who helped the students tremendously from providing advice to helping with project management.
Fellow supervisor, Dr Gilbert also acted as consultant to provide guidance whenever the students encountered practical problems in writing codes and in integrating various electronic components into a system. The team worked effectively together and were always in accord in all matters making it a smooth sailing process among peers. The team further impressed the judges with their presentation and communication skills which contributed tremendously towards articulating their concept and ideation process during the question and answer session with the panel of judges.
"All teams had the same theme, requirements and rules, but it was amazing to see the different creative and unique final designs of all the teams. This goes to show that there are no boundaries or limits to innovation. I was also very proud that our students took the opportunity to visit each of the participating teams' booths to understand their designs, and to exchange knowledge. I always believe that sharing is the best way of learning, and I was proud to see our students demonstrated this behavior," shared Associate Professor Ir. Dr. How who found the competition to be a great platform for idea generation and a showcase of innovation excellence.
Team leader, Sunder Raj Sundra Murthy shared how his team, first time competition participants, faced different challenges throughout the ideation, designing and development of the robot, aptly named Eco Park Rider but managed to overcome them. They also faced some tough competition in Brazil which motivated the team to do their best.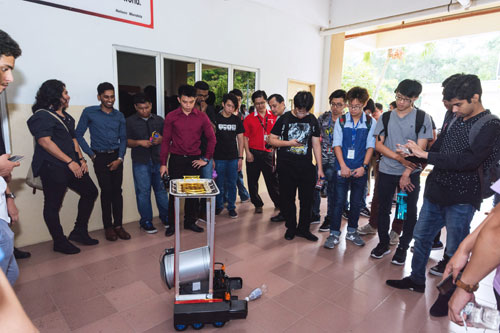 Student trying some of the equipment available at FabLab INTI.
"When we were in Brazil, we found out that we were the only team of four mechanical engineering students. All other teams were students with an academic background in electrical, electronic or AI which gave them the extra edge in this competition. We realized that the odds were somewhat against us in those terms but we also knew that opportunities like this don't come easily. So, we persevered and we are extremely proud of our achievement in Brazil," shared Sunder Raj.
Aside from winning the second grand prize which include a cash prize of USD6, 000, the students had the opportunity to immerse in the Brazilian culture and visit prominent landmarks in Rio de Janeiro such as the Copacabana beach. Travelling around Rio de Janeiro with fellow contestants allowed the students to indulge in cross-cultural conversations and build camaraderie with fellow Laureate students from across the globe. The experience also provided INTI students with insights into the advancement of technology and innovation of the various competing countries.
Furthermore, Associate Professor Ir. Dr. How had the opportunity to visit the lab of UNIFACS and appreciate the different teaching and learning environment specifically in UNIFACS, which he could gauge based on his interactions with the Dean and professors of the host university.
Returning home with the award winning robot, the four friends had the opportunity to showcase the Eco Park Rider to first year engineering students, INTI staff and guests during the official launch of FabLab INTI, the newest establishment at INTI International University. Launched by Dr Joseph Lee, Deputy Vice Chancellor of INTI International University, FabLab INTI is the first of its kind in a private education institution in Malaysia which provides students the opportunity to engineer their ideas to reality. Equipped with facilities that are essential for prototyping, student innovators across various disciplines can access to FabLab to bring their imagination to life with the guidance and assistance of the Lab Advocates.
One such example of a working prototype was the Eco Park Rider, which was built in parts at the FabLab. Making full use of the resources and facilities on campus, the group of students were able to create the functioning robot that made its way to Brazil for the competition. Fellow first year engineering students in attendance at the launch had the opportunity to watch the demonstration of the Eco Park Rider while lecturers and faculty members encouraged them to pursue such excellence in the hopes of enhancing their academic experience.
INTI students and faculty members are provided various opportunities to gain international experience and exposure through international competitions. As part of the Laureate International Universities network, INTI students are provided exclusive platforms to engage in cross-cultural dialogues with fellow Laureate students from around the world.
With over 30 years of experience in the education industry, INTI continues to be a force to be reckoned with in providing quality education for young Malaysians who are now sought after by some of today's leading multinational companies. This is further demonstrated through INTI's strong industry linkage with over 450 companies which has resulted in INTI's high employability rate in 2015 validated by BDO Governance Advisory with 98% of INTI graduates being employed within six months of graduation with 82% earning incomes higher than the market average and 25% of graduates receiving job offers even before they graduate.