Having over 450 industry partners, INTI International University & Colleges (INTI) has always had its focus on enhancing students' industry experience. INTI's Centre of Art & Design (ICAD) yet again showcases its efforts in nurturing students to be career ready, this time via the Restroom Cosmetic Makeover Project 2021.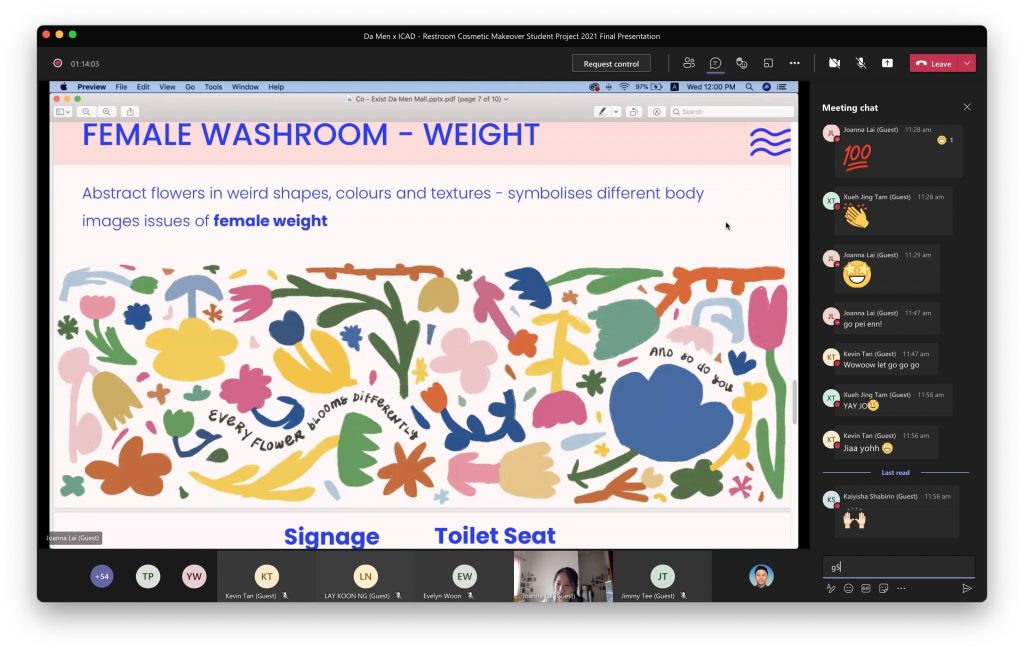 Students from the Bachelor of Arts (Hons) in Graphic Design programme pitch their idea on inculcating Body Positivity as part of the washroom revamp concept.
Recognizing the ever competitive workplace environment today, Dr Jane Lim, Chief Executive of INTI International College Subang said, "Guided by the tagline 'Your Future Built Today', INTI is bridging the needs of tomorrow through industry exposure to ensure our students gain the competencies needed for the workplace of the future."
The Restroom Cosmetic Makeover Project 2021 in collaboration with Da Men Mall is a project that saw students coming together to pen out various product briefs to improve the washroom experience for mall visitors, an effort by INTI to foster graduate employability among students.
Although the situation may seem bleak right now with Malaysia's graduate employability rate falling to 84.4% in 2020, down marginally from 86.2% year-on-year, as announced by the Ministry of Higher Education (MoHE)[1]recently, INTI has not let its guard down.
As a pioneer in the Malaysian higher education industry, INTI continuously works hard to come up with employer projects, industry collaborations, bootcamps, leadership series and other initiatives to equip students with the 21st century skill sets that include critical thinking, collaboration, communication and creativity on top of global employability.
"The 10-week project was a space for students to communicate with industry practitioners to understand their briefs and expectations while maintaining a professional conduct," shared Kevin Chan, an ICAD lecturer and main liaison of the project, who added that students were given a chance to present their proposals to representatives from Da Men Mall to further train their verbal and visual communication etiquette.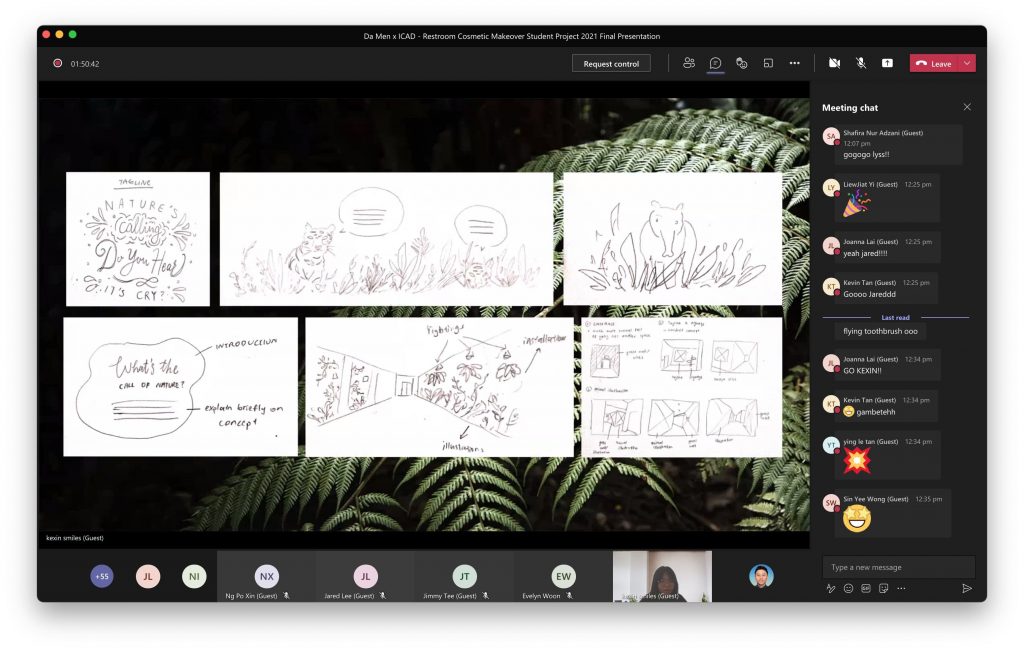 A group of students present the 'Nature's Calling' design sketches which play on the popular phrase as a pun in raising awareness towards endangered wildlife.
Kevin said the project served as a platform for students to shape their learning strategies in a more self-determined way. He also believed that a good example of an innovative educational tool is the realisation of collaborative industry projects, where industry experts conduct research projects that are participated by students.
Reiterating the fact that employer projects do improve graduate employability, Evelyn Woon, General Manager of Marketing at Da Men Mall said, "These projects broaden students' knowledge from an industry perspective besides inculcating problem solving skills. Real industry projects will groom them into employable individuals."
She also hoped that the project will provide students a glimpse of the competencies they must develop in order to thrive in a fast-paced industry.
Jimmy Tee, Interior Design Associate at Pavilion Group, said he is glad that INTI students are exposed to industry related projects even while pursuing their tertiary education. He admits that through these immersive projects, students are able to sharpen their knowledge while helping them discover their passion and true potential.
"Real life projects like this empower students to apply their talent and artistic techniques in the creative process, and to express their ideas in their own distinctive style. I can confidently affirm that ICAD's graduates can look forward to becoming versatile, adaptable and enterprising professionals who are always on top of the latest trends," shared Jimmy.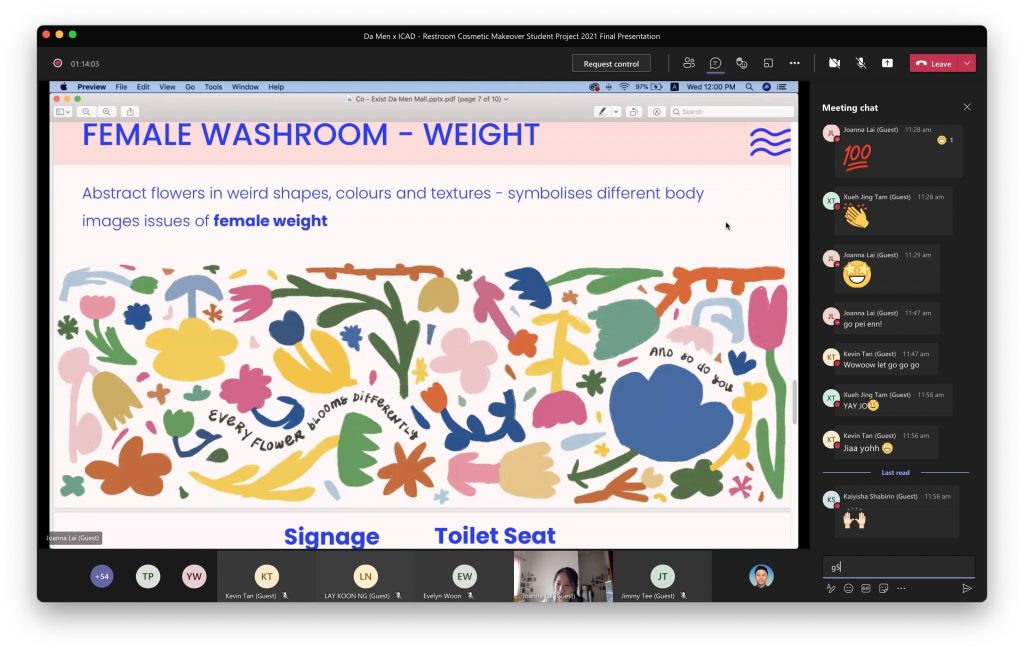 Students walk the judges through mock-ups of a design concept titled "Childhood Dreams" – envisioning a fantastical and adventurous journey as the design outcome.
Meanwhile, Meitha Sari Dewi, a student pursuing the Bachelor of Interior Design (Hons) programme in collaboration with Sheffield Hallam University, also shared similar sentiments.
"In my opinion, although the whole project was challenging as we were required to propose a makeover for the washrooms at Da Men Mall to increase its foot fall, I was able to collaborate closely with students of different expertise. The project taught me to become a better team player in a professional setting as it brought the Graphic Design and Interior Design students together to produce the same end product," said Meitha.
To Meitha, the project was a medium that enriched her understanding of the industry and it has exposed her to the expectations of the employment market.
Meitha also stated, "These projects will definitely provide graduates like me with skills that match the economic and labor market, which in turn increases graduate employability while addressing the gaps that have been a hindrance among fresh graduates."
INTI is constantly expanding its list of collaborative partners to ensure its programmes remain industry relevant for the benefit of its students, especially as they gear up for jobs of the future.
1 https://hrmasia.com/graduate-employability-drops-marginally-to-84-4-in-malaysia/