Millennials and Generation Z will soon make up majority of the workforce. Endowed with their own quirks and the advantages of growing up amid rapid technological evolution, this new generation of professionals have begun inspiring meaningful ideas across numerous industries and companies that will revolutionise the future of work as we know it1.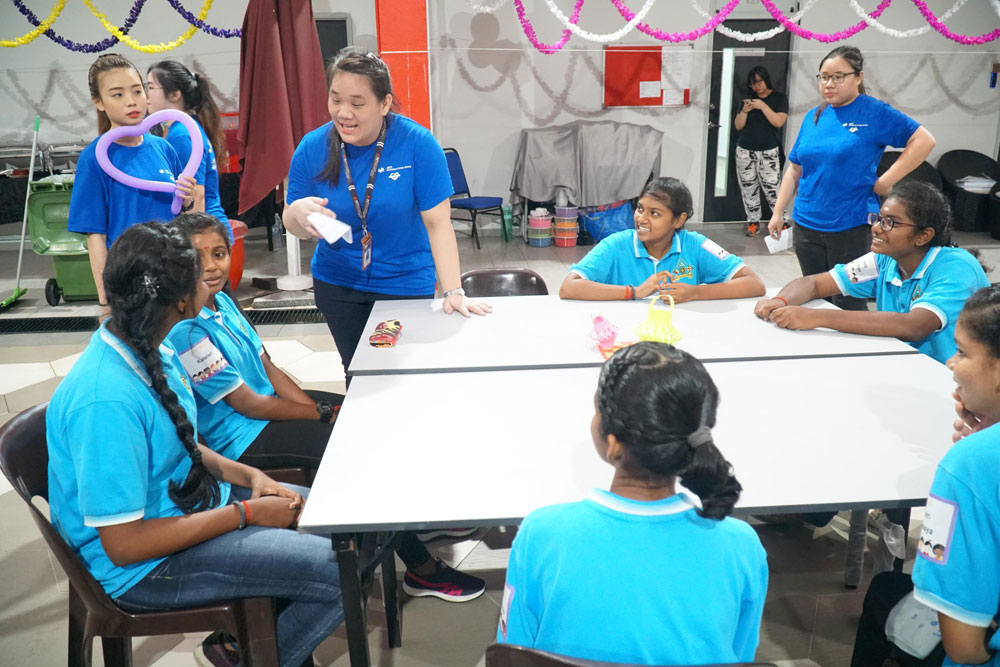 Students from INTI's School of Hospitality interacting with the children from Pure Life Society.
With Malaysia marching towards Industrial Revolution 4.0 (IR4.0), our industrial capabilities are on the verge of modernisation. Changes impacting the manufacturing sector are expected to create a domino effect on the transformation of the economy as a whole, shifting us from a low-cost manufacturing country to a global competitor that offers high value products and services2.
Recognising these industrial shifts and its potential impact to jobs and talents, INTI's School of Hospitality and Culinary Arts (SOHOS) has fostered closer industry partnerships with businesses and non-governmental organisations alike to prepare budding professionals for the constantly changing workplace.
In addition to building up their own competencies by working on projects alongside these organisations, students are also encouraged to give back to the community by offering their time and energy to help the less fortunate.
Joyous Diwali, an employer project with Project Amal, was recently organised by the students of SOHOS and aimed to provide a meaningful celebration for the children from the Pure Life Society. The students were given an opportunity to interact with 30 children who come from less privileged backgrounds and to spend a fun filled evening with them.
This experience complemented the efforts of SOHOS in providing students with a holistic learning experience, and empowered them to strengthen their soft skills in a variety of practice settings.
The event was also supported by Persatuan Mencegah Dadah Malaysia (PEMADAM) and Mydin who came in as sponsors for some small gifts that were distributed to the children. Tuan Daing Muhammad Reduan, Setiausaha Kehormat PEMADAM Selangor, present at the event was proud of the work the students put in to organise the event. During his speech, he acknowledged that love and affection is always the best way to reach out to people especially children. He also hoped the children enjoyed the meal and games put together by the students.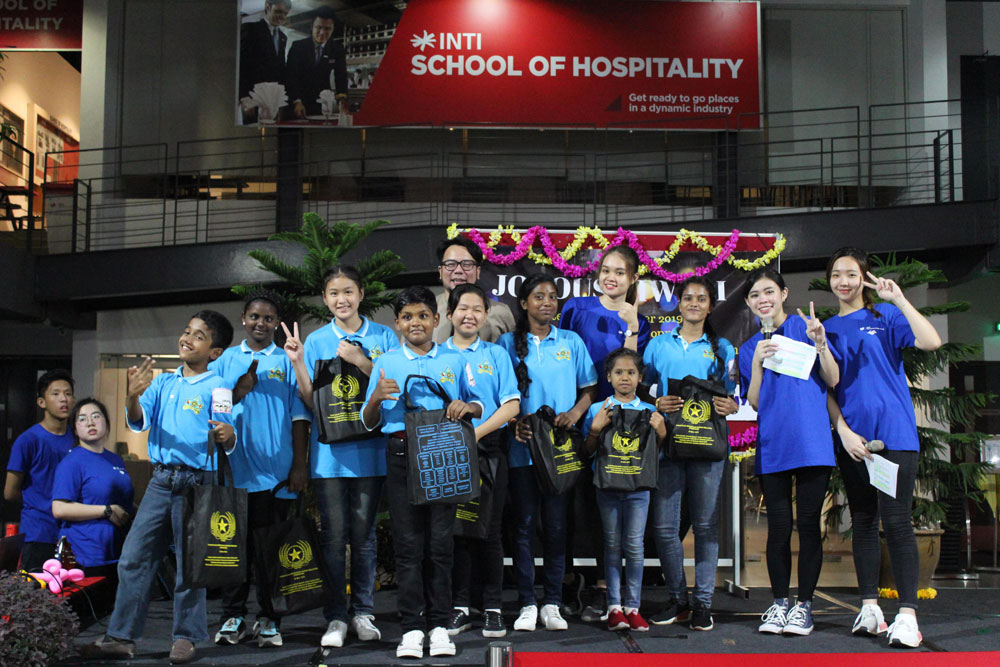 Some of the children from the Pure Life Society posing for a group photo after receiving their goodie bags.
Eric Lee, the Academic Dean of INTI International College Subang said, "Beyond having fun and providing a hearty meal for the children, it was a great exposure for all of us to realize how blessed we are with what we have on a daily basis. It was a great way for our students to complete an employer project via a community service activity. We truly had an amazing time with the children and we hope they took home beautiful memories."
In providing students with further hands on learning outside the classroom, SOHOS also held a Pastry Demo Workshop by Chef Khairi Anuar from DiethelmKellerSiberHegner (DKSH) Malaysia. Supplementing the theories and practical knowledge that students gain from their daily lectures, professionally led workshops enable them to gain direct exposure and insights into the culinary world at large, and provide an opportunity for them to learn directly from an established chef.
Having started out his career as a chef at the age of eighteen (18), Chef Khairi brings with him over twenty (20) years of pastry experience across a variety of cuisines. His expertise and pastry skills have earned him extensive recognition in the industry. He was appointed as the Pastry Chef at Dome Café and Secret Recipe Cake and Café. He shares a lot of tips and baking skills in his best-selling books such as "Dunia Pastri Chef Khairi" and "Jom Baking Bersama Chef Khairi".
During the workshop, Chef Khairi spoke to the students about his experiences as well as the value of innovation in the growing world of pastry cooking. Introducing the students to unique flavour combinations, the recipes he introduced at this workshop were one of a kind and included a Gazpacho cheese cake, an Earl Grey Butterfly Pea cake, and Earl Grey cookies.
Dr Jane Lim, Chief Executive of INTI International College Subang, shares, "At INTI, we believe in creating transformative approaches to learning. We believe activities such as these are essential for students to develop their competencies for the real world of work and to grow into well-rounded individuals as they prepare themselves to be future professionals and advocates, be it for NGOs or business structures. Hands on opportunities such as employer projects and workshops empower students to put their learning into practice and enable them to gain exposure to industry expectations, even while studying."
1 https://www.cnbc.com/2019/03/05/how-millennials-and-gen-z-are-reshaping-the-future-of-the-workforce.html
2 https://www.thestar.com.my/business/business-news/2019/05/25/ir40-on-the-brink-of-technological-revolution