E-learning has completely transformed the way in which knowledge is imparted to students. Unlike the traditional chalk and board method, e-learning makes things simpler, easier, and more effective. As today's learners are constantly on the move, they look forward to personalized content which they can access anytime from anywhere.
"The world has been moving toward remote learning models since the COVID-19 pandemic hit. Especially when it comes to education institutions, educators are finding new ways to leverage and execute educational programs efficiently and effectively," said Dr Jane, Chief Executive of INTI International College Subang at the launch of the Matapelajaran Pengajian Umum (MPU) Week 2021 on 11 October 2021.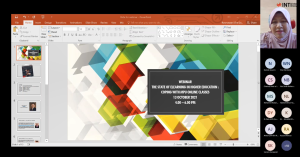 The State of E-Learning in Higher Education: Coping with MPU Online Classes webinar was held on 13 October in conjunction with MPU Week 2021.
Recognizing that there are equal sentiments towards MPU subjects, Dr Jane emphasized the importance of pursuing it as part of a student's higher education journey.
"MPU was introduced to produce graduates who appreciate, understand and work towards nation building in a harmonious and peaceful way. As the ones who will be holding Malaysia's reins in the future, the nation's young citizens must possess a strong nationalistic spirit and love for the country's diverse society," added Dr Jane.
MPU subjects are also taught in hybrid mode today. Although the challenge is to engage a large group of students, lecturers find ways to keep students attentive via Google Classroom, Kahoot!, Quizlet, wooclap and Mentimeter, stated Ms. Lim Chia Wei, lecturer at INTI International University, Nilai during a webinar organized on 13 October titled The State of E-Learning in Higher Education: Coping with MPU Online Classes, an event held in conjunction with MPU Week 2021.
Ms. Lim also said, "Unlike classroom teaching, online learning allows you to access content for unlimited number of times. This is especially helpful when preparing for an exam. Traditionally, if one is unable to attend a lecture, students are required to prepare for the particular topic on their own; in e-learning, a student can easily attend a lecture whenever they want."
The webinar also featured experts from other higher education institutions namely Dr Yazilmiwati Yaacob, Head of General Studies Department at Sunway College and Sunway University; Ms. Hasmiza Idris, MPU lecturer at HELP University; Dr Charanjit Kaur, Assistant Professor, Department of General Studies, Faculty of Creative Industries at Universiti Tunku Abdul Rahman (UTAR); and Mr. Serit anak Banyan, lecturer and stream coordinator for MPU modules at the School of Liberal Arts and Sciences, Taylor's University.
Dr Yazilmiwati presented her findings about blended learning at the webinar.
"The online learning method is best suited for everyone. This digital revolution has led to remarkable changes in how content is accessed, consumed, discussed, and shared. Online education addresses issues regarding skill levels. Students can now access a range of things, such as films, images, and eBooks, through the internet. At the same time, teachers can supplement their lectures with additional forms. People can access this additional content at any time and from any location, that's how education is more dynamic and customized," Dr Yazilmiwati articulated to the participants present.
Meanwhile, Ms. Hasmiza elaborated about drilling techniques specifically for Bahasa Malaysia which are rarely shared with a wide audience.
"The drilling technique is a technique for teaching language through dialogues which emphasize on the students' habit formation through repetition, memorizing grammatical structures, and tense transformation, using the target language and the culture where the language is spoken. The drills can be adjusted to the classroom dynamics during the teaching and learning process," explained Ms. Hasmiza.
She further added, "Using different drilling techniques, lecturers should encourage students to use the targeted language frequently so as to familiarize with it besides remembering and understanding new vocabularies."
On the other hand, Dr Charanjit discussed the pandemic burnout which has been taking a toll on many in the education industry.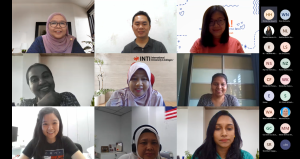 Speakers and participants of The State of eLearning in Higher Education: Coping with MPU Online Classes webinar pose for a group photograph at the end of the event.
"A year into the coronavirus pandemic, many in the academic workforce are experiencing a state of chronic exhaustion known as burnout. Although it is not a medical condition and can occur in any workplace where there is stress, burnout is recognized by the World Health Organization as a syndrome. Its symptoms are physical and emotional, and include feelings of energy depletion or exhaustion; increased mental distance, and feelings of negativity or cynicism towards one's job; and a reduced ability to do one's work," shared Dr Charanjit.
At the webinar, Dr Charanjit acknowledged that teaching can be stressful, especially during the pandemic when stress levels may have been intensified by distance education as well as by limited access to social support, but she believes the situation will return to how it was prior to the pandemic with cooperation from all parties.
The webinar was concluded with Mr. Serit's sharing about empathy ready mind-set through value based education.
"According to research, feeling understood and supported is especially important for students who learn and think differently. It helps them stay motivated, increases self-awareness, and encourages them to advocate for themselves. These self-advocacy and self-determination skills lead to better outcomes in employment and post-school life. That said, many of these students may not feel they're understood because other adults have reacted to their behaviours or challenges without empathy in the past. Tuning in to their emotions shows that you understand and accept all students," Mr. Serit expressed during his presentation at the webinar.
Regardless of the subject being taught online during the pandemic, it is clear that both students and educators alike need empathy, support, and sufficient resources to make online teaching and learning successful.