University and college life is not just about determining where a student will gain academic knowledge, but it can also open opportunities to learn more about life and explore different cultures.
According to a report by Astro Awani, a total of 93,478 international students were enrolled in Malaysian higher education institutions by December 2020. Out of this figure, 60% of the students were hosted by the private higher education sector, while public universities hosted 40% of them[1].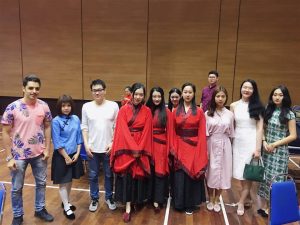 Elena Yan Jin (fourth from left) is pictured with her friends after her performance during Cultural Night in 2018.
INTI International University has an international student population of 4256, of which 651 are students from China. In this piece, three Chinese students talk about their experience as students of INTI as well as how they have adapted to life in Malaysia.
Classes and Campus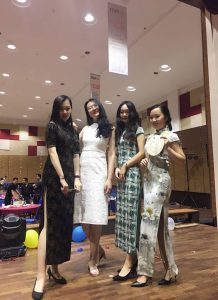 Elena (first from left) is pictured with her friends after her performance during Cultural Night in 2019.
Elena Yan Jin, who is a graduate of the Bachelor of Mass Communications (Hons) Public Relations programme, said INTI International University not only has an inclusive environment but also has a great classroom culture for learning.
"The course syllabus is comprehensive and can be related to global issues. As a student studying Mass Communication, we usually discuss case studies that happen around the world and not just Malaysia," she added.
According to Elena, she made many fond memories during her time at INTI International University. One of the most memorable things to her was not just her studies, but also the warmth she felt on campus.
"During my first year at INTI, I didn't have many friends, but I remember coming to campus and always being greeted by a Malay cleaner every morning who also introduced me to some local food and shops nearby. This may be a small gesture to others, but to me it means a lot," she said with a smile.
Student Activities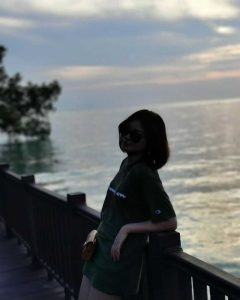 Miranda Wang Mei Ling at the beach in Port Dickson Beach during semester break.
Cultural Night, an activity frequently hosted by universities and colleges to celebrate cultural diversity, is something that international students look forward to.
According to Miranda Wang Mei Ling, who is graduating from the Bachelor of Mass Communication (Hons) Public Relations programme, she attended the events organised in 2018 and 2019.
"Some international students gathered to showcase their own culture through performances such as Japanese traditional dance and display of traditional costumes of various African countries.
"I had the opportunity to perform a Han Chinese traditional folk dance and even strutted the catwalk wearing a Cheongsam dress. These experiences are special, and I am glad that I got the chance to let more people know about my culture and heritage," she said.
Multicultural Malaysia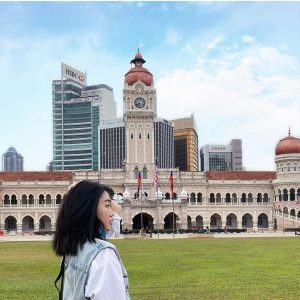 Li Tong in a photo taken during a trip to Kuala Lumpur.
Li Tong, a student of the Bachelor of Mass Communication (Hons) Journalism programme, said she has enjoyed learning about the Malaysian culture, especially the languages spoken.
"Malaysia is a multi-racial country which makes it interesting. There are Malays, Chinese, and Indians and living here I am surrounded by the languages they communicate in. Usually, I can hear them communicate with people of different races in Malay or English.
"As a foreign student, I have picked up some basic Malay language such as 'apa khabar' which means how are you, and 'saya khabar baik', which is the response for I am good. Although it is difficult, it is an interesting language," said Li Tong.
In addition to that, she raved about the many tourist attractions that can be found in Malaysia.
"Melaka is a historic place. My family and I visited Melaka during semester break and met some really friendly people. We also tasted a lot of traditional and well-known local foods that can be found in Jonker Street such as chicken rice, Nyonya laksa, coconut shake and more. Besides the food, we spent some time visiting historical buildings like the Stadthuys," she said.
Meanwhile, Elena, Miranda, and Li Tong agreed that not only are they getting quality education at INTI International University, but Malaysia is also a country that is easy to adapt to.
"Studying in Malaysia is great opportunity. If you are worried about leaving your family adapting to a life here, don't worry, because social media and technology can help you stay in touch with your family. Besides, university life and the activities here will make you happy," Miranda concluded.
[1] https://www.astroawani.com/berita-malaysia/can-malaysian-higher-education-system-survive-out-international-students-303509