Google for shared services or global business services (GBS) in Malaysia and the first few search results will point to the numerous global organisations with shared service operations in the country – more than 120 presently, or the range of job opportunities available within these sector. With International Trade and Industry Minister Datuk Darell Leiking's recent statement that the services sector contributed RM16.5 billion in approved foreign direct investments in 2018, this segment continues to play a significant part in Malaysia's move up the value chain1.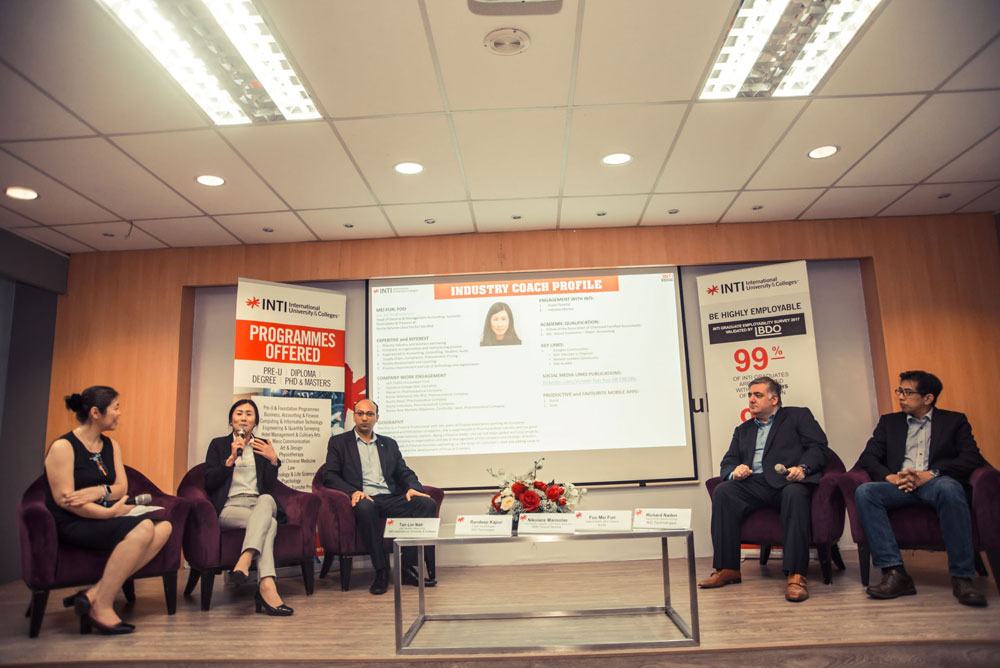 Ms Foo Mei Fun, Head of GAMA, AR & Treasury, Roche Holding AG, presents her insights at the opening forum of INTI's BGS Employability Boot Camp. On her left, Tan Lin Nah, INTI's acting CEO. On the right, Mr. Randeep Kapur. Seated opposite, Mr Nikolaos Mansolas, Vice President, HDPM, HSBC Global Banking and Markets and Mr Richard Naden, Head of APAC Network Services, AIG Technologies.
While the Greater Kuala Lumpur area already hosts numerous global players, Johor's Iskandar region is also emerging as a hub for international service providers, with 19 companies currently under the GBS Iskandar programme, and an estimate 5,260 jobs anticipated in Iskandar Puteri alone2.
Tan Lin Nah, acting Chief Executive Officer, INTI International University & Colleges who is also the Deputy Chair, GBS Focus Group at Outsourcing Malaysia, shares, "GBS in Malaysia is a growing market, with 70% of existing organisations having more than four to seven years of establishment in the country3.
"While GBS in the past were perceived as focusing on repetitive transactional processes and offering little growth opportunities, this industry is rapidly moving towards a shift in capabilities that drive performance and which leverage the digital transformations of the Fourth Industrial Revolution. Driven by data and knowledge based activities, this industry is creating career opportunities that emphasise a global mind set and digitisation."
Leveraging the expertise of industry partners in this field, INTI organised a 2-day GBS Employability Boot Camp which included forums, a mentorship session, and a case study activity to debunk previous perceptions about working in a shared services organisation. To test their learning, students were also given centre stage to share and pitch their solutions to a panel of judges from their case study findings.
Among the leaders who graced the event at INTI's Subang campus were Mr Randeep Kapur, Chief Technologist, DXC Technologies; Mr Richard Naden, Head of APAC Network Services, AIG Technologies, Mr Nikolaos Mansolas, Vice President, HDPM, HSBC Global Banking and Markets; Ms Foo Mei Fun, Head of GAMA, AR & Treasury, Roche Holding AG; Mr Brandon Lee, Head of Global Business Service Centre, S-5 Eurasia; and Mr Freddie Yong, Team Lead, Advance Reporting, AstraZaneca Asia Pacific Business Services Sdn Bhd.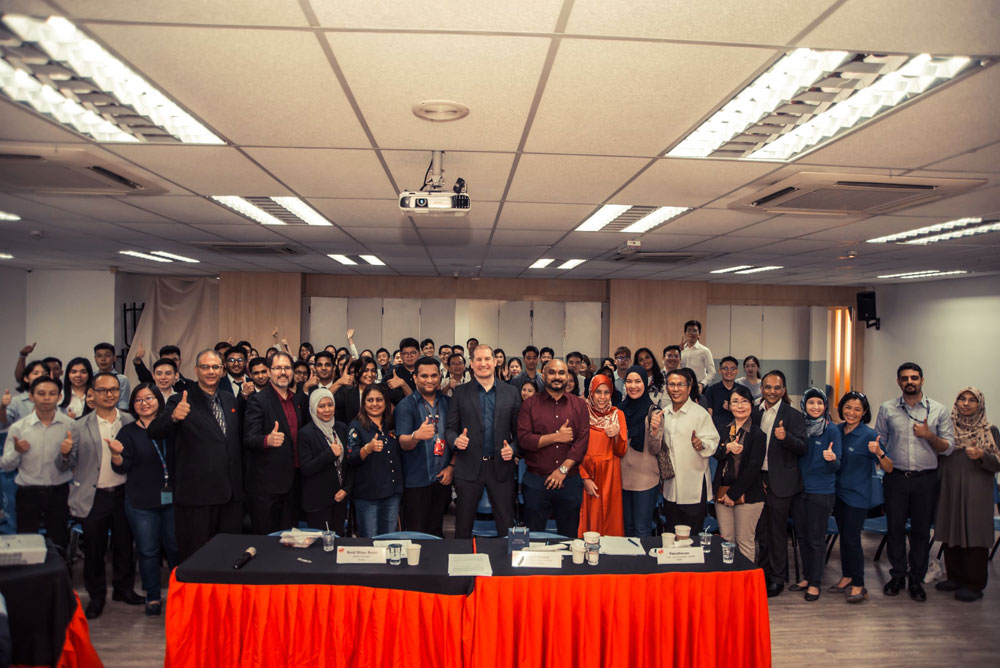 It's a wrap! Students, faculty and industry leaders pose for a photograph at the end of the camp.
The judges of the pitch included Mr Scott Paxton, Global Finance Center Controller, Baker Hughes; Koid Shiau Boon, Finance Manager (General Ledger), Roche; and Mr Vasuthevan Sambasivan, Assistant Vice President, HDPM, HSBC Global Banking & Markets.
Together they shared the current and future challenges impacting GBS in Malaysia, the opportunities laying ahead in this evolving industry, and the skills graduates needed to thrive alongside the ongoing transformation impacting this and all other sectors.
Speaking to students at his keynote address, Mr Randeep Kapur highlighted the need for approaching challenges with an open mind, to think innovatively, and for students to put themselves into the shoes of entrepreneurs and problem solvers whenever they develop solutions.
Ms Foo Mei Fun also emphasised the need to have a mind-set geared towards continuous process improvement and focusing on how one could add value to an organisation. Following and adapting to digital trends were now as important as the technical skills that young professionals should have when entering the industry, she advised.
Adding to the conversation about skillsets of graduates entering GBS today, Lin Nah says, "INTI's focus has always been about employability and making sure our students are in great jobs. The GBS industry is a great industry because you have the scale to pick up different competencies, to be multidisciplinary and to be at the forefront of technology because many GBS are going into areas such as process mining, the use of artificial intelligence and robotic process automation which are essentially skills of the future."
In enhancing the learning process, the event also provided a platform for faculty to meet and discuss with INTI's GBS partners about the realities of their businesses and how curriculum could evolve to help build knowledge and competencies for graduates pursuing careers in GBS. The discussion was the second opportunity for faculty to explore this unique field, building on an earlier, customised training provided to INTI lecturers by MDEC, UKM and MMU on GBS and the proficiencies needed in this industry.
Commenting on the role of faculty, Mr Richard Naden commended INTI's Faculty Industry Attachment Programme, which enables faculty to "intern" with industry partners and develop their understanding of theory and reality. Armed with a clear correlation between classroom learning and the expectations of industry, lecturers are better informed and able to integrate their own industry experiences into teaching.
Lin Nah explains, "GBS has come a long way since it began in Malaysia – more than 50% of these organisations are moving towards becoming Centres of Excellence4 by leveraging digital advancements that will change the way processes and solutions are delivered.
"With this move away from manual, transactional work, GBS are seeking talents who can demonstrate an innovative mind-set, leadership in managing teams that are both human and machine, who can work with data on a global scale and make decisions from it, and who possess an appetite to grow alongside technological change. These are the opportunities students often want, and this boot camp was a means to help them realise that they can pursue this dream, simply by broadening their perspectives of what careers await them," concludes Lin Nah.
1 https://www.nst.com.my/business/2019/05/491962/mncs-moving-value-chain-greater-kl
2 https://www.thestar.com.my/metro/metro-news/2019/06/15/need-for-hightech-highvalue-highimpact-investors/
3 https://www.ssonetwork.com/global-business-services/reports/the-shared-services-market-report-2019-for-malaysia
4 https://www.ssonetwork.com/global-business-services/reports/the-shared-services-market-report-2019-for-malaysia