When Tiong Jian Chen returned to Malaysia after completing his postgraduate studies in the United Kingdom, he was excited at the prospect of landing his first real job. Little did he know that after three months of searching – which could at times be discouraging – he would get an offer to pursue a career as a video scout for the NS (Negeri Sembilan) Matrix Basketball Club.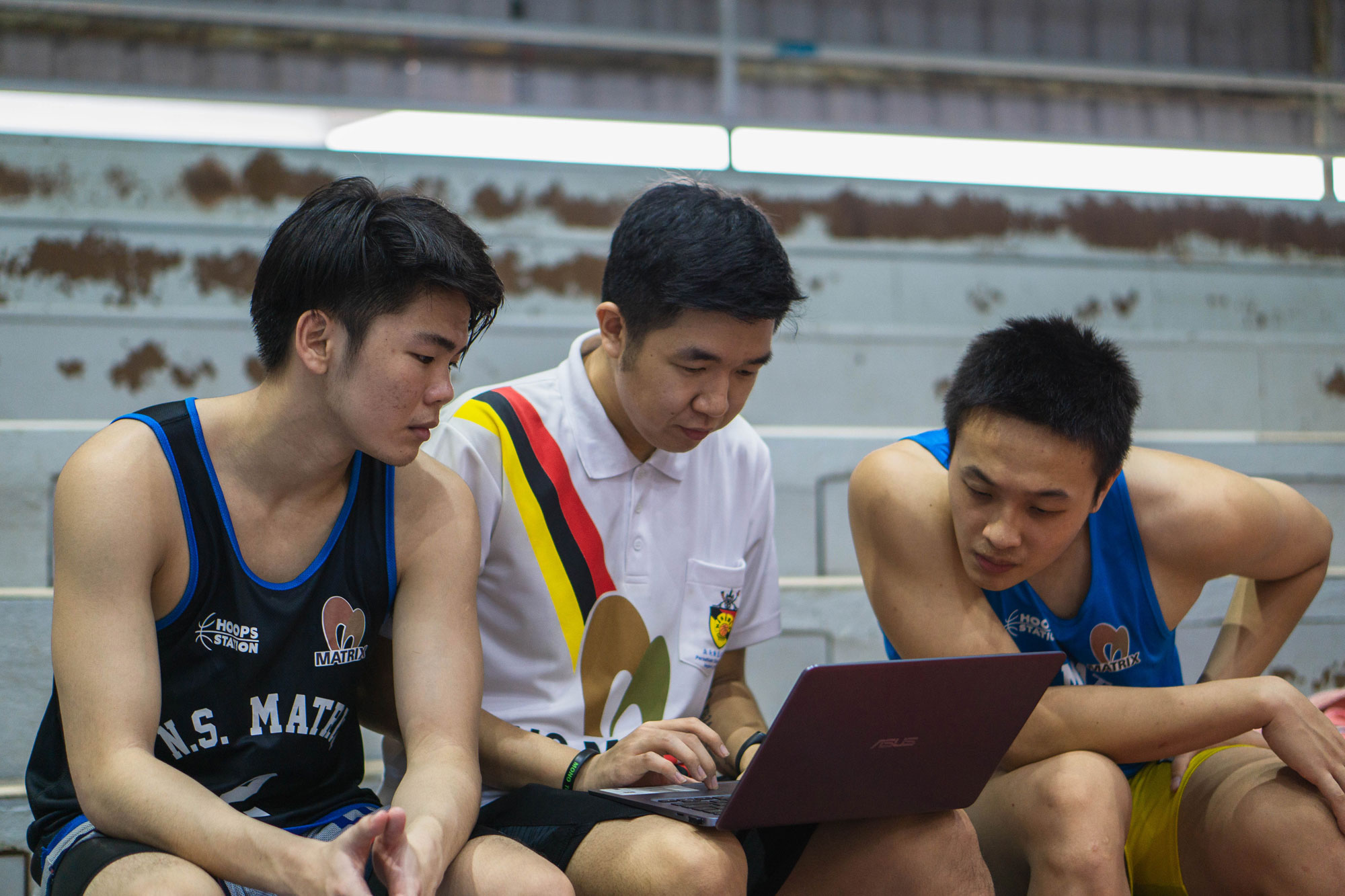 INTI International University Bachelor of Business (Hons) International Business alumnus Tiong Jian Chen (middle) sits with players from the NS Matrix Basketball Club to review their moves. Photo by Tan Chi Sheng.
Aware of the increasingly competitive job market, the INTI International University Bachelor of Business (Hons) International Business alumnus had never believed in limiting himself.
"It's about versatility. To be someone who can wear many hats you have to try many things first! I'm still young so I try to keep an open mind in terms of career choice," the 25-year-old said with a smile.
The start of exploring new horizons
After graduating from INTI in 2017, Jian Chen decided to take a gap year during which he worked as a content writer with two different sports media outlets simultaneously for zero or minimal payment.
"I am extremely lucky and blessed to have my family's support in everything I do. When I decided to work for zero pay during my gap year, they never doubted my decision and even discussed with me possible outcomes from it. It was during this time that I widened my network and gathered invaluable experience," said the youngest of three siblings.
According to Jian Chen, the gap year allowed him to better understand himself and also affirmed his long-time passion in basketball before pursuing the Master of Science Sport Business Management programme at Sheffield Hallam University in the United Kingdom.
The opportunity
"I initially looked for a sports-related job in the UK after completing my Master's degree but visa application was tough so I left. It was also hard to look for a sports-related job Malaysia and I even considered trying out other industries, but somehow this opportunity presented itself just at the right time," said Jian Chen, adding that it was the connections he made during his gap year that led him to the job offer.
After the team's front office called to meet with him and discuss plans and ideas, the ball was in his court.
"I had attended some other job interviews but when I got this offer it was a no brainer. This was the start to a pathway that is still relatively uncommon in Malaysia, but which I hope will inspire others to accomplish whatever they want in life," he said.
Life as a video scout
According to Jian Chen, a video scout's portfolio depends on the size of the club. His current job scope with the NS Matrix Basketball Club, a team which has won numerous championship titles including the prestigious Agong Cup, focuses more on player development. This involves recording and revising their performance during practice sessions and then designing a customised program to improve a player's overall ability.
"There's a lot of video recording involved. Recording practice sessions and games, and then editing notes into the recordings itself. Some people may find this kind of work tiring, especially when you have to look at the same thing over and over and scrutinize a player's actions and movements, but it's fun to me because this is where my passion is. Knowing that I can help players expand their potential is what keeps me moving every day," he said.
Jian Chen, who hails from Port Dickson in Negeri Sembilan, shared that a typical day would consist of five to six hours of work on court and another two or three hours of video editing at home.
"Our working hours are different during RMCO though, with less hours on court. I usually arrive an hour early to prepare myself mentally and physically, then I may stay back for another hour if any players want to do extra workout. When I get home is when I start editing and this can take an hour or two depending on the topic I want to deliver," he said.
When the team has a tournament coming up is when his days are busiest. It also requires him to also scout the opposing teams to understand their opponents plays and their behavior.
"Personally, being a video scout is a job that your either love or hate. I love the job and I enjoy breaking down plays, players' actions, and looking at the why and how in the process. The basketball junkie in me feels that watching games on repeat isn't so bad," he laughed.
During his free time away from analyzing players and editing videos, Jian Chen spends time writing articles for his own website, the Asia Pacific Hoops.
All about skills
While the need to deal with data analytics, videos, and knowledge on basketball set-plays is different from what he learnt from his days at INTI, Jian Chen said at the end of the day it still comes back to managing people, their expectations, and tasks.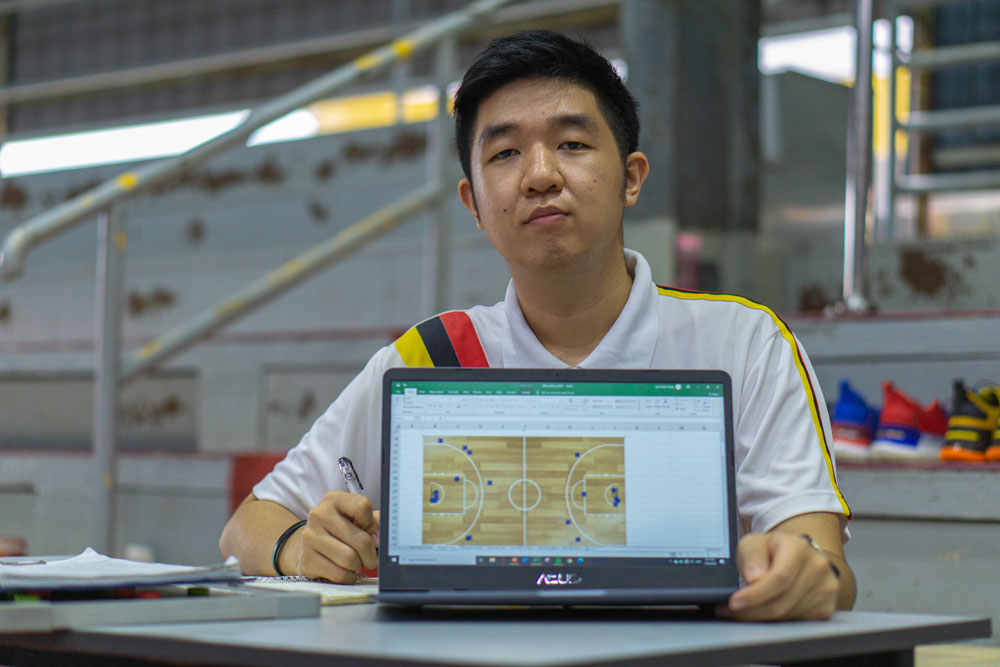 INTI International University Bachelor of Business (Hons) International Business alumnus Tiong Jian Chen shows an example of an edited video. Photo by Tan Chi Sheng.
"When comparing with my major back at INTI, what I'm doing now is totally different. My job involves more figures and raw data. I basically use video to complement this data and present it to the players," he said.
In his opinion, soft skills are good to have, especially in times when jobs are scarce and graduates are aplenty.
"This can be photo editing, Excel, coding, or whatever! Be really good at something you are passionate about Don't be afraid to show it and get criticized by others because that's the only way you will improve.
"If you like to write, then start a blog. Learn how to present your story to attract an audience, even if you are not getting much response. This will help you grow as a person," said Jian Chen.
Besides soft skills, he added that being adaptable and resourceful is also crucial as the outside world requires graduates to deliver despite limitations.
The future
Taking each day as it comes, Jian Chen cherishes every moment of his new career and said that the MCO experience has reminded him never to take things for granted and to enjoy the present more than anything.
"I hope to see things pick up in the local sports industry and can't wait for the tournaments to start again," he said.
When asked about his views on graduates taking a different career path than what they studied, he that it is something normal.
"Sometimes graduates are forced to take up whatever job is offered to them, especially now that jobs are difficult to get. This is why soft skills are important. I didn't know this back in my gap year, but I was fortunate enough to have the right people teach me and I also took the initiative to learn. It takes courage to step out of one's comfort zone.
"Tim Duncan would not have been a five-time NBA champion if he didn't choose basketball over swimming when he was in the ninth grade. Hurricane Hugo had destroyed the only Olympic-sized pool in his hometown so he adapted to his circumstances and had not looked back since. Now Duncan is forever a legend of the San Antonio Spurs," Jian Chen said.
His advice to students and fresh graduates would be to always try new things and experiences.
"Just try! Even if you fail these experiences are important in helping you build success in the future. And when you need it, don't be afraid to ask for help or even recommendations. Have confidence in your own dreams, keep learning along the way, celebrate small wins. You never know when you will get that job of your dreams!" he concluded.