Meet Dr Amran bin Md Rasli, a lecturer at INTI International University's Faculty of Business, Communication and Law (FOBCAL) in Nilai. Though new at INTI, he not only brings with him 36 years of experience in academics but also knowledge in book writing and publishing.
Dr Amran started writing after he returned from the United States (US) in 2006 and has published 15 novels to date. "I credit it all to my time management. The experiences I've gained today have taught me to be conscious about arranging my schedule well. I started my career as a part-time Mathematics tutor at Universiti Malaya prior to becoming a professor at a local university here," shared Dr Amran who also served as a Vice-Chancellor at a university in Zanzibar, East Africa.
His first novel, Meniti Kejayaan, was based on his experience as a student in California. According to Dr Amran, writing novels can get tedious as it requires a lot of creativity and research, especially for historical based novels.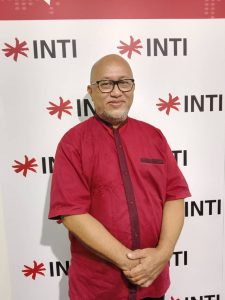 Dr Amran bin Md Rasli is a professor at the Faculty of Business, Communications, and Law, INTI International University, Nilai.
"I never saw writing as an interest while growing up but a creative dimension tool to expand my knowledge and creativity. It occupies my time when I feel bored and have nothing else to focus on," he said.
Dr Amran said most of his inspiration comes from his own life experience and observations.
"Covey's Seven Habits is a clear depiction of myself. Of all the habits portrayed, I could strongly relate to Habit 7 – Sharpen the Saw, as it is about taking time for self-renewal, and it makes all the other habits possible. When you sharpen the saw, you preserve and enhance the greatest asset you have – yourself, hence writing is my interpretation of me sharpening the saw," shared Dr Amran.
Dr Amran who began his educational journey in 1983 with a bachelor's degree in Mathematics from California State University, Chico, Northern California, was awarded the Anugerah Buku Negara in 2019.
"My best seller thus far is Syahidnya Kapten Luis Dr Souza which tells about the fall of Malacca to the Dutch. It got me the Anugerah Buku Negara, an achievement that I will always cherish. I write historical novels to educate people on actual past events in contradiction to what we know in general now," said Dr Amran, an all-rounder who obtained his PhD from Roskilde University, Denmark.
Anugerah Buku Negara[1] is a recognition given to Malaysian publications in various categories that show high quality, works and publications.
After his first novel, the subsequent ones written by Dr Amran were historical based and PhD journey anthologies. As an advisor with the Asia Mediterranean Network and a professor who supervises masters and PhD students at INTI, Dr Amran also wrote and published eBooks for readers in Indonesia.
When asked about how writing plays a role in his teaching, he said writing has allowed him to be more creative and structured in his teaching. Dr Amran acknowledged that there are always challenges during the process of creating a book.
"Publishing and expanding the readership of my books isn't smooth sailing as people have various preferences in the types of books they read, but there is also the good side too. Receiving positive reviews from readers and bagging awards will always top the list and it reminds me that my efforts and hard work are paid off," expressed Dr Amran who also feels satisfied when he sees income opportunities.
Currently working on three novels simultaneously, Dr Amran said having more than one project can help him when he feels stuck.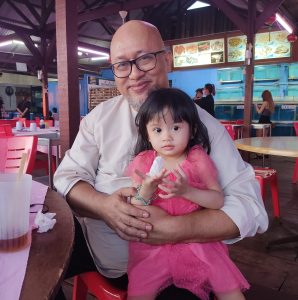 Besides wearing hats as a writer and lecturer, Dr Amran is also a grandfather to seven grandchildren.
"I move from one novel to the next in case I get bored or have a mental block. The upcoming novels are extensions of my past novels. The novel Kapten Dr Souza will be converted into a trilogy, something like the Lord of the Rings," he added.
Meanwhile, Dr Amran hopes to see his grandchildren inherit his writing skills but will not force them to follow his footsteps.
"I would love to see my grandchildren dwell into the same passion I have, but writing requires patience and creativity, and publication requires quality work. A novel has to be enjoyable to read. Most publishers look for these when they review a draft for publication. Therefore, it will only do their readers justice if their heart and soul is in it," he said.
When asked what he would advise aspiring young writers, Dr Amran said, "Go beyond academic writing as creative writing is a good diversion. Write about what you know best and create an interesting storyboard. If you can't get your work published, go for self-publication or eBooks. Think big!"
[1] https://anugerahbukumalaysia.com/?fbclid=IwAR04jnwCYlK960pUo0__9pGD3af8qrZLVCOlDw0vJ8KjrwJU-PdJWDTHzzs