All children require love, encouragement, and support. For children with special needs, such positive reinforcement can help ensure that they emerge with a strong sense of self-worth, confidence, and drive to persevere even when things get tough.
In light of this, INTI International College Penang students enrolled in the MPU3442 Community Service subject, worked with the Kiwanis Club Penang Central (KCPC) to help the community in general, with a particular focus on children and youth with special needs, by engaging in a variety of fundraising events.
The project, which ran from 7 September to 31 October 2021, encouraged the public to help one another, particularly during these trying times. They combined efforts to assist less fortunate families and children in getting items such as books, materials, and equipment. This is so that each child, especially those with special needs, continuously receives early intervention despite their family's financial difficulties.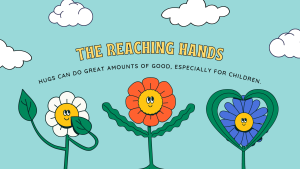 The Reaching Hands project is carried out in collaboration with the Kiwanis Club of Penang Central (KCPC).
Project coordinator Lim Shih Yee led a team which consisted of members Osmund Chua Chou Leong, Chuah Xin Qian, Cassandra Chang Shiqi, Mah Jiatroyn, Nicole Khoh Ya Wei, Ting E-Wern, and Ooi Kok Hau.
"There are many disadvantaged children and teenagers in the community these days, which is a terrible reality. Therefore, our team is trying to do everything possible through this project to help children survive, thrive, and reach their maximum potential," remarked the project's vice-chairperson, Osmund Chua.
According to Osmond, they started a donation drive on their Facebook page called Reaching Hands to help raise funds for the Kiwanis Club Penang Central (KCPC).
"This is a global non-profit organisation of volunteers dedicated to improving and serving the children of Malaysia. In my personal opinion, great things can happen when you provide a child with the opportunity to study, experience, dream, grow, succeed, and flourish.
"With a minimum donation of RM10, donors will get a chance to take part in a lucky draw to win a food cash voucher and four different car fragrance scents. While a minimum of RM50 and above will give donors a chance to win a food cash voucher, four car fragrance scents, and a photography book by David ST Loh. All of these prizes are sponsored by small businesses which have been so supportive of the Reaching Hands project," he continued.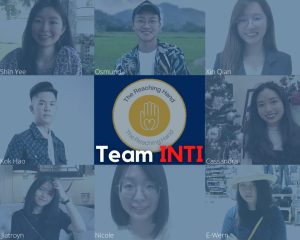 Committee members of the Reaching Hands project.
Apart from the fundraising initiatives, the group also helps KCPC create promotional material such as banners and flyers to create awareness and attract contributions from the public. Osmund shared that they even produced a video for the non-profit organisation by interviewing their representative, which will be used for public promotion. He said they also helped design t-shirts and conduct photoshoots at the Tech Dome Penang.
"Proceeds will go to charitable causes supported by KCPC, with an emphasis on helping families impacted by the COVID-19 pandemic, as well as aiding youths and children. A portion of the proceeds, on the other hand, will be contributed to Kiwanis Malaysia Academy, an enabler for special needs education and youth development," he added.
The group has successfully raised RM1,920 from their Facebook donation drives so far.
When asked why this project is important, Shin Yee, the project chairperson, shared: "Reaching Hands made me realise that it is our responsibility to work for the betterment of society. The situation was extremely gloomy when the lockdown began, and as college students, we were stressed and worried about our future. When we came across this project, it turned into a ray of hope for us. It helped us realise that even in this situation, we can still help many unfortunate children in our way."
To  Xin Qian, who handled the project's publicity, being involved in the project gave them a good feeling.
"I feel that every child deserves to grow up in a happy, good environment. Our tagline, 'Hugs can do a lot of good, especially for kids,' encouraged us as a group to help nurture happiness in children who don't have a permanent home and improve their well-being, which is also my drive to give back to the community," he shared.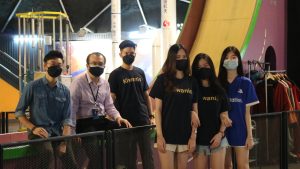 A photo of the group members at Tech Dome Penang for the Kiwanis t-shirts photoshoot.
Meanwhile, Brian John Dorai, a lecturer at INTI International College Penang and the project coordinator for Reaching Hands, believed that this corporate social responsibility (CSR) projects such as this will hasten positive effects on the lives of students as well as the lives of underprivileged children and society.
"This Reaching Hands CSR project broadens the learning experience of students beyond the classroom. In a fast-paced world, this will promote the development of inclusivity, reaching out, and creating a heart for those around us.
"A student's life is already jam-packed with academics, competitions, and exams, so getting them to help the community around us, particularly with a project that strives to raise awareness and inclusion for special needs children, would be beneficial," he said.
Brian also shared that INTI has always focused on training all-rounders who can make a difference in society, therefore, this project will undoubtedly help drive this mission.
"This project develops character and builds empathy. Soft skills are essential and should be cultivated from a young age. Young children have a special place in the heart of this group, and despite not being able to meet in person, they were able to finish the entire project to raise awareness. They were able to learn a lot about themselves in the process too. I'm hoping that this project will strengthen empathy among INTI students for the less fortunate and those in need," he concluded.