Creativity is the essence of Science, Technology, Engineering and Mathematics (STEM) education, and often involves consolidating one's experiences across different fields. In 2016, the World Economic Forum's Future of Jobs report highlighted that by 2020 talents needed to demonstrate cross-functional competencies and have technical, social and analytical skills to thrive in a digital era . In acquiring skillsets for the future, education pathways should eliminate the dichotomy between humanities and sciences, opting instead for a holistic learning experience.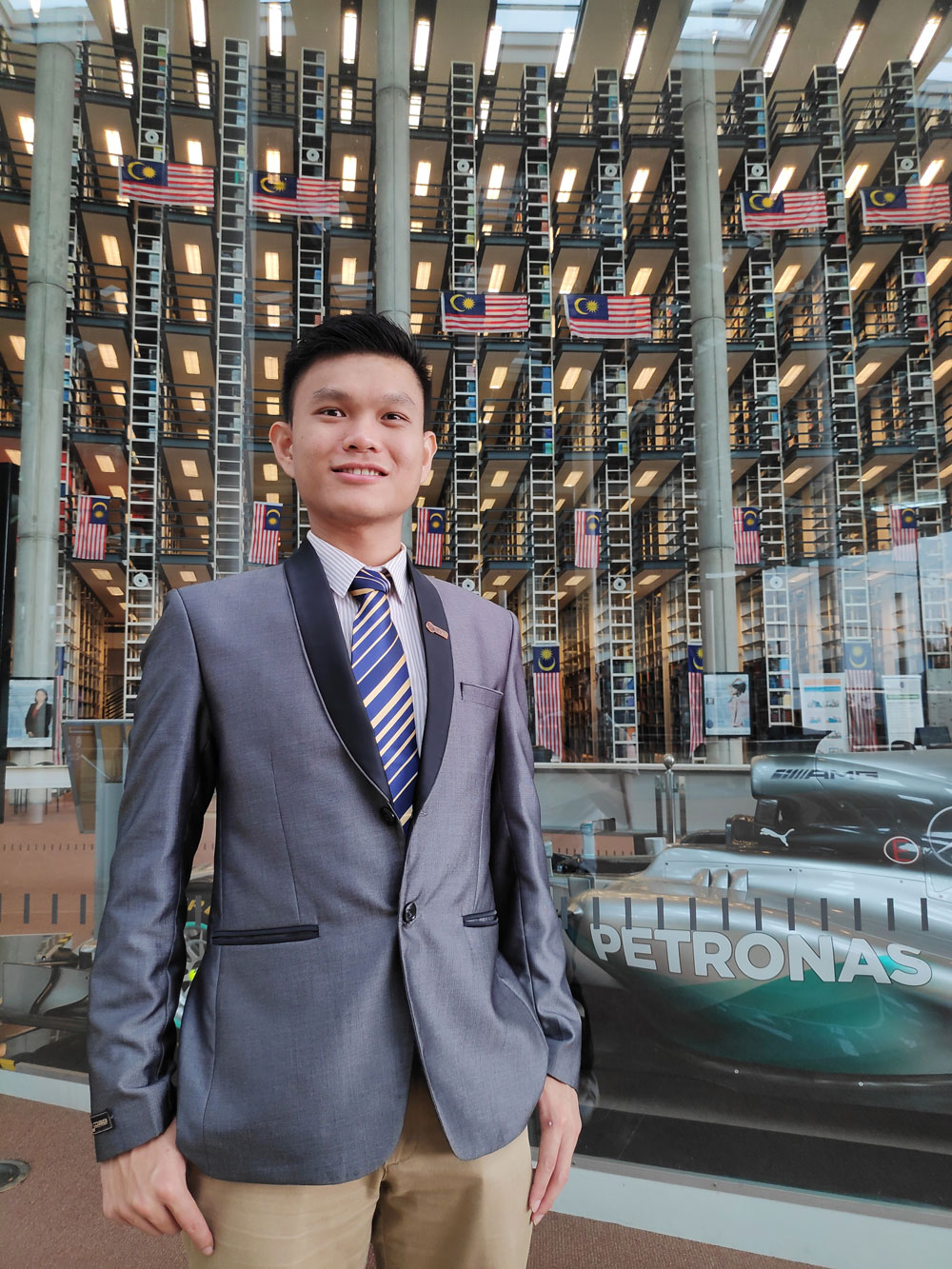 Feng Ying Xing, 29, an alumnus of INTI International College Penang
received the prestigious Merdeka Award Grant in 2019 to pursue his attachment with the Massachusetts Institute of Technology (MIT), USA.
As a Malaysian PhD student, Feng Ying Xing, 29, an alumnus of INTI International College Penang, realised that he had an obligation towards the betterment of the country rather than just contributing to scientific developments in electrical and electronic (E&E) engineering.
Having graduated with a Diploma in Microelectronic Engineering from INTI in 2008, Feng's strong foundation laid in E&E engineering prior to pursuing his Bachelor's degree at INTI. Over the course of his studies, he discovered his passion for biomedical sciences and carried out a project related to Electrooculography (EOG), a technique that helps those who are differently-abled to interact with computers through eye movements. This final year project not garnered Feng the top grade but he was subsequently awarded a Gold medal at INTI's Student-Based Conference – an international conference that welcomed new research and projects from students around the world.
Feng is currently pursuing his PhD at the Centre for Intelligent Signal and Imaging Research (CISIR), Universiti Teknologi Petronas (UTP).
"I wanted to explore how biomarkers could indicate the nature of mental stress, in order to facilitate a more accurate clinical diagnosis," he elaborated on his research proposal. "If we are using a thermometer to measure body temperature, why not tap into brain signals and 'see' what are actual stress levels?"
On a larger scale, he explained, "Malaysia is moving towards becoming a developed nation. As part of this transformation and as human beings redefine our roles in a new world of work, there is a growing prevalence of stress-related illnesses, leading to a decline in the quality of human life. The prevalence of stress-depressive symptoms could be reduced if we can identify the nature of stress earlier."
To address these concerns, Feng designed an experimental protocol to simulate different levels of workload stress and affective states. By utilising the functional near-infrared spectroscopy (fNIRS), an emerging neuroimaging technology, he then measured the subjects' brain responses or signals. Based on the protocol he designed, he developed the fNIRS signals analysis algorithm to uncover the nature of stress, which could ultimately help individuals to take preventive measures to reduce the possibility of developing mental illnesses.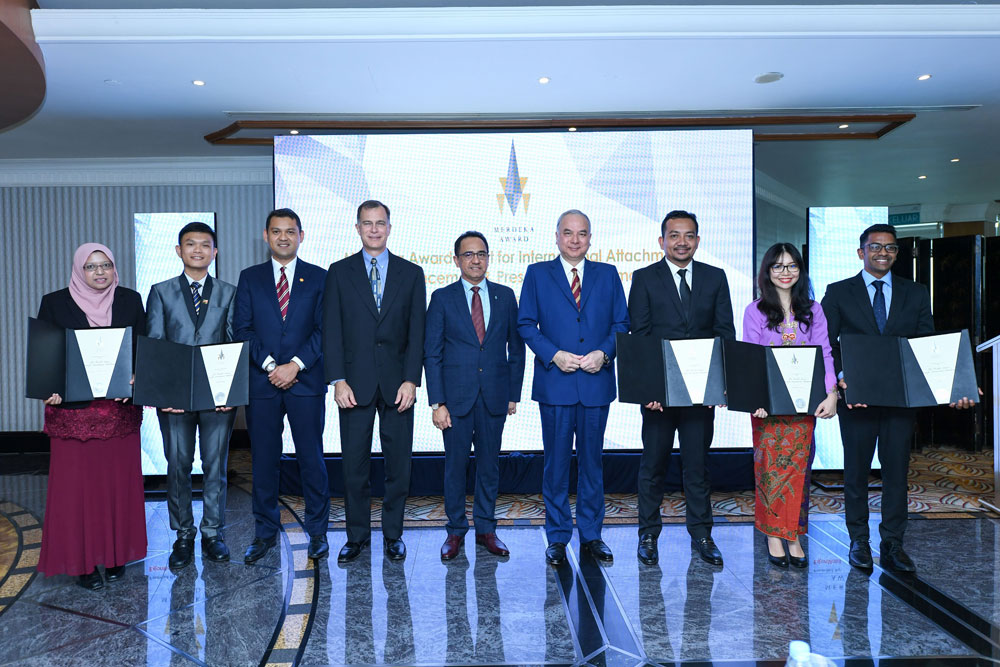 Feng Ying Xing (2nd from left) is one of the five exceptional young Malaysians to receive the Merdeka Award Grant from the Sultan of Perak and Royal Patron of the Merdeka Award Trust, His Royal Highness (HRH) Sultan Nazrin Muizzuddin Shah (6th from left).
His outstanding research proposal that aims to predict cognitive performance at work earned Feng the prestigious Merdeka Award Grant in 2019 and opened up new attachment opportunities for him to continue his research.
Feng plans to do his attachment at the Massachusetts Institute of Technology (MIT), in the United States of America at the end of next year. "I hope to learn more about the implementation of AI / machine learning algorithms to enhance my research on brain signals, physiological signals and behavioural performance. This could greatly improve how we predict cognitive performance at work."
Continuing his efforts to build a better Malaysia, Feng expressed his gratitude to INTI, his alma mater, for providing him with a good training ground. "I felt blessed during the days I spent at INTI as the lecturers supported our personal development in addition to providing us with knowledge."
Thanks to INTI's strong industry collaborations, he received a job offer from Intel Microelectronics while he was doing his final year degree at INTI. Completing his final year project at Intel further encouraged him to apply his knowledge to practice, while at the same time learning from the expertise of his fellow colleagues and managers.
"At INTI, we were taught how to solve problems and apply our knowledge practically, rather than just repeating theories in examinations," Feng shared. He also expressed his gratitude to his lecturers including Hemalatha Murugiah, the present Chief Executive of INTI International College Penang, who previously headed up the School of Engineering during his time at INTI.
"Our lecturers took student feedback seriously when it came to our overall learning experience. Ms Hema was also instrumental in connecting us with industry and invited researchers and industry partners to campus to share their research and experiences with us. INTI Penang provided me with a strong foundation in technical and leadership development and I am grateful to have met passionate lecturers who strive for quality in all they do," said Feng.
As an up and coming inventor, Feng also shared his view on IR4.0 and how it could empower the transformation of technologies and human talent through "the man-machine-interface".
He shares, "Human beings can never be replaced by technology and will participate actively within new systems to monitor and make critical decisions that may overwrite automated outcomes. While technology is taking over certain manual processes, the reliability and safety of complex systems will still depend on human expertise."
In encouraging other fellow learners and inventors, Feng, who also served as the President of INTIMA, INTI's student government, concludes: "Stepping out of the box and allowing your mind to wander is sometimes the best way to come up with new ideas. Also, take the time to count your blessings and the opportunities we have as Malaysians, and be more proactive when seeking knowledge. Remember, the knowledge and experiences that you gain through volunteering in activities are equally as important as those you will find within the classroom."