INTI yesterday announced that it has signed an agreement with global robotic process automation (RPA) leader, Automation Anywhere, to train students and faculty on the development of software robots (bots) and the use of intelligent automation. The collaboration, leveraging the expertise of Automation Anywhere University, is the first of its kind in Malaysia to prepare the next-generation workforce for the future of intelligent automation.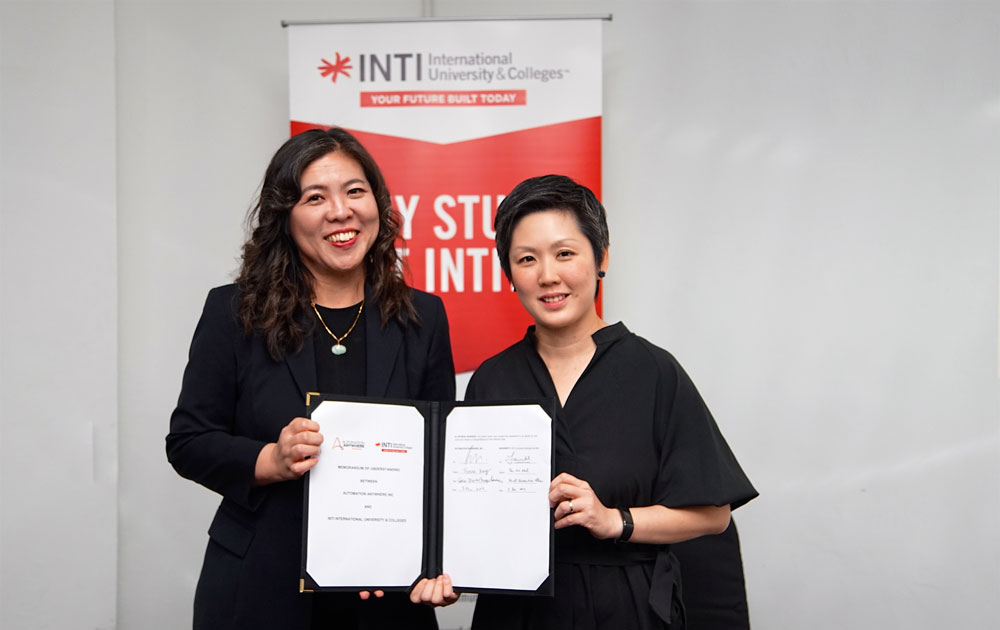 Tan Lin Nah and Serene Keng holding up the signed agreement of INTI's collaboration with Automation Anywhere.
The global market for Robotic Process Automation (RPA) is anticipated to reach US$ 8,781.2 million by 2026, growing at a CAGR of 29.5%1. Identified as one of the key enabling technologies in Malaysia's National Policy on IR 4.0 by the Ministry of International Trade and Industry, RPA will eliminate human errors in manual processes and reduce the time consumption needed for such processes. In accelerating the nation's transition as a global digital economy, Malaysia's Budget 2020 has also provided significant allocations towards the adoption of RPA. This includes the provision of US$131 million (RM550 million) for Smart Automation matching grants to 1,000 manufacturing and 1,000 services companies to automate their business processes and the extension of assessments for the Accelerated Capital Allowance and automation equipment capital allowance in the manufacturing sector to 2023.2
This adoption will empower talents to reinvent their careers, shifting from task-based roles to those that leverage human creativity, flexibility, and problem-solving. New job
opportunities are also anticipated with growing demands for professionals who can build, deploy and manage RPA across unique and varied business needs.
Tan Lin Nah, Chief Executive Officer, INTI International University & Colleges, says, "While there are concerns surrounding the loss of jobs in light of automation, the adoption of RPA across all sectors is a call to both employers and talents to reinvent their roles. In the past, an entry-level job often meant manual processing and number crunching. With RPA taking over this aspect of work, the time is now to determine how talents, from as early as their first year on the job, will play a more meaningful role in the workplace, alongside these technologies."
Serene Keng, Senior Director, Partner Sales, ASEAN for Automation Anywhere shares, "Intelligent automation is one of the top eight emerging technologies with tremendous global growth. McKinsey Global Institute estimates that by 2030, at least 75 million people will need to reskill themselves or switch occupations to adapt to emerging technologies. Our collaboration with INTI will serve to spearhead Malaysia's RPA workforce and leverage self-paced learning, mentoring, projects, and certifications through Automation Anywhere University to reskill young Malaysians for their future careers."
A leader in RPA with the world's most widely-deployed intelligent Digital Workforce platform comprising RPA, artificial intelligence, analytics, and bot marketplace, Automation Anywhere boasts over 16 years of RPA innovation and 1,200 partners worldwide. Offering e-learning modules, including video tutorials, webinars, and access to its popular tool Automation Anywhere Instance via the cloud, its comprehensive training and pathway to certifications will be offered to students from all academic backgrounds at INTI. Certified students will also gain access to its extensive network of partners for possible jobs in RPA.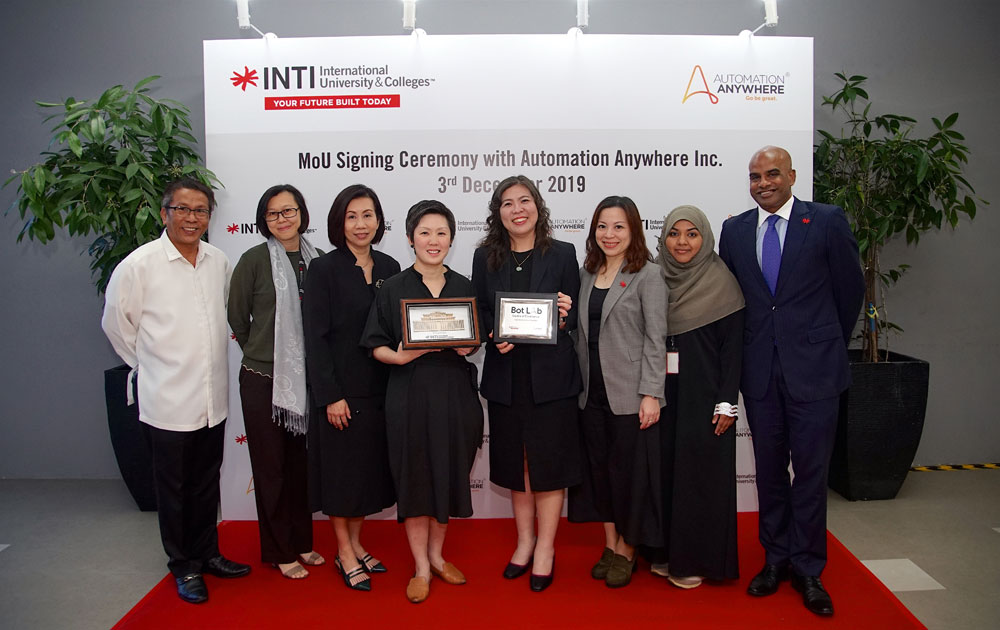 All smiles from INTI's senior leadership team and Automation Anywhere representative. From left, Jess Tinawin, INTI's VP of Career Services; Cheryl Tay, INTI's VP of HR; Stella Chua, VP of IT Services; Serene Keng, Automation Anywhere; Tan Lin Nah, CEO of INTI; Dr Jane Lim, Chief Executive, INTI International College Subang; Syuhaini Safwan, INTI's Legal Counsel; and Tim Johnson, INTI's SVP for Marketing, Products & Partnerships.
The signing ceremony also witnessed the launch of Automation Anywhere's Bot Lab at INTI. Fitted with access to Automation Anywhere's e-learning suite, the Bot Lab will serve as a hub for students to gain hands-on training into bot development and will be open to all INTI students. Kicking off in January 2020, the pilot face-to-face training will be offered to faculty and final year students of INTI's Computer Science and Information Technology degree programmes.
Dr. Jane Lim, Chief Executive of INTI International College Subang where the Bot Lab was launched shared, "Our aim in working with final year students is to offer them an edge, especially for their internships and final year projects. These final year modules are often the pathway to securing employment. Receiving both training and certifications in RPA before these practical experiences opens up new possibilities to them and empowers them to innovate and share ideas that employers are looking for as part of the industry's digital advancement."
Lin Nah concludes, "Digitalisation is no longer a distant dream. It has already begun to transform industries and with it the global workforce. As an educational institution that prides itself on its graduate employability outcomes, INTI recognises that how we train our students must change to meet the evolving workplace. This partnering with Automation Anywhere, along with other collaborations with technological leaders including SAS, Oracle, AWS, and Microsoft, is part of our commitment to reinvent education so that our students not only graduate with recognised qualifications – they are Industry 4.0 ready."