Students from the INTI Center for Art and Design (ICAD) at INTI International College Subang had returned to the runway for the INTICHANGE 09 fashion event. Their unique designs were showcased at the Performing Arts Centre in Petaling Jaya, where the emerging designers fearlessly presented their creations.
The event was attended by prominent names in fashion, such as Adrian Chee, Executive Producer of Mercedes Benz Fashion Week KL; Eleen Yong, Founder of Elpis Model Management and Academy; Beatrice Looi, Fashion Couturier, Stylist, and Costume Designer; and Kit Woo, Fashion Designer.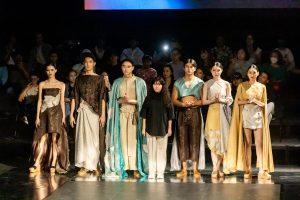 Mikyo Cheh's designs embody her life philosophy of embracing the art of holding on and letting go, inspired by the gradual decay of leaves.
The fashion show "Origin" was a dynamic platform for showcasing the immense creativity and exceptional skills of five aspiring fashion designers pursuing their Diploma in Fashion Design. The collection presented the artistic works of Kimber Leong, Mikyo Cheh, Rayne Khor, Jayden Cheah, and Amni Harraz Sarjanisham, whose designs seamlessly intertwined various silhouettes while celebrating the essence of creation, beginnings, and personal identity. The designs emanated an unmistakable sense of boundless creativity, making for a truly memorable show.
Jayden Cheah drew inspiration from his teenage years and channelled those experiences into his designs. He believed rebelliousness meant pushing boundaries, breaking rules, and embracing new experiences. He incorporated unconventional elements as deliberate imperfections in the collection, turning them into defining features that rendered it flawless and eye-catching.
"The process led me to master advanced sewing techniques and digital fashion tools. I encountered numerous mistakes along the way; each was a lesson," he said.
Kimber Leong took cues from the movie 'Corpse Bride' and adeptly blended Chinese elements into her ShuangXi FALL23 Collection. She created collections that wove distinct tales of a bride, embodying a widow, a happy bride, a sad one, and even a bride-to-be. The collection's crisp silhouettes, vivid hues, and statement pieces embodied contemporary opulence, portraying women who radiated confidence, grace, allure, and individuality in their styles.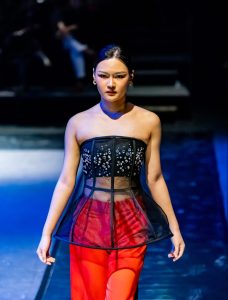 Kimber Leong's ShuangXi FALL23 Collection empowers individuals with unique aesthetic preferences and grants them control over their choices.
"I wanted to showcase the beauty and power of women through my designs," she said. Kimber added that her design incorporated recycled materials to minimise waste and add a unique touch to the pieces.
Meanwhile, through his designs, Rayne Khor used the fashion show as an outlet for his burnout and exhaustion during his internship.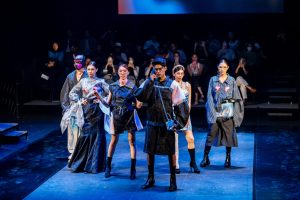 Rayne Khor is revolutionising office automation by incorporating unique design elements that break away from traditional norms."
The garments incorporated elements of stereotypical office attire, like business suits, and were inspired by the concept of transforming into a corporate slave who compromised personal time and well-being," he said.
He mentioned that he used readily available materials to create extra fabrics. "I wanted to push myself by not buying any additional fabrics. I questioned the traditional methods of making clothes and looked for innovative alternatives while using the materials I had," he explained.
A fashion and design lecturer, Pik Yen Wong, noted that ICAD excelled in establishing a solid connection with the industry, incorporating employer projects and industry talks, and encouraging student participation in events.
"Whenever possible, we strive to incorporate employer projects and industry talks and even encourage our students to participate in events. This gives them a clearer understanding of how designers harmonise market relevance and artistic expression.
"Our jury members, eminent figures in the fashion industry, Beatrice Looi and Kit Woo, actively engage with students to provide constructive criticism. This process empowers students to comprehend how to elevate their work to new heights," she said.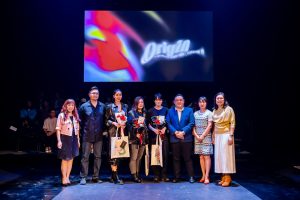 (From left to right) Dr Jane Lim, Chief Executive of INTI International College Subang; Adrian Chee, Executive Producer of Mercedes Benz Fashion Week KL; Eleen Yong, Founder of Elpis Model Management and Academy; Beatrice Looi, Fashion Couturier, Stylist, and Costume Designer; Kit Woo, Fashion Designer; Chong Kok Wai, CEO of INTI International University & Colleges; Melinda Yang, Senior Director for Strategic Business Development at INTI Group; and Ang Tong Yin, Dean of ICAD.
Louise Yee, Head of the Programme, emphasised that design was not solely about aesthetics and hoped to see ICAD students continue learning and developing their skills to remain relevant in the industry.
"With their knowledge and skills, we aspire to witness their ongoing growth, inspiring, connecting, and challenging societal norms. They are poised to embrace future challenges and the responsibilities accompanying their talents," said Louise.
With the curtain drawn on this chapter, ICAD's legacy of excellence continued to inspire future designers to unleash their creativity, find their voices, and leave their indelible mark on the ever-evolving canvas of fashion.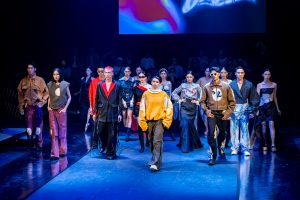 At the Performing Arts Center in Petaling Jaya, models confidently showcased creative designs on the runway, telling a captivating fashion story.