"Television shows inspired me to take on the course I'm studying as I like watching crime movies," shared Ye Zhily, a sophomore at the University of Central Oklahoma (UCO), a university located in one of the top 10 safest cities in the United States (US), Edmond.Currently studying the Bachelor of Science programme, Zhily is majoring in both Biology-Biomedical Sciences and Forensic Science, a feat for one so young.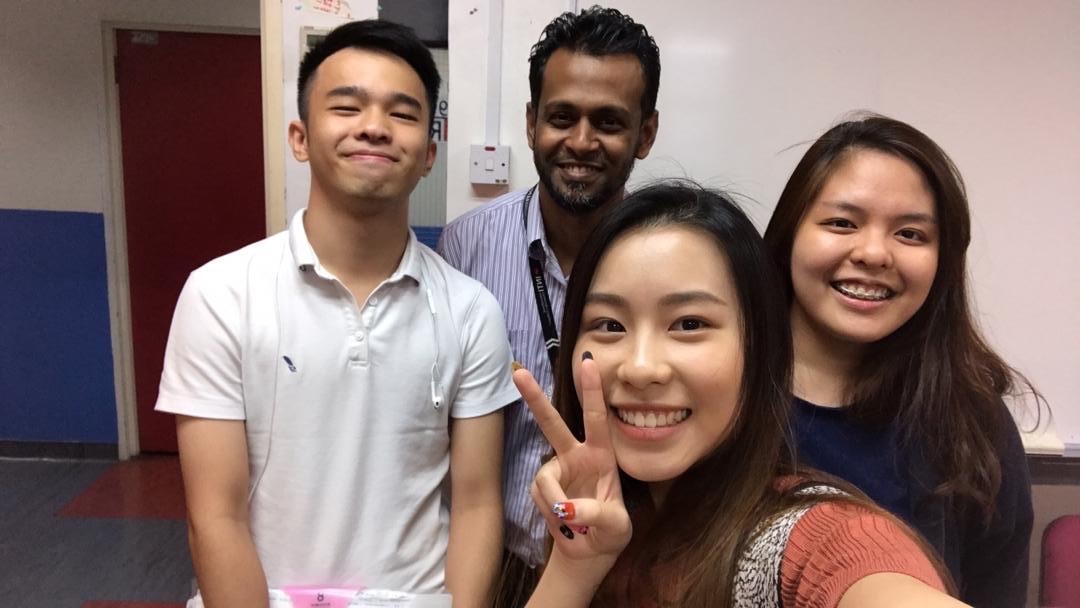 Ye Zhily, (first from right), with her Biology lecturer, Mr.Kevin in INTI International College Subang.
Pursuing considerably unconventional majors compared to common Malaysian programmes, Zhily is confident that with her qualifications and experiences abroad, she will be still be able to land a job in Malaysia.
"Malaysia has great options for individuals pursuing STEM based studies, and while I may not necessarily land a role in forensic science, I believe I will be able to find a suitable career pathway in companies that require biologists or biomedical professionals," said Zhily, who hails from Kuala Lumpur and attended a private Chinese primary school before completing her International General Certificate of Secondary Education (IGCSE).
Adapting to the new normal of the current COVID-19 pandemic, UCO still provides high quality education via its online classes. Zhily who opted to return to Malaysia due to COVID-19, recently finished her online classes to complete her semester.
"I just sat for my final paper recently which concluded my spring semester. Fully online learning was a great experience as I also had online tests and quizzes so it was a lot more engaging than I thought it would be. With the different time zones between Malaysia and the U.S., coping was a little harder than usual as I had to wake up and finish the tests during the wee hours of the morning, but, my professors made it easy for me as they continued to remain very helpful, in spite me being several hours ahead of them."
UCO is known to offer transformative learning experiences, where learning is a continuous process, be it in class or beyond. The university provides high quality education, and affordable teaching and learning experiences that help produce creative and collaborative graduates who are also critical thinkers .
The forensic science students of UCO will be entitled to not one but two degrees. Forensic studies is paired with another major like biology, computer science, accounting or chemistry. Being the only university in North America to be accredited at the undergraduate level in forensic molecular biology, forensic chemistry and digital forensics, these degree combinations enables UCO graduates to pursue unique career pathways like DNA examination, digital forensic examination, crime scene reconstruction, forensic accounting and forensic toxicology .
Sharing her earliest memories of arriving in Oklahoma, Zhily recounted, "When I first landed in Oklahoma, as I was going through the immigration line, I witnessed that one or two people before me were sent to an investigation room instead of being granted entry upon arrival. I was nervous and worried thinking I might face a similar situation but thank my lucky stars, it was a smooth process for me." Since then however, Zhily has adapted to her new environment.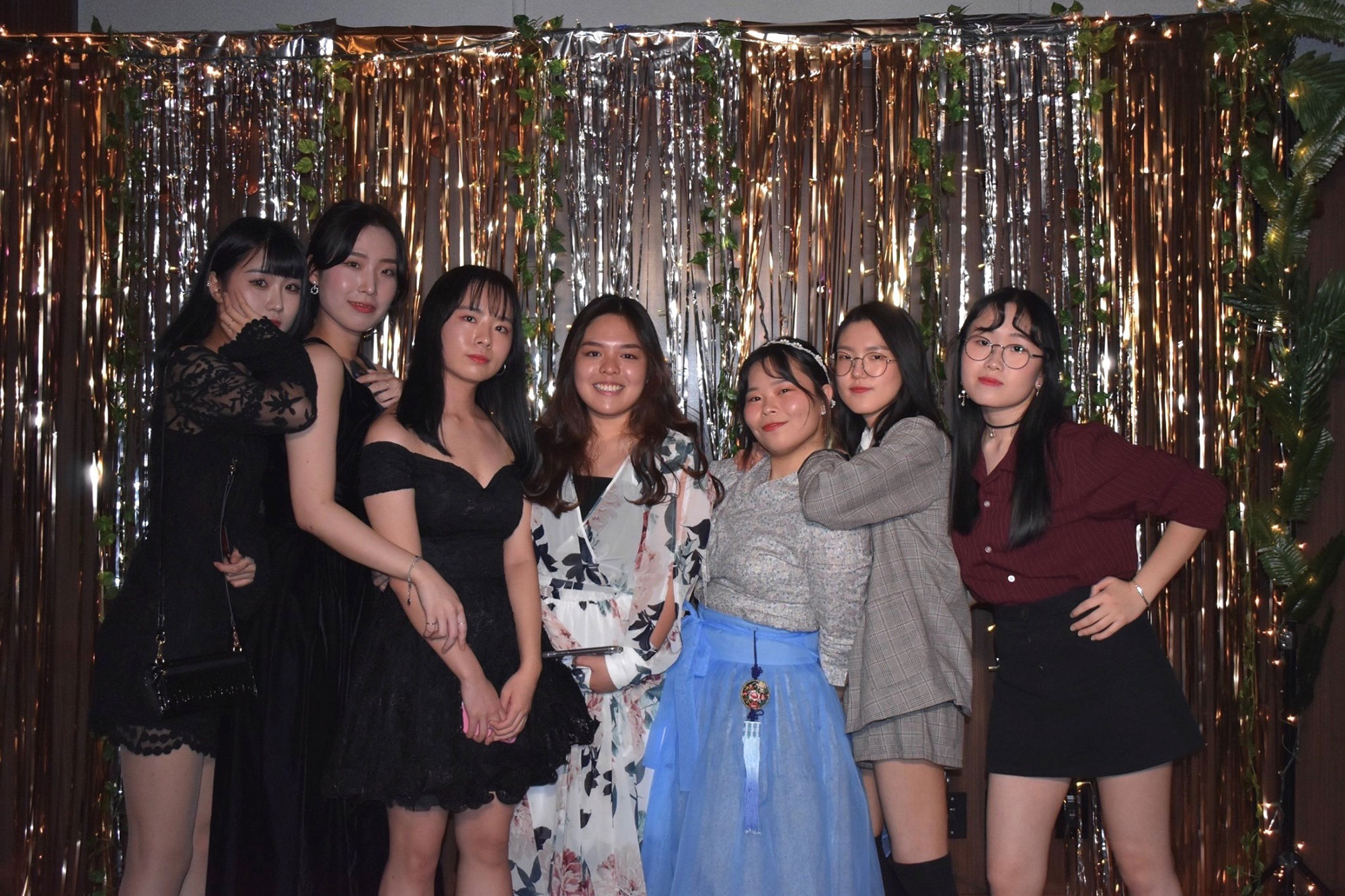 Ye Zhily (centre) with her friends at GloBall, an international dance party.
Prior to joining UCO, Zhily was an American Degree Transfer Programme student of INTI International College Subang (INTI). "The lecturers at INTI were well versed in their modules and I have to emphasize that the class sizes are just nice, which helps students to focus better during lectures. I also made good friends throughout my time at INTI," expressed Zhily.
INTI has a notable track record of having partnerships with more than 300 universities across North America, which also includes UCO. These partnerships has benefited many students like Zhily who are able to enjoy exclusive Global Diversity Scholarships worth USD$4,500. Zhily herself is a recipient of the scholarship.
"This scholarship is a unique opportunity that INTI students receive due to their partnership with UCO. While I received this scholarship, I still have to maintain a good academic track record to continue securing the scholarship each semester," said the proud Zhily.
"My credits from INTI were also easily transferred to my current university. The academic officers from the Center for American Education (CAE) were diligent in explaining the importance of the credit transfer process. UCO even has a portal for students to check their respective credit transfer equivalency," explained Zhily.
UCO offers credit transfers for up to 94 credits for a number of majors which would in return save time and cost for all INTI students. There are no other institutions in Malaysia that has the ability to transfer this number of credits to UCO from their AUP.
While learning to adapt to the lifestyle at Edmond, Zhily also improved her time management skills and has become a more outgoing person.
"I have morning classes and most of my classes end before 1pm. Hence, I try my best to finish my assignments right after class at the library so that I have more time to spend with my friends,"she said.
Zhily also excitedly shared that she is proud of having learnt to cook which she does throughout most of the week while she is in the U.S.
"While leaving home is always a challenge, being able to move to the U.S. with ease and gaining exposure there has definitely been an eye opening experience, and one which has helped me gain additional personal skills. In spite the challenges that COVID-19 have also created, I am grateful that I am still able to continue my studies and that I am receiving support and encouragement from both my professors in the U.S. as well as the team here at INTI," Zhily concludes.