While some students would prefer to study in a university close to home, others find it exciting to pack up their bags for a destination some 15,000km away, giving up the familiarity and ease of being in their own country for independence and adventure.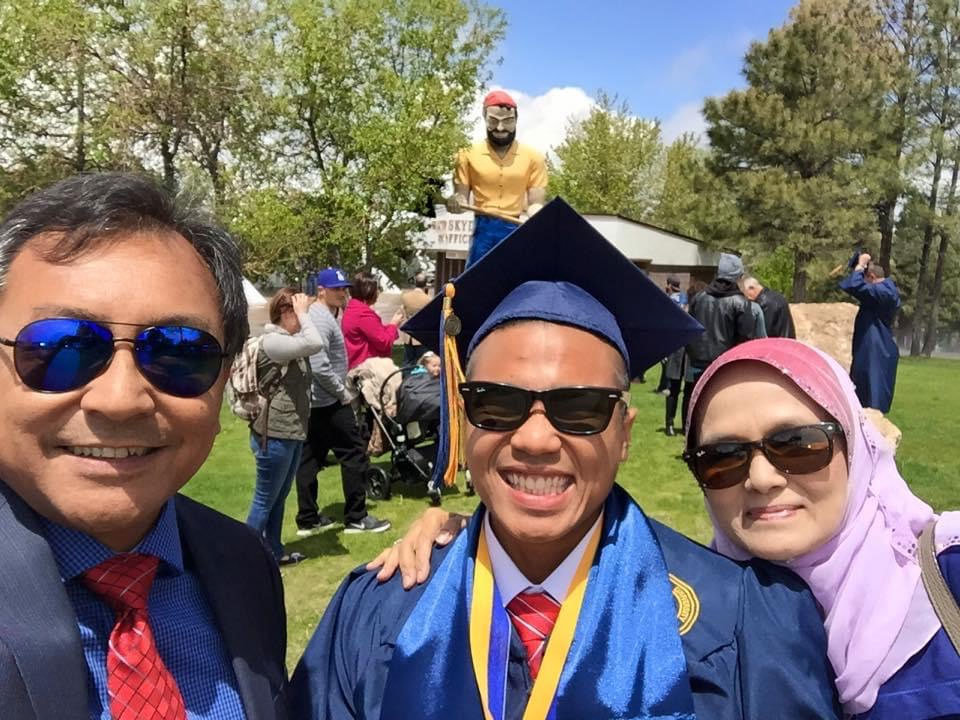 INTI International College Subang alumnus Muhammad Hasif Ausamah Darwish with his parents at his convocation ceremony
The United States of America has always been a popular choice for international students to further their studies, but as Islamophobia continues to grow, so has concern about whether a Muslim student can study in a safe and conducive environment.
For Ausamah Darwish Mohd Daud and his son Muhammad Hasif Ausamah Darwish, having experienced student life in the "land of the free" was one of the best experiences of their lives. Despite the 31-year gap between their stay there, both agreed that what few challenges they faced was made up by memories and friends they made along the way.
Flashback to 38 years ago, Ausamah Darwish recalled what it was like to be living in the USA in the 1980s. Simply put, it was easy and enjoyable.
"I had a great time studying in the US. No language issues, academic workload was bearable, and it was not difficult to get along with people from other nationalities. Through group projects in class I quickly bonded with my American and Jordanian friends," he said.
When asked about prejudices towards international students, or Malaysians in particular, he said there were isolated cases but nothing to cause alarm. Ausamah Darwish, who obtained his Bachelor of Science in Engineering from Southern Illinois University, in Carbondale, Illinois, said the Americans were accepting towards Malaysians as international students.
"The place where I studied was part of the Confederate states during the Civil War and they generally don't like colored people. Thankfully, I did not come across any problems during my time there between 1982 and 1984. It was simple, just avoid creating any problems. Getting along with the Americans was easy, you just need to join them when there's a party or gathering," added Ausamah Darwish.
If there was something to lament about, he said, it would be getting halal food. But then again, he did live in an area where there were students from the Middle East and an Islamic Centre there sold halal meat and chicken. It is with these students from the Middle East that he would often go on road trips with to venture out to New York, Florida, Texas, and even as far as Canada.
"I remember an incident we had travelling to Florida from Illinois where our car skidded and landed in a ditch by the highway. Quite immediately truckers from the south stopped to offer my friends and I some help. Even the police were polite and offered advice on what were our options," he said.
According to Ausamah Darwish, some of the best moments of his time in the US were spent travelling and learning about the country's different cultures and customs. It was something he hoped his own children would be able to experience, and that was exactly what Muhammad Hasif got to do after completing two years of the American Degree Transfer Program (AUP) at INTI International College Subang.
In 2013, Muhammad Hasif started his journey as a student at Northern Arizona University, in Flagstaff, Arizona. It seemed inevitable that he would follow in his parents' footsteps as both were US graduates.
"My family had no concerns about me flying off to the US, and to be honest, it's been the best experience of my life. Those two years were irreplaceable. Not only did I experience new cultures, but I also got to enjoy the American education system," said the Bachelor of Science in Business Administration (Marketing) graduate.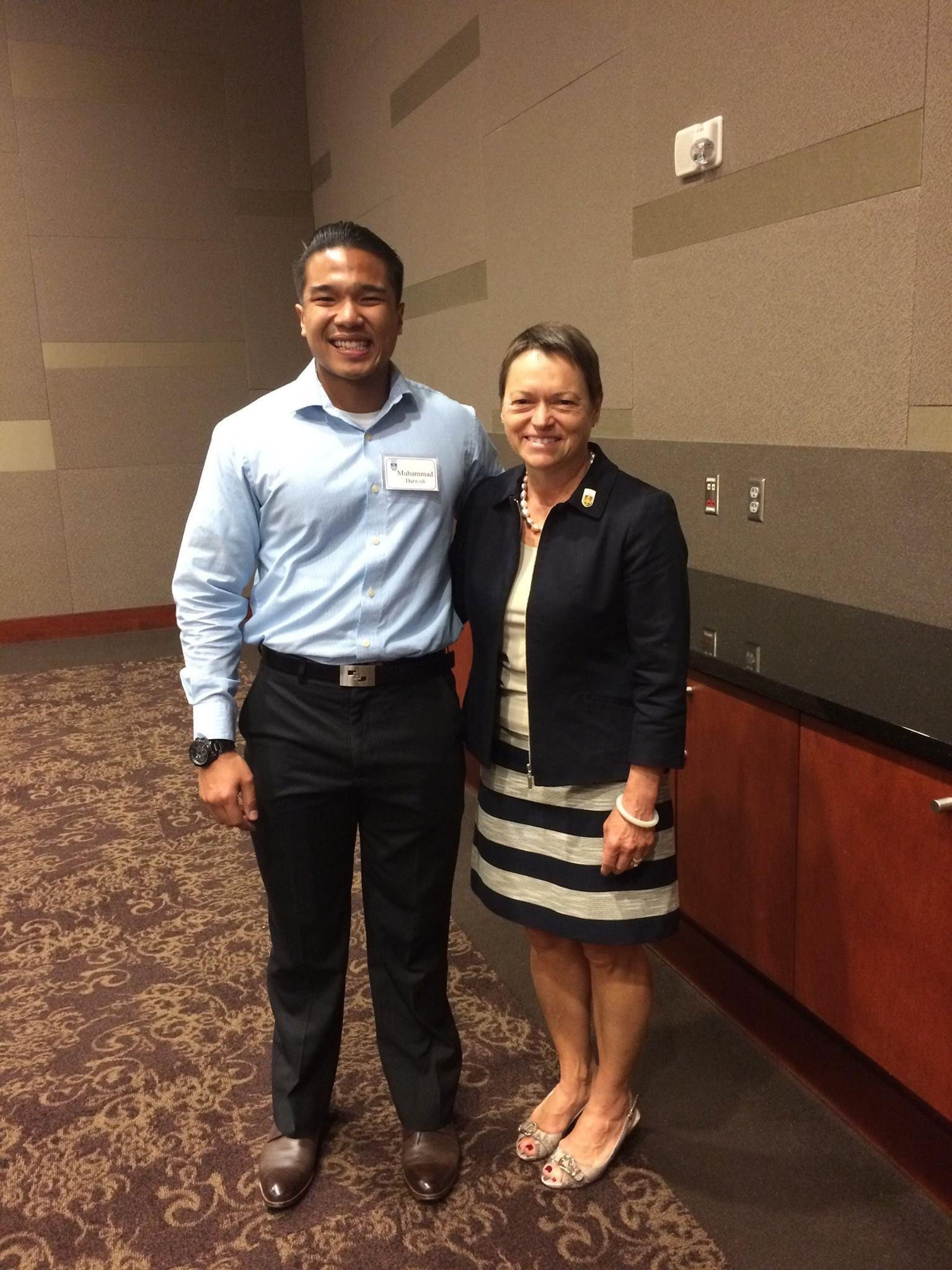 INTI International College Subang alumnus Muhammad Hasif Ausamah Darwish with Dr Rita Cheng, the President of Northern Arizona University
Not as lucky as his father was, Muhammad Hasif said he had to travel two hours to get hold of halal meat. In terms of challenges faced being a Muslim in the US, he said he too did not face any difficulties adapting to the community.
"I was very lucky. Most Americans from my university don't even know about Malaysia. They don't even recognize my ethnicity, so they didn't have any stereotypes or prejudice. I needed to explain to them where Malaysia was located!" he laughed.
He added that getting used to the American culture took some getting used to, especially when it came to life on campus. An important lesson he learnt was that if he did not understand something, he need not be shy to ask.
"Professors there don't spoon feed students, so during office hours they are available and helpful. My professor once got super mad at us because we did not see him during his office hours. But other than that, I took full advantage of my time there.
"I was quite active as a student, playing for the men's varsity soccer team in 2014 and even helped the International Office for International Orientation. During my final year, I was nominated to represent my Marketing Research class for brunch with Dr Rita Cheng, the President of Northern Arizona University," the 27-year-old recalled.
Looking back at his journey from start to finish, he said INTI was instrumental in preparing him academically. The syllabus he went through prior to transferring abroad was of the same level as that in the US, if not more difficult.
"Most of the AUP lecturers and advisors at INTI are all US graduates. This is an advantage for students because they can ask questions about the US. For me, transitioning from Malaysia to the US was never a problem because INTI had already set the standards high," he said.
For students who hope to study in the US one day, his words of advice would be to go for it.
"Studying in the US is an opportunity of a lifetime. If you're worried about being far away from family, don't, because it's definitely easier now with social media and video calls to help keep you connected to home," he concluded.