According to the "World University Rankings 2019", an assessment study led by the Times Higher Education of London, 15 of the world's top 20 universities worldwide are in the United States . The unique feature of American education is that it thrives on the concept of "freedom" – the ability for students to make choices in their education – and caters to individuals who yearn to learn more than a fixed syllabus and who thrive in "thinking outside the box".
Teoh Mun Hong (left), an American business degree graduate from INTI who is employed by Microsoft Malaysia as a Consumption Specialist of Modern Workplace, poses with his hiring manager Casandra Seng (2nd from left) and colleagues.
Set apart from traditional United Kingdom-based pedagogies, the course structure of an American university program is significantly more diversified and creates multiple pathways of interest during a learner's journey. In other words, the American educational system doesn't confine a student to a single field but brings them on a journey of self-discovery that enriches their perspective towards work, life and their environment.
If we were to take a closer look at whether the outcome of American education is more favourable to employers in the job market, we may measure the breadth and length that a graduate could go in discovering his potential, besides receiving feedback from their employer and educators.
Teoh Mun Hong, 23, a Bachelor of Science in Business Administration degree holder from Southern New Hampshire University (SNHU), an American degree programme which he fully completed locally at INTI International College Subang last year, is now employed by Microsoft Malaysia as a Consumption Specialist of Modern Workplace.
Teoh's career advancement at Microsoft started from August 2017 under an ambassadorship program arranged by INTI. Being a student-ambassador, he was given opportunities to work with multiple organisations including Malaysia Airlines, Columbia Asia Hospital, Sapura Energy Berhad and many more, by providing them with Microsoft's product training.
"I gained good experiences from this ambassadorship and learnt about leadership, teamwork, ideation, negotiation, communication and value propositioning," said Teoh, who met his current hiring manager Ms Casandra Seng, the Business Group Lead – Modern Workplace at Microsoft during the student-ambassador programme.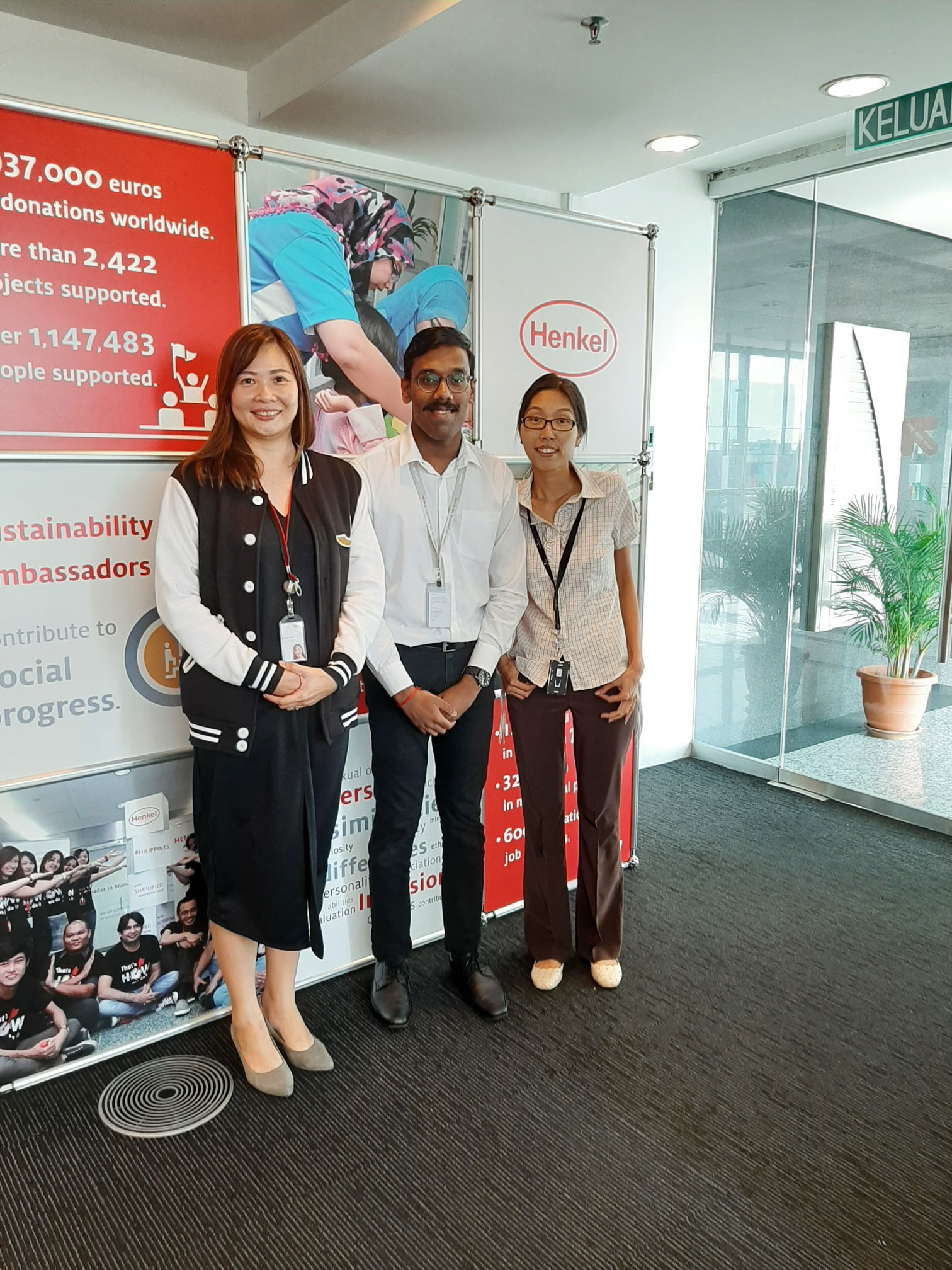 Uthayamurthy (2nd from left) with his hiring manager Liew Sook Ling (1st from left) and his former supervisor, at Henkel Malaysia Sdn Bhd.
Teoh was hired in May 2019 as an intern under Casandra for three months, followed by a position as a part-time Consumption Specialist. In November 2019, Teoh was offered a full-time role in the company for his current position, securing employment even before his formal graduation.
Reflecting on how the American education system has shaped him, Teoh analysed, "I think it has grown me into a person who is always ready to take up challenges. I have developed numerous skills during my degree programme that have prepared me for the job market. The overall system and the diversity of subjects changed my perceptions and how I approach my career and life."
He further explained that the overall rating system of the American degree program which was measured by 70% coursework in the classroom and 30% examinations, emphasised practical learning and applied theories.
"All our subjects used real case studies which were very relevant at that time, which required us to critically think about current issues rather than merely looking for answers from the internet. Through this way, it not only helped me become more knowledgeable but developed my ability to analyse and problem-solve," Teoh elaborated.
"The American degree program also offers numerous elective subjects. Though I was pursuing a business degree, I also took subjects that were related to science, humanities, psychology, information technology, finance, operations and religion. These broadened my perspectives and made me into a more holistic and sensible person," he stated.
Casandra Seng, Business Group Lead – Modern Workplace at Microsoft, shared that Teoh is a very adaptive, proactive, communicative and innovative learner.
"Teoh is passionate about what he does and was able to run the show once he came on board. He committed to helping the customers and always has great energy in supporting his team and partners in making sure things turn out well," shared Casandra.
Uthayamurthy, 23, who graduated from the same program, is now working as a Business Controller Management Trainee with Henkel Malaysia Sdn Bhd, a company that provides chemical products and solutions.
Similarly, Uthaya's career path upon graduation was built from his internship. He interned under the purchasing department of his present company from May to August 2019. When his supervisor decided to move on, he was enlisted by Henkel's IMS & Logistics Purchasing Manager for Regional Processes & Operations – Ms Liew Sook Ling, to take up his supervisor's role.
Embracing this opportunity, Uthaya re-joined the company in September 2019 as a contract staff for six months, even before his formal graduation. He was assigned to perform, coordinate and migrate all the payable activities to the company's shared service in Manila, Philipines.
Reflecting on why he had been entrusted with this large responsibility even though he was just a fresh graduate, Uthaya said, "The American degree programme developed my ability to communicate well with others. Before joining this program, I was not so confident in communicating with people, especially those whom I am not familiar with. This program offered a lot of opportunities for group work and projects which required us to have a lot of communication with unfamiliar faces. From these experiences, I managed to boost my confidence and developed my ability to communicate well with others."
Uthaya is also passionate about learning new things and his commitment to building trust with his employer. The company offered him the role of Business Controller Management Trainee under the Finance Department, where he is now working directly under the Chief Financial Officer!
Recognising Uthaya's talent when he was an intern, Liew Sook Ling explained why they chose to hire him, "He is an articulate person who communicates well and is able to resolve matters when issues arise. He is willing to go the extra mile to accomplish his assigned tasks with minimum supervision and most importantly, is not shy to ask questions, which helps him learn more at work."
A graduate with an SNHU Business Administration degree, Brian Woon Jia Juen, 22, also excels through his versatility and soft skills. He secured a position as a Business Development Executive in Cidekick Sdn Bhd, a manpower sourcing company which serves as a one-stop centre in recruiting talents for events.
"During my time at INTI, I have always enjoyed critical analysis. I enjoyed analyzing the patterns of people's behaviour, business trends, or new ideas, especially from a startup perspective. My lecturers were always able to provide meaningful insights that could develop my perspective as to how businesses operate. These insights have proven to be very useful throughout my studies, and I am glad I was able to gain a good amount of exposure before venturing out to pave my career," opined Woon.
Woon was hired by Richard Ranjit Singh, the Co-Founder and Chief Operating Officer of Cidekick, who believes each student is governed by their upbringing and their motivation to succeed in life, regardless of their tertiary education. Nevertheless, Richard still found some traits that American degree students excel at.
"I find that Woon is able to speak his mind easily and can give suggestions," stated Richard. "He is a person who wants to be better, he questions things because he wants to know how to do things better or why things are done a certain way when there could be a better way."
Hannah Lee Yin Ling, Head of Program for the 4+0 Southern New Hampshire University Programat INTI's Center for American Education (CAE) concludes that American education focuses on more holistic education, and learning outcomes aim to help graduates gain life-long skills that help them in the careers and beyond.