As we approach the era of IR4.0 when humans are beginning to coexist and work together with robots and Artificial Intelligence (AI), educators are striving to prepare a future workforce that is armed with the skillsets and knowledge about ICT, the ability to work with data, technical know-how and personal skills. Humans will remain an important component within a complex system, embodying thinking and behavioural skills such as collaboration, creativity, flexibility, and agility in tomorrow's workplace.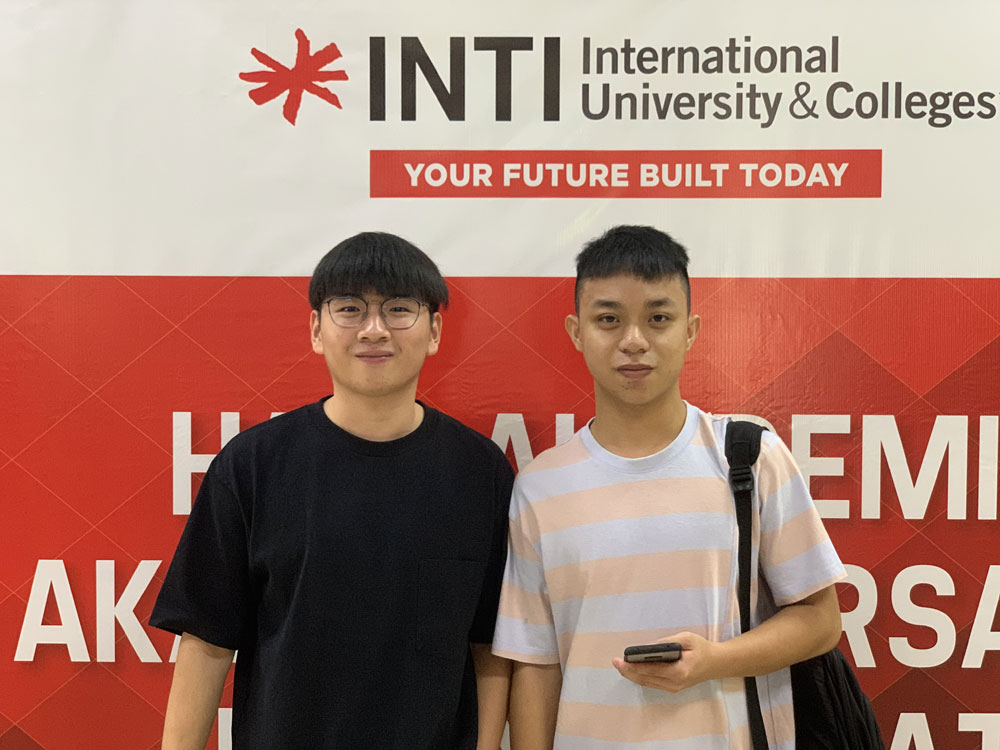 Ong Sheng Yuan (left) and Jason Lim Tick Hong who are both studying the Certificate in Business Studies programme at INTI Penang, were recently praised for their good deeds in helping others with integrity and honesty.
While IR4.0 will become part and parcel of human civilisation, humans will remain irreplaceable. Humanity will not be taken over by machines as we are ruled by a set of moral principles that govern human behaviour. This forms the core of human civilisation and humans will be valued for their virtues and ethics. These qualities cannot be taught but are instilled in a subtle way.
In embracing this concept, INTI students recently demonstrated the values of compassion, honesty, kindness, integrity and politeness. Recently, a social media post went viral about two Good Samaritans from INTI International College Penang (INTI) that captured people's attention. The story was also reported by a local news site online.
"A heartfelt Facebook post by a man narrating how he found his lost wallet thanks to two students in Penang went massively viral," read the subheader of a report by Says.com about the virtues of integrity and honesty. The feature was about Ong Sheng Yuan and Jason Lim Tick Hong, two young students who are currently studying the Certificate in Business Studies programme at INTI.
On the evening of October 9th, Ong and Lim, both 19, had just finished their revision and sports activities at their campus situated at Lebuh Bukit Jambul, and decided to drive to a nearby restaurant, which is about two kilometres away, to have their dinner.
"The restaurant that we picked is located at Elit Height, a popular destination among INTI students. There are a variety of eateries and the charges are reasonable. There was a mild drizzle that evening, and I could feel my hungry stomach grumbling even more due to such cold weather," recalled Ong, who enrolled at INTI in January this year.
As they were walking out of the parking lot, the students noticed something. "As we were walking, I saw a fat and thick object lying on the floor which I thought was a frog. We realised that it was actually a wallet dropped by someone," said Lim, who enrolled at INTI in April.
On seeing the wallet, both Ong and Lim were of the same mind – to pick it up and find its owner. Unfortunately, aside from an identity card of a Chinese gentleman, they couldn't find any other means of contacting the owner. They waited for about 15 minutes, standing beside a car where the wallet was found and hoping that the owner would soon show up.
"The wallet was wet from the rain. I held it and waited, but no one came to search for it," continued Lim, "Sheng Yuan then decided to leave a note with his mobile number written on it at the car. He pulled out a sticky note from his bag, wrote his information on it, and slipped it in between the car door. We then continued waiting at the restaurant where we were having our dinner."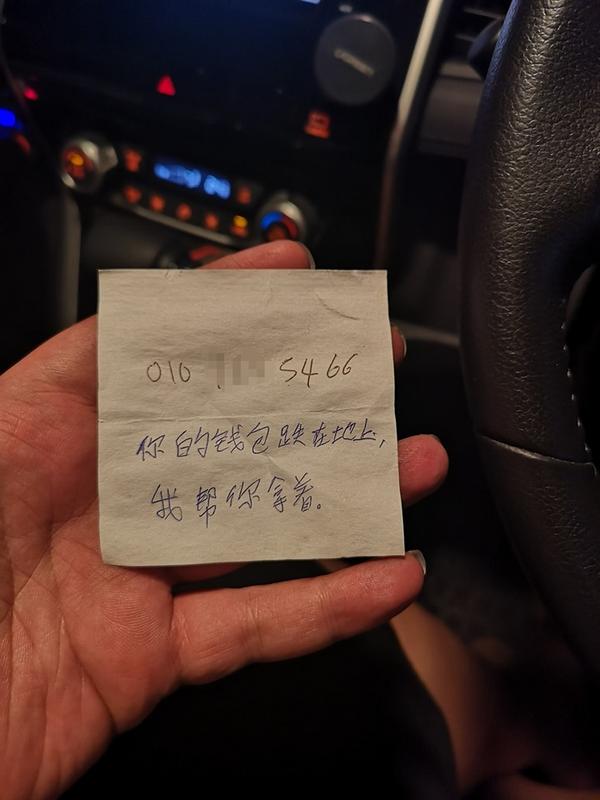 "You dropped your wallet on the road and I have taken it for safekeeping." A little sticky note written by the students from INTI to notify the owner of the wallet.
Ong's note was written in Chinese, and it read "You dropped your wallet on the road and I have taken it for safekeeping." When asked why they had chosen Chinese as the medium to pen down their message, Ong and Lim, who both studied in the same class at Keat Hwa High School replied, "In Penang, most of the Chinese locals understand Chinese characters."
As both of these young men were eager to return the wallet to the owner, after they placed their order with the restaurant, Lim actually returned to the parking lot to check if the owner was there or if the sticky note still remained on the car door. He waited for another ten minutes.
"We were anxious and worried if the owner had missed the sticky note as it was still drizzling outside. We both shared a sense of urgency that this matter should be settled quickly, without any delays," confessed Lim.
After returning to the restaurant, Lim had his dinner with Ong and when they were about to finish their meals, Ong's phone rang. The narration of the other side of the story was shared by the owner, Mr John Tan, on a public group on social media.
"The call was answered by a young voice who told me that he was waiting at a nearby restaurant. When I arrived at the entrance of the restaurant, I saw two young individuals who seemed to be college students. One of them stood up and opened the door while holding my wallet that was drenched by the rain," Tan wrote. Tan then offered to buy them a meal to express his gratitude. "I paid their bill even though they declined numerous times." When making the payment, Tan confirmed all the items in his wallet had remained untouched.
With a sense of relief, the two good friends headed back to their dormitory which they both shared. The next morning, they were taken aback when they realised Tan had posted the story at midnight, and it had gone viral within a short period of time.
Reflecting on this, Ong and Lim explained that to be morally good is something that everyone should do, hence, they didn't see the reason why people reacted in this way. "I think helping others is something that comes naturally to everyone, I do not deserve to be praised in this way," explained Lim.
Ong chimed in and expressed his wish to remain low profile by not boasting about their good deeds too much. "I think the intention of being good is not so we can garner the attention of others, nor to earn any recognition from society, as behaving in a morally upright manner shouldn't be put under the spotlight," Ong elaborated modestly.
Both students represent the holistic education emphasised at INTI and were commended for their good deeds. With IR4.0 impacting our daily lives, the qualities and values of being human are steadily becoming more relevant in a new world of work. The selflessness and empathy shared by both students in this instance are among the competencies INTI inculcates as part of its inclusive learning that empowers students beyond the classroom.