Have you ever wondered why Din Tai Fung is so popular? The chain of restaurants uses a paper-thin wrapper filled with hot, juicy minced meat or sweet pastes that make customers wonder how the dumplings, also known as xiaolongbao, does not prematurely burst while cooking. It is this precision that has made Din Tai Fung famous. The company streamlined a finicky dumpling and made it taste consistently great every single time it is ordered.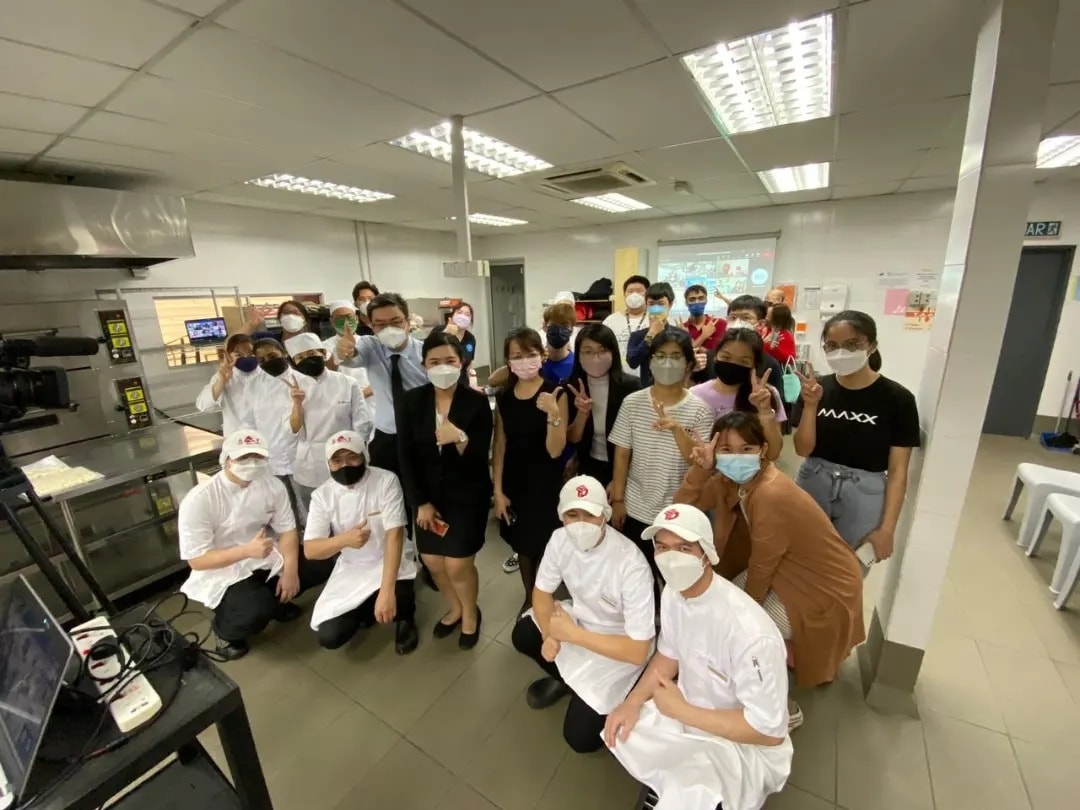 The team from Din Tai Fung with students from the School of Hospitality and Culinary Arts (SOHOS) at INTI International College Subang during the career readiness bootcamp.
Unlike the signature menu of big names like the Big Mac at McDonald's, Din Tai Fung did not invent the soup dumpling. It is thought to have originated in the suburb of Shanghai, yet the chain has become so synonymous with the xiaolongbao that its chefs churn out more than 10 million of them a month across its network of restaurants[1].
Din Tai Fung's philosophy is built around perfection — an approach exemplified in its restaurants where glass-fronted kitchens have become a signature feature of the restaurant theatre, showing off the chefs at work crafting xiaolongbao and other dumplings. It is these experiences that were imparted to students from the School of Hospitality and Culinary Arts (SOHOS) at INTI International College Subang.
Organized by INTI's Career Services team, the career readiness bootcamp with Din Tai Fung saw the participation of 20 students in the physical and online sessions. They were taught how to make the sweet xiaolongbao with red bean paste, a Din Tai Fung classic and world-renowned dish.
Olivia Ong, restaurant manager at one of the Din Tai Fung branches in Malaysia, said the class is one-of-a-kind.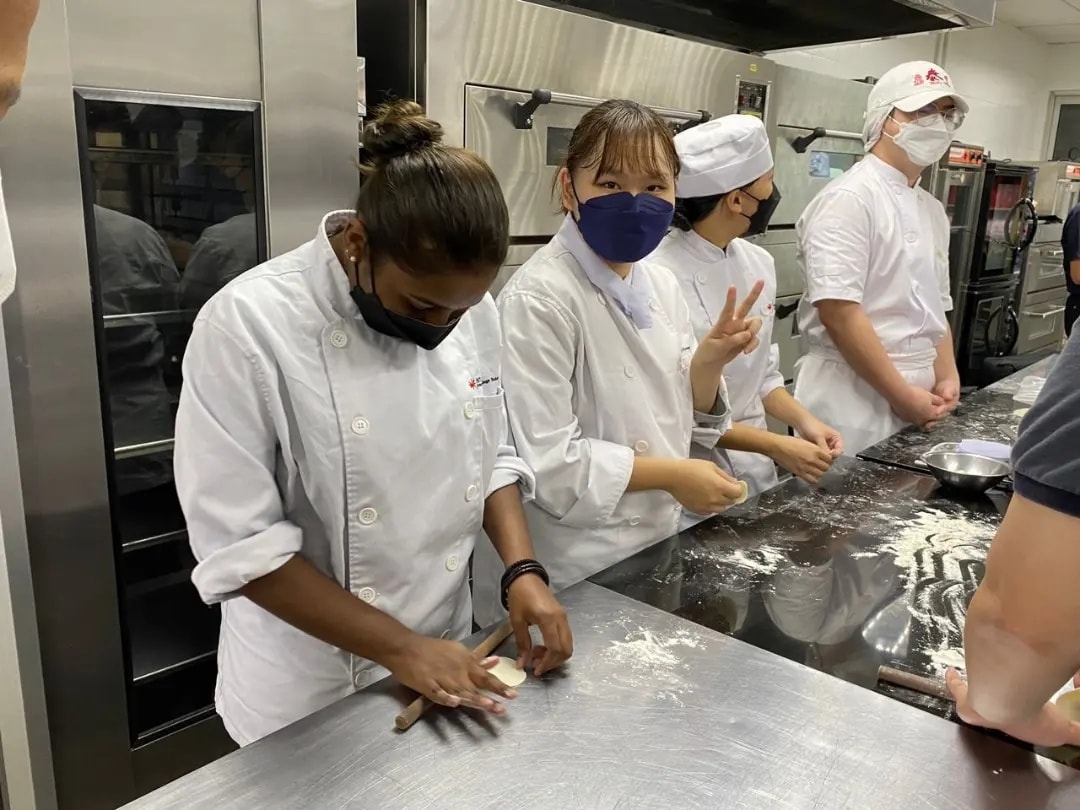 Students from INTI International College Subang's School of Hospitality and Culinary Arts (SOHOS) learn the techniques of making the sweet xiaolongbao with red bean paste.
"INTI students are privileged to learn the techniques that are specially curated by the founders of this established chain. This bootcamp is an avenue for the students to gauge the technical skills of making the sweet xiaolongbao, from cutting the dough size, rolling, and then folding the skirts.
"I think the main experience that inspired the attention to detail came after the company branched out to Japan in 1996. In Japan, they put a heavy emphasis on precision, replacing 'a pinch of this' and 'a spoon of that' with numbers," she said.
Besides the students, lecturers and staff also took home knowledge unknown to many. They now understood the suitable conditions that dumplings can be produced in, learning the precise measurements and size of each dumpling made in the restaurants.
"In order to ensure that dumplings are formed in the most ideal of conditions, dumpling makers work in a refrigerated environment. Each dumpling holds exactly 21 grams of filling plus or minus 0.4 grams margin of error. Yes, we actually weigh each chunk of filling and then each dumpling is formed with precisely 18 folds. This number 18 has great significance, because when you pronounce the numbers 1 and 8 individually in Mandarin, it will sound similar to yao fa, which means 'to get rich.' As a Malaysian, I'm sure everyone knows that the Mandarin speaking community swoons over their homophones and anything that sounds like luck, longevity, or money-making," Olivia said with a laugh at the bootcamp.
Beyond the xiaolongbao, Din Tai Fung has a standard set of procedures for every dish, specifying details down to the temperature in which the ingredients are prepared.
She then elaborated, "From location to location, Din Tai Fung also adjusts its menu accordingly. For example, instead of serving their famed pork xiaolongbao dumplings in Dubai, they created chicken dumplings to accommodate the dietary needs of Dubai's citizens. Understanding the perils of expanding too quickly, they set up central kitchens for every couple of stores in an area where 70% of the ingredients are pre-prepared and assembled to maintain the level that took years to achieve."
"Din Tai Fung's approach to business has always been conservative and cautious but also highly focused. Its first restaurant was founded in Taipei in 1972, but it was not until the mid-1990s that it began to expand beyond its native Taiwan. It was then that the New York Times listed it as the world's top ten gourmet restaurants," Olivia shared.
Ho Siew Wan, Human Resource Manager at Din Tai Fung, was also present at the bootcamp. She spoke about career and internship opportunities available at the organization besides the development one attains during their tenure.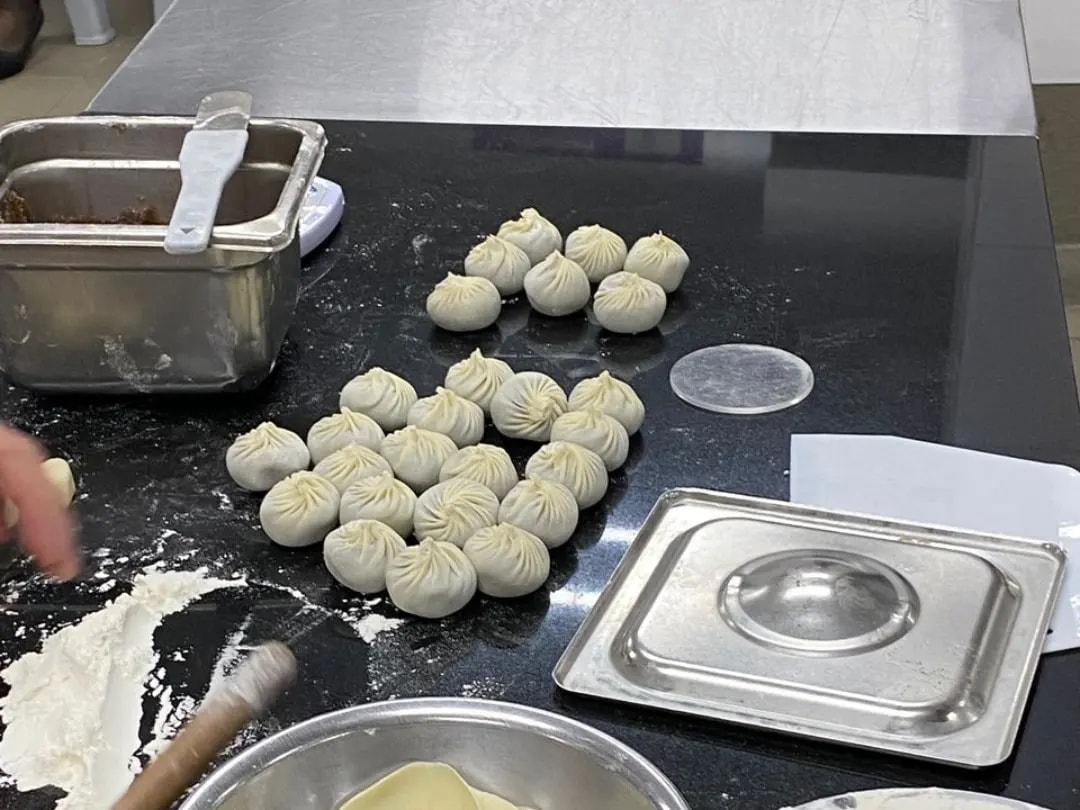 The sweet xiaolongbao with red bean paste delicately made by students from the School of Hospitality and Culinary Arts (SOHOS) at INTI International College Subang.
"Our team consists of an impressively multilingual group of people – they speak languages of various countries. We have staff who are with the company for five, even ten or more years – impressive tenures when it comes to the high turnover in the hospitality business. The best performers are usually offered opportunities for career advancement, often roles in restaurants that have opened abroad," revealed Siew Wan.
She also highlighted to the students about the importance of heeding career advice as a future graduate.
"College can provide you with many opportunities to help start your professional career. During this time, it's important to focus on your career aspirations, plan for the future and consider suggestions that can help propel your advancement in your chosen field. Doing this can help you better prepare and ensure you're ready for any professional opportunities post-graduation," she said.
Launched by Dr. Jane Lim, Vice President of Campus Academic Operations, INTI International University & Colleges and Chief Executive of INTI International College Subang, the bootcamp was held to equip INTI students with skill sets that are unique and critical to making them stand out in the crowded employment market.
"These bootcamps are specifically organised to broaden the knowledge of our students from an industry perspective besides inculcating problem solving skills through real industry projects.
"This session with Din Tai Fung saw students showing their talent and eye for detail by attempting the techniques demonstrated by the chef present. It gave them a glimpse into the competencies they must develop to thrive in this ever-evolving industry. It will also be a learning curve for the students as they receive insightful feedback which will help them to strive inside and outside the classroom," she said.
[1] https://www.dintaifungusa.com/us/menu/red-bean-mochi-xiao-long-bao.html