Traditional Chinese Medicine (TCM) has evolved over thousands of years. TCM practitioners use various psychological and physical approaches such as acupuncture and "tai chi", as well as herbal products to address health problems.
It has a comprehensive system that plays a key role in the prevention and treatment of infectious diseases. Several provinces in China have been following TCM-based prevention and treatment plans for COVID-19, with remarkable results.
The advantages of TCM in the treatment of COVID-19 includes effective relief of symptoms, retarding the development from mild and moderate to severe, improvement of cure rate, reducing death rates, and promotion of rehabilitation.
Recently, INTI International University's Faculty of Health and Life Sciences held a virtual symposium titled "TCM Treatment and Recovery for COVID-19 Patients" featuring speakers from different backgrounds came together to share their experiences and viewpoints including Dr Chen Yao, a member of the Hubei Traditional Chinese Medicine medical team which carried out clinical treatment against COVID-19 in Wuhan and Hubei in 2020.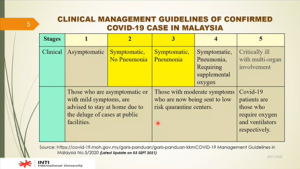 A photo of the clinical management guidelines of confirmed COVID-19 cases in Malaysia.
According to Chen Yao, Deputy Chief of Guangdong Second Traditional Chinese Medicine Hospital, COVID-19 patients usually release "dirty qi", an odour similar to rotten food.  In terms of health preservation in the Chinese therapeutical concept, there are four stages to the coronavirus disease.
In the first stage, if the patient's circulation of qi, sweat and excretion are unobstructed, the individual will not fall ill with COVID-19. During the second stage, patients show mild symptoms. Therefore, there is a need to provide aromatics therapy to resolve dampness and remove dirty qi from the patient's body as sweat secretion will further deteriorate the individual's health.
The virus starts taking form in the patient's body in the third stage. Patients will show symptoms like shortness of breath, hypoxemia, and dry cough amongst other. This indicates the patient's condition is worsening and aggravating to the next stage.
"Meanwhile, fourth stage patients will experience vessels beginning to converge in the lungs and cause it to be blocked, creating a life-threatening situation," stated Chen Yao.
According to the Health and Nutrition Committee from Canadian Covid Care Alliance, key herbs beneficial in COVID-19 and viral infections include medicinal mushrooms such as Reishi, Maitake and Shiitake which are used to reduce the risk of infection; Artemisia like Artemisinin is used for the treatment of active infection and pine needle extract is used in the treatment of post-vaccine side effects.
Lianhua Qingwen capsules, a traditional Chinese medicine from Beijing Yiling Pharmaceutical Co. Ltd, have been approved by the China National Health Commission for treating COVID-19.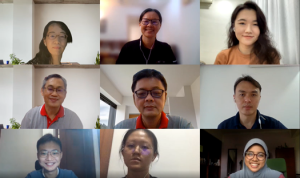 A group photo during the virtual symposium organised by the Faculty of Health and Life Sciences titled "TCM Treatment and Recovery For COVID-19 Patients".
"Lianhua Qingwen is used in the treatment of epidemic influenza and fever. It can also suppress cytokine storm, antiviral activities, immunoregulation actions, lung protection and other mechanisms," shared Associate Professor Dr Long Ming from University Brunei Darussalam (UBD).
"The ingredients of Lianhua Qingwen does not cause cancer or harm pregnant women. Thus, it can be consumed by anyone," he added.
There is a high demand for Lianhua Qingwen worldwide. In the Philippines, it is a widely prescribed medicine for the treatment of COVID-19. Ephedra sinica Stapf, an ingredient found in the original Lianhua Qingwen produced in China, is not available in Malaysia as it was listed as a controlled substance under the Poison Act of Malaysia.
Chong Teek Foh, a lecturer from the Faculty of Health and Life Sciences of INTI International University mentioned that the development path of Chinese and Western medicine is different, each has its own advantages and disadvantages.
"The effectiveness of Chinese medicine cannot be measured solely according to the standards of Western medicine. Chinese and Western medicine cannot rely on and replace each other, but instead it should be independent and synergistic," he concluded.