"New normal" is one of the most often used terms now. The use of online learning tools have increased and triggered new ways of learning during the COVID-19 pandemic. This new normal that we see in education has digital learning at the core of its transformation.
Today, digital learning has emerged as a necessary resource for students and schools all over the world. For many institutions, learning online is new. The transition from physical to virtual classes does not only apply to academics but is also extended to extracurricular activities as well.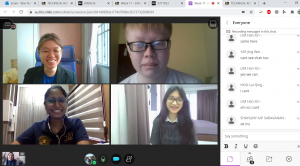 Students at INTI International University have been attending online classes via Blackboard, a Learning Management System, since 2012.
Two researches conducted by Associate Professor Phawani A. Vijayaratnam and lecturer Wan Noor Farah Wan Shamsuddin from INTI International University's Centre of Liberal Arts and Languages (COLAL) are considered timely and relevant as they look at the benefits and challenges of teaching and learning during the pandemic.
The research conducted by Associate Professor Phawani and Farah revealed that online learning has its own set of positives and negatives. It also implicated that decoding and understanding these positives and negatives will help institutes in creating strategies for more efficient delivery of online lessons to ensure an uninterrupted learning journey for students.
COVID-19 is a phenomenon that humankind is still finding ways to combat. For educators around the globe, the battle is finding alternative ways to keep the interest of students towards learning. According to Phawani, the pandemic has definitely brought the education fraternity even closer than before.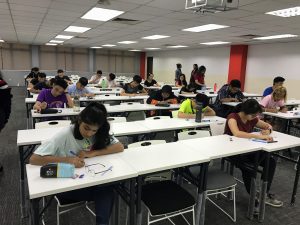 Education within four walls was the norm at INTI International University before the COVID-19 pandemic.
"The pandemic was an accidental and unavoidable disruption that brought the teaching fraternity together to think of novel ways of using technology to transform online teaching and learning, making it a positive learning curve for the community," said Phawani about one of the positive sides of the crisis.
Phawani added, "Institutions in their own ways have sought various Learning Management Systems (LMS) to replace traditional face-to-face learning. They are also proven to be efficient supporting platforms for students all around the world."
Although the learning platforms used by institutions differed, Associate Professor Phawani's research showed that instructors used a structured academic approach revolving around interactivity and action to address each student's varying needs. Educators designed comprehensive and creative plans to keep students continuously engaged with the course content besides giving room for remote collaboration among classmates. Careful consideration is given to every element in providing a rewarding student experience.
Her research also revealed that teaching innovation stepped up to promote learning continuity among lecturers and students.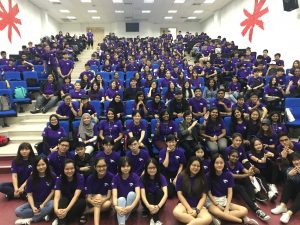 Before the pandemic, Face-to-face seminars, workshops, conferences and events were organized to enhance student learning experience at INTI..
"The findings reveal that the use of creative instructional strategies by instructors has taken teaching innovation to a different level. The voices from faculty revealed novel teaching techniques they employed, although the techniques came with challenges and frustrations," Phawani exposed in her research with fellow counterparts from INTI and HELP University.
Meanwhile, Farah also embarked on a similar research journey, studying the benefits and setbacks of online learning especially when the Movement Control Order (MCO) was announced last year. Similar to Phawani's findings, Farah also highlighted in her research that Blackboard, a LMS used by INTI years before the pandemic broke out, provided students with learning convenience. The user-friendly interface helped local and international students to access information almost right away.
"A majority of students believe that Blackboard is the right tool to replace the face-to-face lessons during lockdown. Apart from its flexibility and accessibility, Blackboard has helped students easily grasp new information taught in their online classes," Farah elaborated.
While students in the past have raised concerns about moving from a traditional classroom to a virtual platform the COVID-19 outbreak has shown its advantages such as allowing students to be closer to home while still working towards getting a recognized qualification.
Farah's research also showed that having a comfortable virtual learning experience has become a vital enabler for students to still continue their academic and professional development, especially in higher education institutions around the world.
"However, the study I conducted with my colleagues also found drawbacks of online learning during the lockdown. These include Internet connectivity issues, lack of motivation to concentrate during online class over a long period of time, and lecturer competence in conducting online lessons," added Farah while reiterating that it is important for instructors to consider these factors.
This finding, however, applies to the beginning of the MCO in which both students and lecturers were still transitioning from face-to-face to online mode. Interestingly, Phawani's research which was conducted some time later found that these drawbacks have taken a positive turn especially with more professional trainings provided to equip the lecturers on how to improve their online teaching better.
Both researches concluded that during these challenging times, online learning is a means of empowering young learners for education continuity. Flexibility, which is the beauty of online learning, allows content to be accessed over and over again at any convenient time – a factor that is especially helpful not just for first semester students but also those in their final year.
Each individual differs in the way they absorb knowledge, and for some, learning from the comforts of home may be more appealing than in a classroom full of people and distractions.