Till now you've been a vegan or a vegetarian and now you're at a crossroad. Do you need to break your traditions or lifestyle and start gorging on non-vegetarian food while you study in a different country, what more if you're in the land where Colonel Sanders was born and his famous Kentucky Fried Chicken (KFC) was created?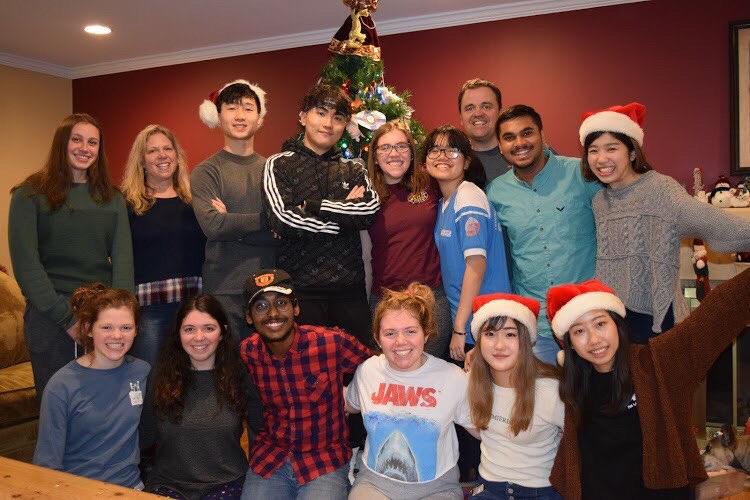 Kuhan Rajendran and other international students with a local family at Kentucky that hosted them during Thanksgiving.
With so many things to balance during your higher education in a foreign country – classes, projects, extra-curricular programmes and internships, there is one thing that cannot be ignored, and that is food. When you pack your bags and say goodbye to your family, a voice inside keeps asking you 'What am I going to eat?' and 'How will I manage on my own?
Kuhan Rajendran, who is currently pursuing his Bachelor of Science in Mechanical Engineering degree at the University of Kentucky (UK), and an American Degree Transfer Program (AUP) alumnus from INTI International College Subang had similar thoughts before flying off to the United States of America.
But Kuhan was well prepared. He had a meal plan that he followed thoroughly which allowed him to have unlimited access to the canteens on campus.
Kuhan, who has been a vegetarian since he was 15 years old for religious purposes, said, "The canteens had vegetarian options, and even a vegan section that had special meals for both lunch and dinner. Also, pizzerias and sandwich bars always had vegetarian options. Therefore, accessing vegetarian food was always convenient." His meals cost him an average of USD$10 per meal, unless there are special occasions such as birthdays or club and society dinners held at restaurants, when he spends between USD$20 to USD$30.
Being a vegetarian didn't stop Kuhan from visiting Sanders Café, one of the many historical places in Kentucky. The café is located at North Corbin, the birthplace of KFC where Colonel Sanders developed his 11 secret herbs and spices that makes KFC one of the best fried chicken franchises to date . Kuhan indulged in their mashed potato with gravy and mac and cheese, and claims that the mashed potato he tasted at Sanders Café, tastes similar to the ones in Malaysia.
Before the Kuala Lumpur born student furthered his studies to the UK, he researched thoroughly about the course he is currently pursuing. "I decided that INTI would be the best choice because it simply had everything that I needed. INTI is the pioneer when it came to AUP in Malaysia. My cousin had also pursued the AUP at INTI, before transferring to the University of Iowa in 2016. When he shared his experiences with me, I was taken aback by the fact that INTI has partnerships with more than 300 universities across the United States!" exclaims Kuhan.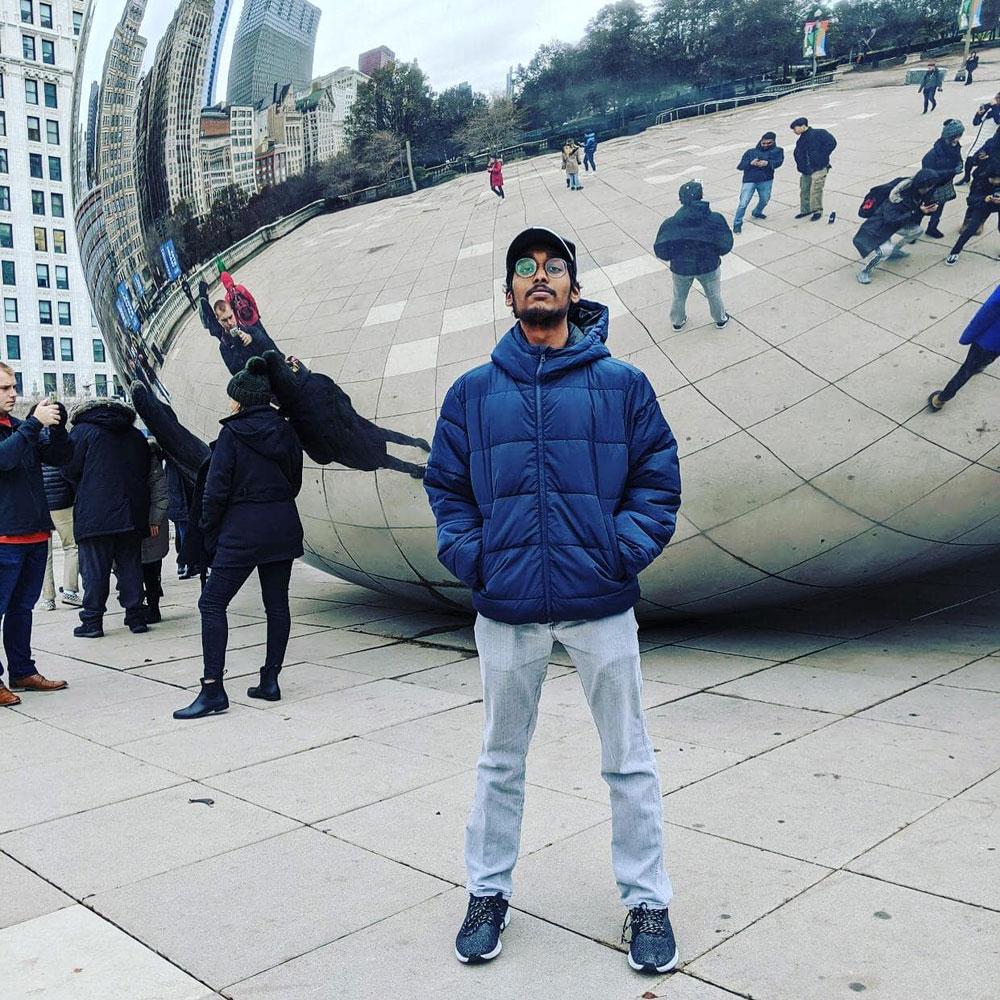 Kuhan Rajendran posing in front of The Bean (Cloud Gate) during his trip to Chicago.
"When I first joined the college, Ms Terrie Teoh, Program Manager of American University Program (AUP), Center for American Education (CAE) and Head of University Placement Office (UPO), Mr. Hasif Darwish, and Mr. Zulkhairil (former advisors) from CAE were my guiding pillars. They gave me an idea about the universities I could enroll in based on my personal preferences, and helped me throughout my US Visa application process. They were one of the main reasons I have reached greater heights in my studies and opportunities today," said Kuhan, who was grateful to his lecturers at INTI who guided him through his dilemma of choosing the university he should study in.
Initially, Kuhan had difficulties paying the application fees for the UK. He shared, "When I informed Ms Terrie that I had difficulties paying the application fees for the UK, she texted Ms Audra, the Director of International Students' Recruitment at the UK about the whole issue I was facing.
Leveraging their strong partnership with INTI, my application fee was waived! Thereafter, I had Ms Lindsey Shipp, Officer from the Admissions Office, dealing with me directly about the documents necessary for the admission process and the rest was history. Today, I have even secured an internship in Taiwan this summer."
So what if you are a vegetarian and want to experience studying overseas? Kuhan is definitely showing us that anyone can survive in a different country without switching over to non-vegetarian food. Though it might be a little difficult during the initial days, with time you'll find yourself adjusting to the circumstances. Having already visited four States, Kuhan wishes to visit all 50 states in the US. Let's hope his wishes come true. Good luck, Kuhan!