The cancellation or deferment of internship programmes globally due to economic and business uncertainty has left higher education students worried about their ability to complete their studies and graduate this year. This crisis is expected to wipe out 7.2 per cent of working hours in Asia and the Pacific, which will impact an equivalent of 125 million full-time workers1. This is likely to impact the ability to secure jobs, and more likely an internship in the coming months.
Cheah Sze Yin, a student of INTI's Bachelor of Science in Business Administration programme, interns at Eng Sheng, a global importer and exporter of agricultural goods.
Despite the anticipated trials ahead, the Career Services (CS) Department at INTI International University & Colleges continues to work with students and organisations to secure internships, enabling students to complete their programme requirements and minimise further disruptions to the learning experience. Having established long-lasting partnerships with close to 450 local and multinational organisations nationwide, CS continues to work hard on placement opportunities with well-established brands, ensuring that internships continue to follow a high quality that will not only train students well but also lead to future career opportunities.
Cheah Sze Yin, 22, a student of INTI's Bachelor of Science in Business Administration programme, in collaboration with Southern New Hampshire University (SNHU)started her internship on 11th May 2020, while the Movement Control Order (MCO) remained in force. She is presently attached to Eng Sheng Sdn. Bhd., a global importer and exporter of agricultural goods, and will continue her internship for 13 weeks until 7th August.
"I started working in the office since the first day of my internship and experienced the strict hygienic code set by my workplace. As I am working in an essential services industry tied to logistics, and my main duty is to keep track of the inventory goods in the warehouse for the purchasing department, the nature of the job itself needed me to be physically present at the site," Cheah explained. She was also tasked to check the quality of incoming goods before storing or distributing these to the company's respective outlets.
Cheah explained, "Through this internship, I have developed my skills in communication and in being adaptive to change."
Professing a more introverted personality, Cheah admitted that communicating with others face-to-face or even calling on the phone had required her to overcome personal challenges and that through the internship she had developed a certain confidence within herself.
Cheah's course mate, Candice Yap Sin Mun, 22, echoed similar sentiments about growing on the job.
Yap, who started her internship on 18th May at HappyFresh Malaysia, an online grocery delivery company, explained, "I never expected to work from home in my first job as I anticipated working in an office and communicating with colleagues face-to-face. When I first started working, I thought it would difficult as I am not used to talking to others online and staying focused throughout my working hours at home. As days passed, I got used to it and adapted to this new normal," shared Yap.
According to Yap, who interns with the human resources department and carries out administrative work for new recruitments, her entire office is working from home but continues to conduct interviews and meetings through video calls.
"My supervisor and seniors provided me with online training when I first started. Just after a week into my internship, I had already learned a lot about managing multiple applications and processes," she added.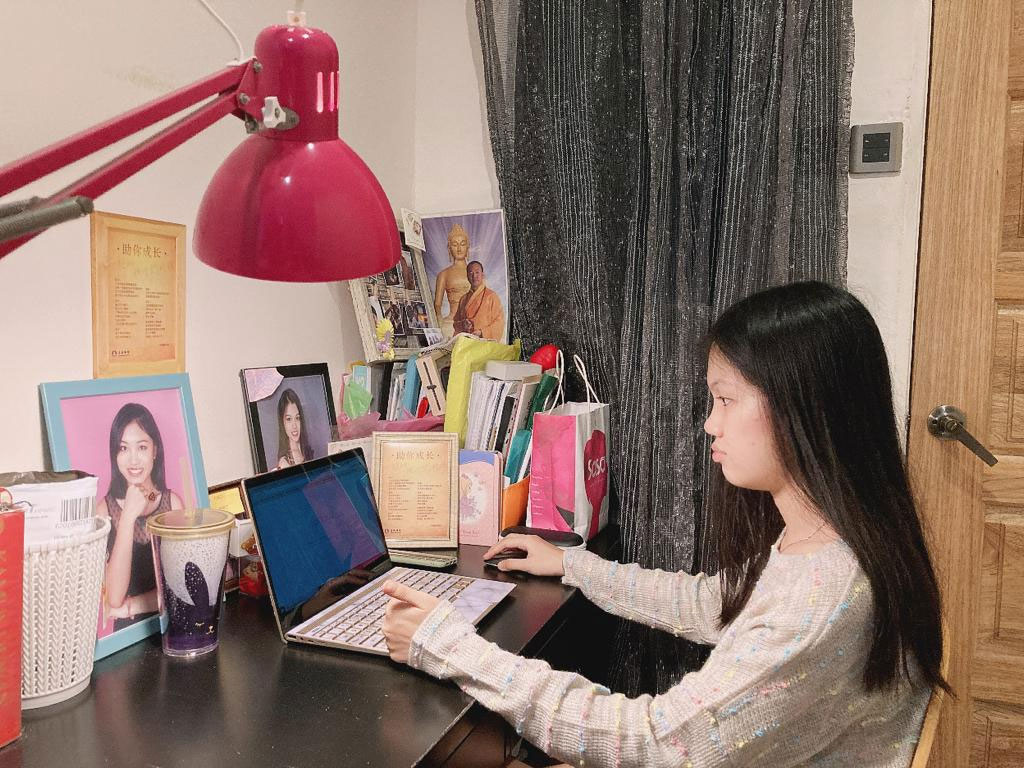 Crystal Chong Pik Chyng, a student of Bachelor of Science in Business Administration programme, continues to adapt to her role in Yoohoo Media, an out-of-home (OOH) advertising solution provider.
Another lucky student who managed to secure an internship is Crystal Chong Pik Chyng, 23, who interns in Yoohoo Media, an out-of-home (OOH) advertising solution provider. Having started work from home arrangements since 18th May, Chong found herself in a role similar to executive staff in arranging the processes from planning to putting up a billboard for her clients.
"I found that my job scope throughout my internship would include important, hands-on tasks and that the company treated us almost like full-time employees. This has taught me to be careful with my work and to be a gatekeeper to ensure every detail is correct as I am serving clients alongside the rest of my colleagues," she said.
Starting her internship during the MCO was not as challenging as Chong expected as there was sufficient support given by the management in building up her confidence.
Chong explained, "My supervisor coaches me step by step by conducting Zoom meetings every alternate day, or at least once a week. Through this guidance, I learnt to work with people I came across confidently, even though they are very much higher in position than I am in the workplace."
Amanda Aw Kar Kei, 22, who interns at Nettium Sdn. Bhd., a company that provides innovative solutions ranging from online gaming, e-commerce, gamification and talent management, has also enjoyed a good internship experience. Aw has been given a significant role with the Learning and Development (L&D) department and was in charge of providing materials for the company's employees to help them qualify as Business Analysts for the Entry Certificate in Business Analysis™ (ECBA™).
"At work, I always take the initiative to learn more and apply my knowledge to better support my company and peers. The L&D team also provided me access to the Learning Management System (LMS), through which I can upload useful content that employees can learn and benefit from," said the young student who always takes the initiative to finish her tasks, even without much supervision.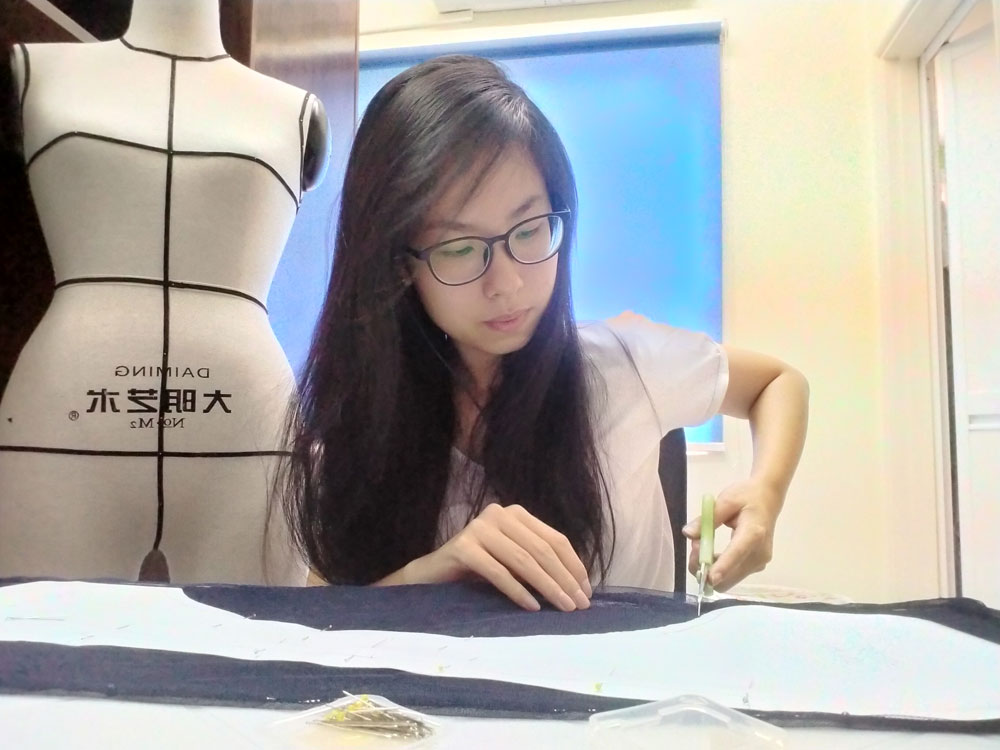 Graceful Lee Cyn Cym, a Diploma in Fashion Design student at INTI's Centre of Art and Design (ICAD), constructs bridal wear which will be put on exhibit at the outlet of Lynx Property.
These proactive traits were also found in Graceful Lee Cyn Cym, 21, a Diploma in Fashion Design student at INTI's Centre of Art and Design (ICAD), who interns at the fashion division of Lynx Property. Lee's daily job scope includes sketching design pieces, sourcing for fabrics and accessories, and constructing bridal wear which is put on exhibit at the office outlet.
Dedicated to perfection, Lee who started work on 11th May decided to shop for materials at physical shops during the Conditional Movement Control Order (CMCO) rather than sourcing them online.
"If I couldn't touch the fabric and feel the sensation it gives, I would rather not sew as I felt it wouldn't turn out as nice as I expected. To ensure my creations turn out well, I decided to wait and physically shop for the necessary items in downtown Kuala Lumpur," said the fashion designer who will put her masterpiece on show in mid-June.
Grateful that their efforts to build strong collaborations with MNCs, SMEs and start-ups had led to securing internships for students during this time, Jess Tinawin, Vice President of INTI's Career Services said, "We were fortunate that we could still place our new interns in good jobs, and that there was the demand from industries such as BPO, GBS, TELCO, IT/IS Services, Retail, FMCG, Logistics Supply Chain and other Delivery Services was still ongoing."
"With many of our students already have experienced online learning from as early as their first semesters with us, and with many of them already connecting with our Career Services team regularly, our students found it easier to adjust to fully online working environment and to use the collaboration tools and applications that they have learnt at their campuses," added Jess.
Speaking about new processes, the upskilling of staff, data analytics and cloud technologies in the new normal, Jess concluded, "We have a proven process and Total Quality Management (TQM) framework that we have put in place since 2009. Our services and offerings are all available on the cloud and we continue to keep up with market sentiments by having regular calls and online collaborations with industry. During this time there is an important need to be agile, resilient and to anticipate what is ahead of us. With our industry-standard infrastructure and cloud technologies, our team continues to support our students and work alongside our partners to ensure we are addressing talent and employability. During these challenging times, we must come together to work as a whole to address the concerns of our nation's workforce and future professionals."
1 ILO: COVID-19 causes devastating losses in working hours and employment, International Labour Organisation, 7 April 2020.