As the country transitions to endemicity, Malaysians are returning to a near-normal lifestyle while still practicing caution and still adhering to standard operating procedures outlined by the Ministry of Health. For students pursuing their Diploma in Fashion Design at INTI International College Subang, being able to return back to campus has allowed them to organize a mini fashion show, something they had converted online during the pandemic.
The one-hour Pattern Making Fashion Show, an event wholly organised and run by the students, was super vibrant and upbeat – as if to make up for the years that events were done only virtually.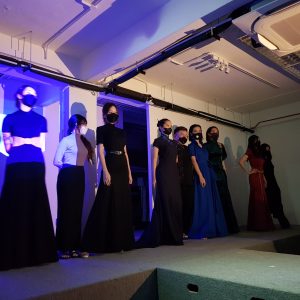 Models presenting the designs created by Semester 3 and 5 students.
"Semester three and five students from the Diploma in Fashion Design programme presented their final projects at a fashion show held on 4th March. The project was headed by Tan Yee Teeng, a lecturer who currently teaches pattern making subjects at INTI's Centre of Art & Design (ICAD)," said Diploma in Fashion Design programme head Louise Yee.
She explained that students were tasked to design, pattern-cut, source fabrics. Semester three students were required to sew a dress while semester five students had to create a two-piece suit jacket.
According to Louise, it was an exciting moment for the students as for some, it was their first time experiencing a live fashion show. The eased SOPs and restrictions have allowed students to organize projects physically, especially now that students in higher education are allowed to return back to campus.
"The year 2022 will certainly be an exciting one for the entire programme. This mini fashion show is a warm-up as we jump-start the students' enthusiasm towards the return of the 8th Annual INTICHANGE Fashion Show to be held live this year," shared Louise.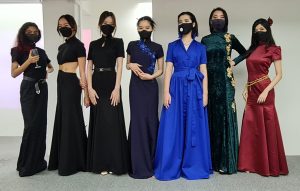 Models strike a pose at the mini fashion show organised by Diploma in Fashion Design students.
Meanwhile, Ang Tong Yin, Dean of ICAD, shared her thoughts about the mini fashion show saying that real life projects empower students to apply their talent and artistic techniques in the creative process, as well as express their ideas in their own distinctive style.
"I am confident that ICAD graduates can look forward to becoming versatile, adaptable, and enterprising professionals who are always on top of the latest trends. At INTI, our lecturers invest their time to nurture students both inside and outside of the classrooms.
"Their passion for teaching and their commitment to seeing students thrive has always been their ultimate goal.  They pour years of knowledge to prepare for the jobs of the future and equip them with transferrable skill sets for an ever-changing job landscape," she said.
With that, Tong Yin added that she hopes students take advantage of these projects for a glimpse of the competencies they must develop in order to thrive in a fast-paced industry now and in the future.