INTI International University & Colleges recently inked a Memorandum of Understanding (MoU) with Hilton International Asia Pacific Pte Ltd. The collaboration will increase educational opportunities for students and promote mutually beneficial linkages.
A signing ceremony held at the Hilton Hotel in Kuala Lumpur saw the agreement signed by Chong Kok Wai, Chief Executive Officer of INTI International University & Colleges, and Hilton representatives Jamie Mead, Regional General Manager for Malaysia, Philippines, and Sri Lanka, and Shamala Krishnan, Director of Human Resources for Malaysia, Philippines, and Sri Lanka.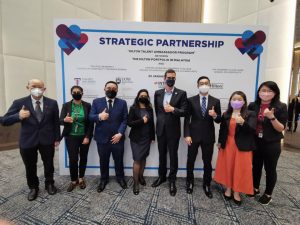 Representatives from Hilton, INTI International University & Colleges, Taylors University, and UOW Malaysia KDU pose for a group photo at the MoU signing ceremony.
The partnership between INTI and Hilton under the Hilton-INTI Strategic Partnership Programme will see a long-term collaborative relationship to enhance opportunities available to students' pursuing hospitality and culinary arts in terms of career path and employment opportunities in top hospitality organisations. Under this programme, both parties will collaborate on initiatives such as the Hilton Talent Ambassador Programme, boot camps, INTI Working Professionals Programme, and job and internship placement.
The Hilton Talent Ambassador Programme is tailored to equip students with the necessary skills needed by the industry through a one-year contract at one of Hilton's properties in Malaysia and the chance to apply to a fulltime position upon completion.
Chong Kok Wai, CEO of INTI International University & Colleges, putting down his signature for INTI's partnership with Hilton.
INTI places strong importance on bringing industry to the classroom and ensuring students are prepared for the workforce, therefore, this partnership will allow students to put theory into practice with real-life working experiences.
"INTI is honoured to be able to work with Hilton to develop future professionals in the hospitality and culinary arts industry. Our collaboration will allow our students to gain practical experience, useful knowledge, and familiarity with industry demands and expectations after graduation.
"We hope these initiatives will help students to become more confident and ready to adapt to the working environment of international hotels," said Chong Kok Wai, CEO of INTI International University & Colleges.