Held virtually over two days on 31st March and 1st April, the International Higher Education Conference (IHEC) 2022 organized by INTI International University gathered leaders, scholars, and researchers of higher education institutions across the globe to share their vision on international higher education, besides sharing their experience and tactical approaches in dealing with challenges in times of uncertainty. The event garnered over 1,000 participants each day.
The conference was a platform for academics to also disseminate information on other aspects such as internationalisation of higher education, leadership and management.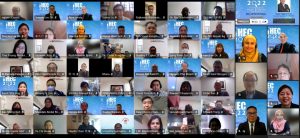 Participants of the International Higher Education Conference 2022 pose for a group photograph at the end of the second roundtable session on Day 1.
Four roundtable sessions were moderated and discussed on by speakers from countries like China, Thailand, Indonesia, United Kingdom and Pakistan on topics that touched on the formulation of strategies before and after the pandemic, strategies dealing with the unknown and uncertainties, as well as internationalisation.
Delivering his keynote address titled "Will International Mobility Ever Be the Same", Dato' Ngiam Foon, Past President of MATTA, and Consultant of Business and Digital Transformation forecasted on the possible patterns on international mobility amongst locals and foreigners in the coming months, comparing them before and after the pandemic.
He said, "Although borders have begun to reopen, many travelers will continue remaining cautious as health will be one's priority at least for the next few months. Of course, this would vary across different regions but travelling as a whole will continue. Tour packages and vacations moving forward will be customized as per tourists' requests – they will be given an opportunity to choose experiences to suit the group's preference on factors like health, state of medical facilities, and possibility of border restrictions that could be imposed immediately."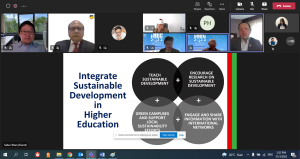 Speakers from different countries discussing the integration of sustainable development in higher education during one of the roundtable sessions.
He also discussed the age groups that would be making trips locally and internationally after a two-year hiatus following global travel restrictions.
"The number of international tourists has dropped by 75% to about 400 million in 2020 and grew marginally to only 415 million in 2021. Due to the uncertainties and changes in border restrictions, the travel patterns have changed focusing mainly on essential and domestic travels. This is in contrast to the pre-pandemic situation where we would see more of the Gen Y and Gen Z travelling with friends and family to various local or international destinations, most often those destinations that are trending on social media.
"We would see a higher adoption of technology with less human touchpoints in shopping, booking and check-in processes.  However, this will come with higher expectations on the services provided by customer service representatives at the point of need," summarized Dato' Ngiam at the end of his keynote presentation.
About IHEC 2022, Dr. Joseph Lee, Vice Chancellor of INTI International University, said IHEC 2022 has successfully provided participants a platform to interact, exchange ideas, and dialogue, which also demonstrates INTI's commitment to academic excellence and research.
"We gathered reputable speakers and moderators from institutions and entities all over the world who came together to share different aspects of higher education and its management systems. Collaborations with institutions and industry partners is pertinent in ensuring survival of higher education in a digital economy. After all, it is the single most important driver for innovation, competitiveness and growth. Adopting digital technologies and online learning systems in higher education will be paramount to a knowledge-based human capital, and thus, Malaysia's future workforce," Dr. Joseph further elaborated.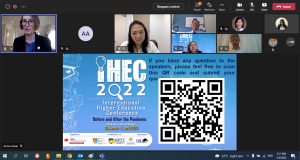 Participants of the International Higher Education Conference 2022 were given an opportunity to ask questions to subject matter experts.
Meanwhile, Dr. Lai Yin Ling, Chairperson of the Organizing Committee of IHEC and also the Pro-Vice Chancellor for Academic Operations at INTI International University said, "We are honoured that we have the support of both local and international higher education institutions, namely Universiti Kebangsaan Malaysia, Amity University Mumbai, India, and Islamic University of Maldives. We are also honoured to have had a very diverse group of speakers and moderators from 19 institutions in 12 countries around the world who shared insights on various topics."
She also shared that the event had paved the way for further collaborations outside the conference.
"I am happy to announce that we have just sealed a partnership with Universitas Abulyatama (UNAYA), Indonesia, through a Memorandum of Understanding signed by Dr Joseph Lee, Vice Chancellor of INTI International University, and Dr. Agung Efriyo Hadi, Rector of UNAYA. This partnership will enable students of UNAYA to take courses at INTI with financial assistance provided under the Kampus Merdeka programme which will commence in June 2022," Dr. Lai concluded.