Following the Higher Education Ministry's recent announcement on allowing certain students to return to universities, the majority of tertiary students will continue to study online until they are able to return to their institutions in October 2020. To better understand their students' online learning experiences and its impact on them and their families, INTI International University & Colleges (INTI) spoke to a few parents and guardians about their child's experiences.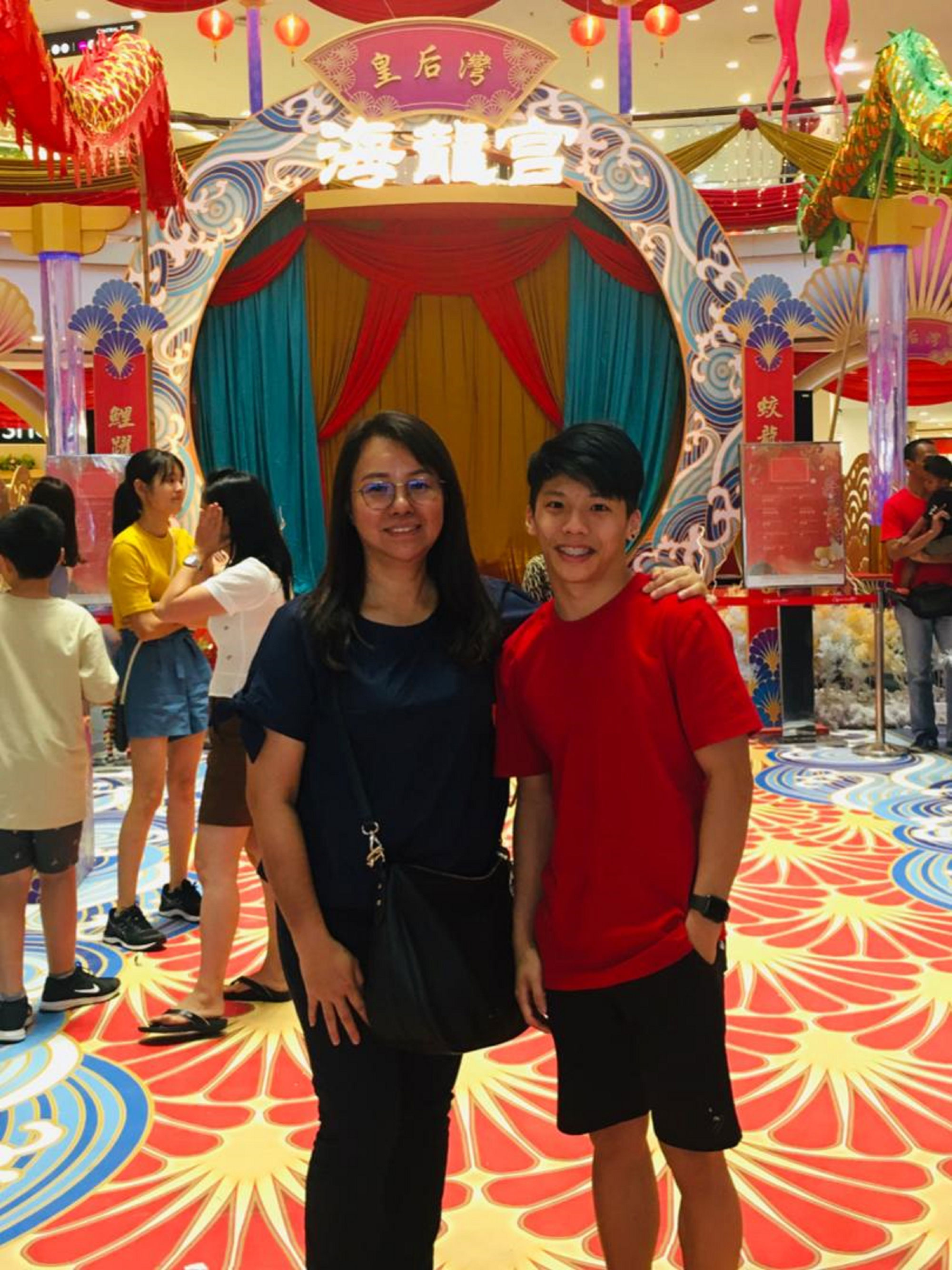 Foo Lily (left) with her godson, Ng Chun Chen, a student at INTI International College Kuala Lumpur.
Foo Lily, guardian and godmother of Ng Chun Chen – one of Malaysia's national artistic gymnasts, shared that she was grateful her godson had the opportunity to access classes online when the COVID-19 pandemic was at its peak in Malaysia.
"I was worried for his safety and well-being when we first received news about the lockdown, so I immediately fetched him from KL to come and live with me in Penang," shared the then-worried 51-year old.
She shared that Chun Chen, a Certificate in Business Studies student from INTI International College Kuala Lumpur, started his first semester online shortly after the MCO was announced, and despite not having a physical introduction to his campus, lecturers and classmates, he was still able to bond with his teachers and peers and keep up with his lessons through INTI's online learning management system, Blackboard.
"If he didn't understand a lesson, he would rewind the recorded videos for the particular lesson and watch it all over again," she said.
Nur Azam, father to Ainaa Radhiah, a Diploma in Business student studying at INTI International University, shared the same sense of relief with Lily about having online classes during the MCO. He was particularly grateful that INTI's ability to have online classes meant not having his daughter's graduation delayed.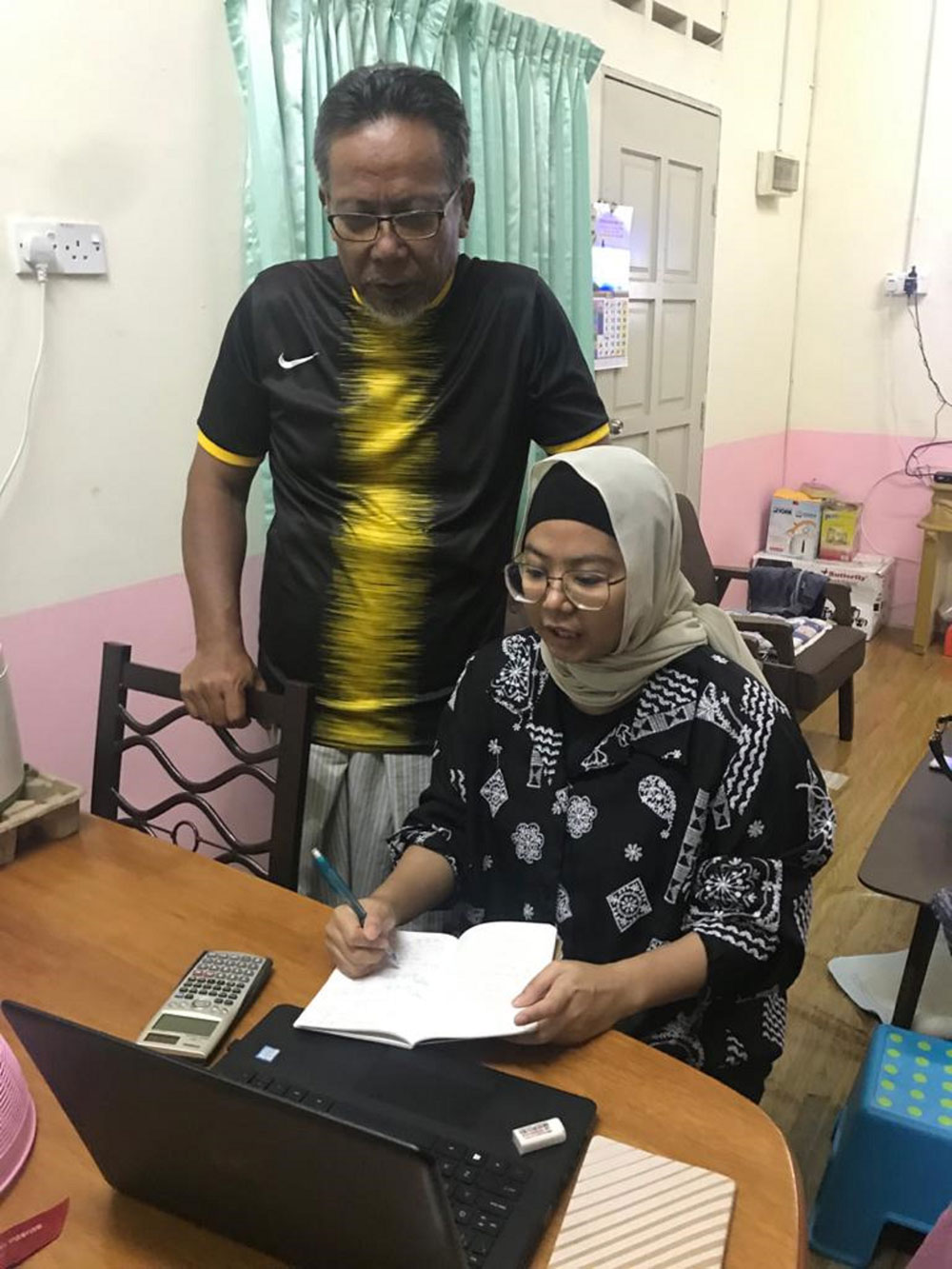 Nur Azam (standing), father to Ainaa, shared that he was particularly grateful that INTI's ability to have online classes meant not having his daughter's graduation delayed.
"My wife and I appreciate that our daughter was still able to continue her studies during the pandemic and that INTI's technology is up-to-date," said the father of four.
When asked about how online learning has impacted his daughter, he shared that it has helped nurture his daughter to be more independent and self-reliant.
"I see that apart from her independence, it has also increased her self-discipline, since her lecturers are not able to be physically present and she has to ensure she is punctual and does what she needs to do to stay focused in class," expressed the Kuala Pilah native.
For Teoh Kee Seng and Chan Lai Len, parents to Joanne Teoh, they were especially appreciative of INTI's lecturers and their ability to deliver detailed and comprehensive lessons in their online classes.
"I saw how the lecturers interacted with my daughter and tried to ensure she was concentrating on her online class. I don't get to see how my child learns every day, so being able to observe her while she was at home gave me a sense of comfort and relief," shared the father of Joanne, a student from INTI KL currently pursuing her Bachelors in Business Administration, in collaboration with the University of Hertfordshire, UK.
Tan Lin Nah, Chief Executive Officer of INTI International University & Colleges shared that Blackboard has allowed INTI's educators to continuously engage with their students in spite of the pandemic.
She says that despite having to be physically apart during the lockdown, she is grateful to have tools such as Blackboard so that educators can stay connected to their students more than ever before. A parent herself, Lin Nah says she is also grateful that online learning enables parents to actively witness how students are being prepared for the future in spite of the ongoing crisis.