During the many episodes of the Movement Control Order (MCO) in Malaysia, there were doubts about how long Malaysian brand owners, retail businesses, and merchants could survive. Many of them are looking for answers as they deal with the pandemic's destruction.
According to Dato' Bruce Lim Aun Choong, Managing Director of JDMas Commerce, Malaysian brand owners and businesses should seek beyond their borders for new prospects. He also shared that only one country, China, is expecting a resurgence, while the rest are still trying to flatten their COVID-19 curve.
"The answer lies in the possibility of obtaining a piece of the pie, which is China's RMB3,556 billion market demand for cross-border items. Compared to the rest of the globe, China had a three-month head start. It had halted lockdowns as soon as the curve of new infections flattened and only dealt with isolated imported cases. The China government had also introduced guarantees and pumped liquidity into the economy to secure recovery, and this is an opportunity for Malaysia," he said.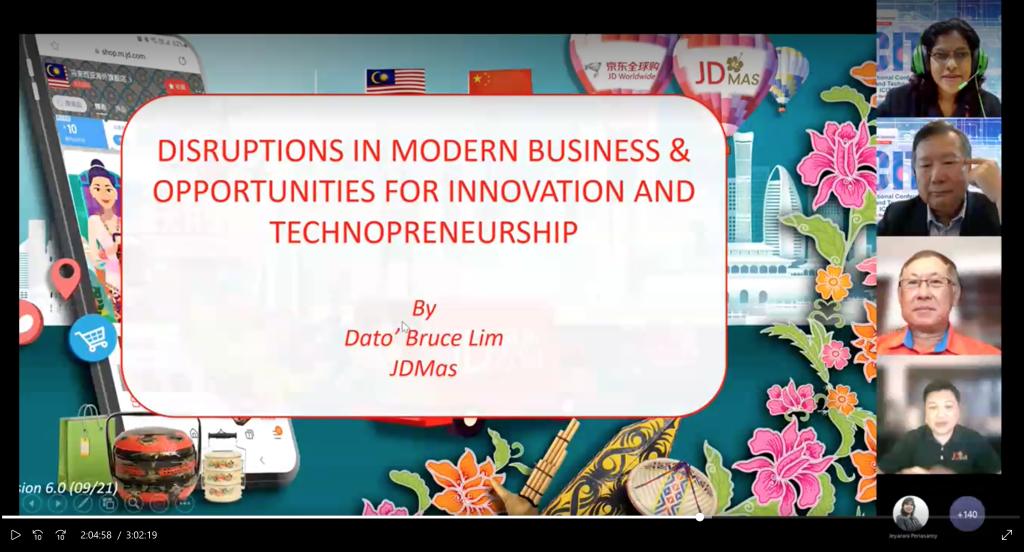 Dato' Bruce Lim shared that in a globalised world still trying to recover from the pandemic, e-commerce holds the key to cross-border trade and recovery for many industries and nations.
Dato' Bruce Lim spoke during the Plenary Forum presentation titled "The Disruption in Modern Business and the Opportunities for Innovation and Technopreneurship" at the 4th International Conference on Innovation and Technopreneurship (ICIT 2021) organised by INTI International University from 11 to 12 November 2021. The virtual conference saw more than 350 delegates from 20 countries and 55 institutions.
He stated in his presentation how JDMas, a Malaysian business operating in China, had increased its sales up to RMB150 billion solely during the lockdown periods. One glimmer of hope in Malaysia's economic recovery is the country's potential to serve as a regional e-fulfilment and transhipment hub for e-commerce, which can help businesses grow faster.
"Rather than merely serving the Malaysian market, JDMas has expanded to reach a population of 1.4 billion people. A single province in China has an average population of roughly 30 million people, which is the same as the whole population of Malaysia. Take a look at that possibility.
"Also, with the introduction of technology, there is undeniably a significant potential given by the epidemic. Previously, when your containers arrived in China, customs would have to verify them, and you would have to go through a lot of paperwork, but thanks to technology and the JD system, things are more accessible. When the container arrives in China, it is placed in tax-free bonded warehouses. The buyers only bond the taxes at the time of purchase, which is only possible with this green lane provider's cross-border e-commerce technology," he said.
Dato' Bruce Lim added that the business also has intelligent warehouses that do not require humans; this is one of the key reasons they can deliver even when China is shut down. In Wuhan, drones and self-driving cars are used for delivery 24 hours a day, seven days a week.
Over the last year, the massive rise of e-commerce, spurred by the pandemic and major alterations in consumer behaviour, has resulted in an exponential surge in the sector's market size. This is seen not only in China but all across the world.
JDMas has successfully delivered over 74 Malaysian merchants, 150 leading brands, and 350 SKUs to China, giving many Malaysian brands and products a breather. These include Julie's Biscuits, well-known Nestle food and drinks such as Milo, Maggi and Nescafe, F&N's 100Plus, and other brands.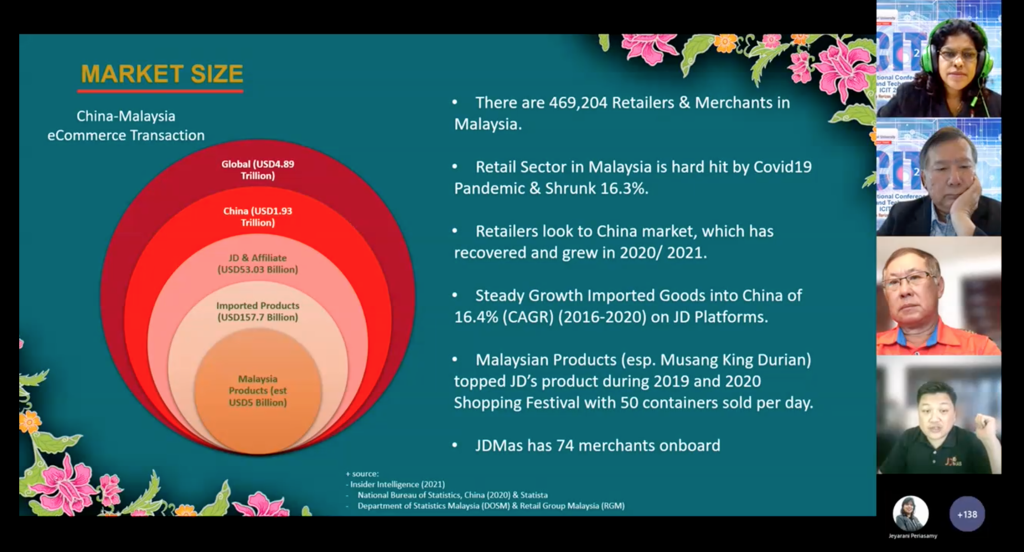 E-commerce and the digital economy offer inclusive and exponential export opportunities, especially for micro-entrepreneurs and small businesses.
In his presentation, he also discussed how businesses see China as an opportunity.
"Not only are we able to reach a wider market, but we can sell and receive money in US dollars.  We can do so by leveraging cutting-edge technology, fulfilment, and a great deal of innovation and creativity. It's always about telling your brand stories. We also interact directly with manufacturers and our customers in China," he said.
He further explained, "If you want to expand, you should always look beyond the border. According to Insider Intelligence, the National Bureau of Statistics in China and Statista, and the Department of Statistics Malaysia (DOSM), and the Retail Group Malaysia (RGM), there is a demand for imported products. Many people are buying products outside of China, and the total value is USD157.7 billion."
Furthermore, China has higher development potential and fewer competitors.
"When you get into China, there aren't many brand players over there, and they are currently flooding the e-commerce industry. There is about a 12.7 per cent increase in cross-border e-commerce, which means they are purchasing items from other countries. So there is potential, and this is your opportunity to build and grow yourself in the international market," he shared.
Dato' Bruce Lim also stated that we should unite as Malaysians. JDMas gathered together and established the Malaysia flagship store, which is backed by the Malaysian government.  Malaysia Digital Economy Corporation (MDEC) has also identified us as a part of the national e-commerce strategy roadmap. He said that we are only as competitive as our nation, our brand. Malaysia has long been known as a unique country with different cultures and is able to manufacture unique things that the Chinese people have never seen before.
He also added that JDMas sells online and offline products, allowing them to capitalise on technology and data.
"We know who our buyers are, and we employ a variety of artificial intelligence (AI) and other digital techniques to assist us in figuring out how to improve our customer service, apps, rating upgrades, and other things. We use impression bidding, banner advertisements, live streaming, affiliate search, influencer marketing, and other methods to promote ourselves," said Dato' Bruce Lim as he ended his presentation.