"Born to replace a brother I had never met was the first of many events that I later realized had shaped my life's purpose and became my guiding light," expressed Andreas Vogiatzakis at a ceremony held recently where he contributed copies of his first book, Courage at the Crossroads, to the library at INTI International College Subang.
Andreas is no stranger to the Malaysian media and business circles. This highly influential leader and motivator has made an incredible and indelible mark in organisations, communities, and individual lives around the world.
And now, he has detailed his captivating life story, which has seen him traverse the far reaches of the globe, in his book, which was designed by INTI students Kevin Tan Kai Wen, Joanna Lai, Tam Xueh Jing, and How Gui Teng, who are currently pursuing their Bachelor (Hons) Graphic Design in collaboration with Sheffield Hallam University, UK. The design project was guided by lecturer Mohamad Azri Bin Haji Ahmad from INTI's Centre of Art & Design (ICAD).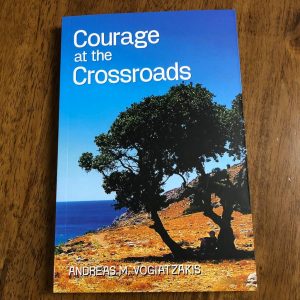 Andreas Vogiatzakis presented his book, Courage at the Crossroads, to the libraries at INTI International University, INTI International College Subang and INTI International College Penang.
Andreas' book began with his humble beginnings in a modest village in Crete, Greece, where he was born. The pages thereafter go on to unravel a remarkable account of an astounding story about his life.
"Every major crossroad I came upon was by divine chance, unexpected and uninvited, requiring me to courageously choose the relevant path. Despite growing up surrounded by vineyards and olive groves, becoming a farmer like my father was never my ambition. After my father's death, my life changed, irrevocably," shared Andreas.
Quitting the prestigious Mathematics University of Athens at the age of 21 to pursue his passion for advertising at the University of Florida, Andreas graduated with a 4.0 GPA, before making his career debut in DMB&M in New York City, essentially taking him from the nerdy "Math Man" to lead the glitzy "Mad Men" lifestyle, alluding to the hit TV drama series.
He further added, "From one extreme to the other, each decision stretched me further than I thought possible. Every occasion in my journey of life forced me to carve out my own space, adapting flexibly, moving forward with determination."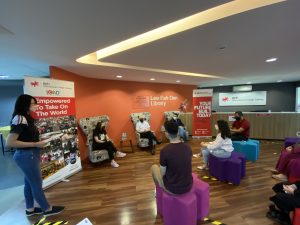 Andreas Vogiatzakis addressing guests at the book presentation ceremony held at INTI International College Subang.
After returning to Athens to honour his requisite military service, he resumed his illustrious advertising career, which took him on various stints in Japan and Taiwan, before settling in Malaysia to helm several notable media organisations, including the Omnicon, Havas and Star Media Groups – leading each of them to unprecedented heights.
From Crete to Athens, Florida to New York, Japan to Taiwan, before finally making his home in Malaysia, 'Courage at the Crossroad' details Andrea's stirring life's journey from hymns to math, from long hair to corporate suits, from failures to awards, from building brands to establishing his own company.
"Looking back at my life, I realised that there are certain principles to be learned on leadership, courage, and decisions you have to take when you come to a crossroad, which we all do in life," said Andreas on his inspiration behind the book.
"It takes a certain level of courage to navigate these crossroads. And these learnings weren't from textbooks or manuals, it is what I learnt from my own screw-ups, failures and successes – it's a whole package. And that is essentially what got me thinking about writing a book. I thought that if I could positively affect even one person's life with this book, then to me, it's a job well done – it would definitely be worth every effort to sit down and write it," stated Andreas.
However, in spite of the spellbinding account of his own life in the book, Andreas humbly believes that everybody has their own great story to tell.
"Sometimes, though, we're afraid. Sometimes, our self-limiting beliefs tell us that we're not good enough, or that our story is not good enough to share. We wrongly believe that unless we do anything short of climbing Kilimanjaro without arms or legs, our story isn't worth telling. The truth is everybody has a great story, whether they realise it or not," he pointed out.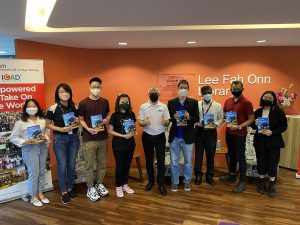 Andreas Vogiatzakis (centre) posing for a group photograph with Dr Jane Lim, Chief Executive of INTI International College Subang (fourth from left) and Eric Lee, Academic Dean at INTI International College Subang (fourth from right) along with the team behind the design of his book.
Adding to the same context, he said, "Everybody has to at some point look back to understand and make sense of the future, to get more clarity into who we are. These are some of the things I hope people will think about when they read this book. I want to inspire them to look back and get inspired by their own stories. I want them to ask themselves, 'Why am I here? What are the values that drive me? What doesn't? How can I be better?' It all boils down to self-awareness, and that's what I want people to ultimately take away from this book."
Andreas on the other hand acknowledged that without the contribution and hard work of the students and lecturer from ICAD, the production of the book wouldn't have been possible.
"I have worked with INTI on various employer projects and Industry Advisory Board discussions over the last 10 years, I have to emphasize that the group of students I collaborated with for my book have shown me the attitude employers are looking for," Andreas admitted.
He said that one may have the skills and knowledge but if the right attitude is found missing, an individual will find it hard to survive in today's employment market rat race. He added that he is confident that the students involved will flourish in their careers as they have adequate skillsets and determination to succeed.
Azri, who supervised the students for this project, said that the students were independent from the initial stage right up to the completion of the project. From handling the requests given by Andreas to conducting weekly meetings to run through deadlines, Azri shared that he only needed to guide them and clear their doubts when necessary.
"Most of the time, the students were in auto-mode trying to complete the book design with no hiccups. I strongly believe in them. With their creativity and strong will in pursuing their dreams, I have no doubt that they will make it big in their future careers," he said.
Quite literally and figuratively, Courage at the Crossroads validates the adage that the pen that writes one's life story must be held in one's own hand. In addition to his new title as author, Andreas is currently a highly sought after TEDx speaker, mentor, as well as a certified Executive Coach, NLP practitioner and trainer. He recently set up AMV+, his own consultancy with a mission to be a catalyst for positive change by building better leaders, driving transformation and creating purpose.
Among his many accolades, Andreas was listed as one the 100 Most Influential Digital Leaders in the Asia Pacific region in 2017. And just last year, he was listed among the 100 most inspirational LinkedIn icons in Malaysia. If the contents of his book are anything to go by, it's certainly not difficult to see why.