With the recent announcement of the results for the New South Wales Higher School Certificate (NSW HSC) examinations, candidates from INTI International College Penang (INTI) made their parents and educators proud with their spectacular academic achievements!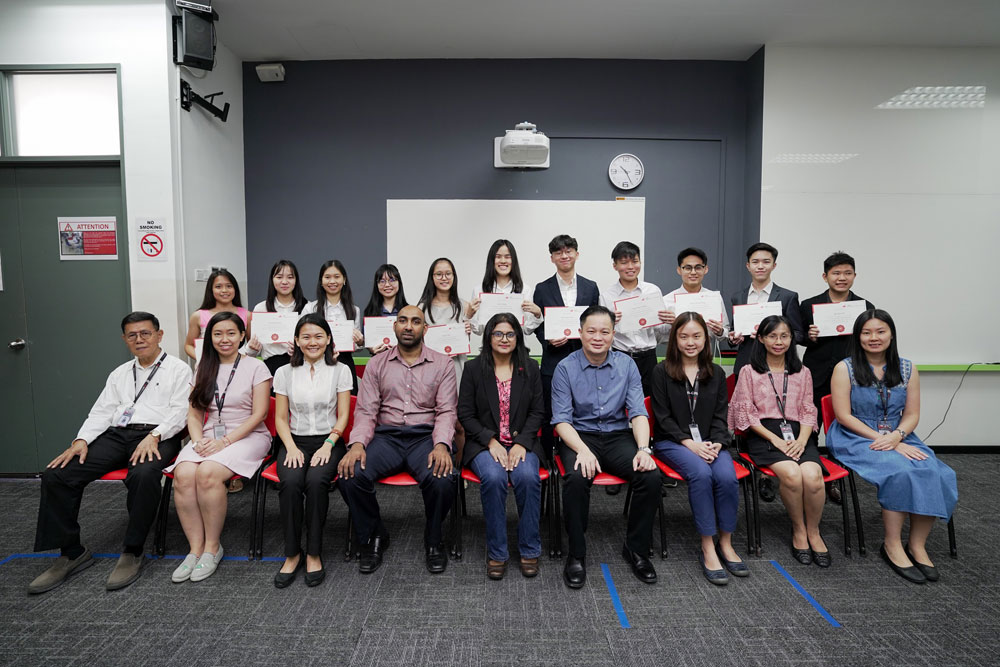 The top achievers of the New South Wales Higher School Certificate along with lecturers, senior academicians and the Chief Executive, Ms Hemalatha Murugiah (seated centre in the front row) at INTI International College Penang.
When the outcomes of the examinations which are assessed by the New South Wales Education Standards Authority (NESA) were sent to INTI, academicians were delighted as the effort and dedication of those candidates who had completed their one-year study was evident.
100% of those candidates who sat for the examinations in October 2019 successfully received a full NSW HSC Certificate, and more than 33% of the INTI candidates received an ATAR (Australian Tertiary Admission Rank) of 90 and above, placing them in the top 10% of their cohort worldwide.
Additionally, more than 66% of INTI candidates scored an ATAR of 80 and above, and 100% scored ATAR 60 and above which meant INTI had 100% pass rate across all subjects. The institution also recorded higher passing rates than the average rates for the NSW HSC programme throughout the world.
Among them, Tan Chong Ern scored the highest ATAR of 97.40 with four high distinctions and two distinctions. With this distinctive result, Tan, who is from Han Chiang High School, Penang, aims to pursue a Bachelor of Mechatronic Engineering for his tertiary studies.
"I was ecstatic when I received my results as I did not expect it to be as good as it was. I want to thank Ms Yap Gim Ley, our Mathematics lecturer, who was very patient with me and ensured that I understood the syllabus well. She inspired me to do my best in my studies. I owe my good results to her and I hope that they serve to repay all her efforts in guiding me," said Tan, who turns 19 this year.
As for Sean Tay Yi Xian, also 19, who completed his high school studies at SMJK Chung Ling, Penang, before enrolling into INTI, he scored an ATAR of 96.40 with 4 high distinctions and 1 distinction. Reflecting on his academic experiences, Tay stated, "The assignments required for this programme were definitely stressful as they came successively one after another, and all of them carried marks towards our final score."
Challenging as it was, Tay managed the intensive programme by developing good time management skills. "I needed to organise my assignments well and even make time to study for the final examinations."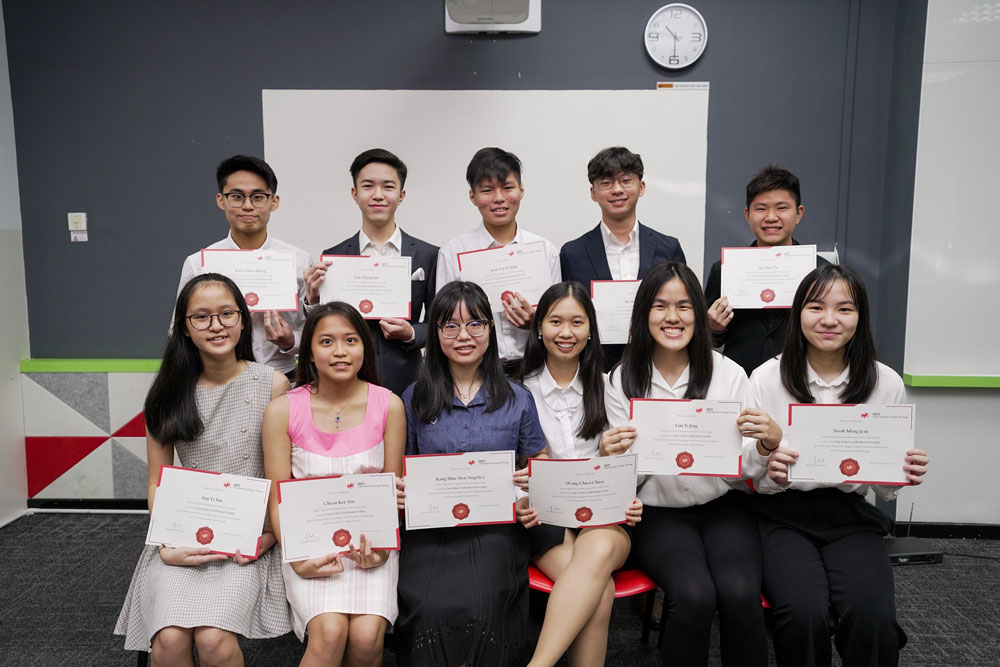 "We have made it!" A proud get-together of the top achievers from INTI's 2019 New South Wales Higher School Certificate cohort.
The outstanding student who aims to pursue a medical degree at the University of Newcastle added, "INTI provided me with a great platform to learn and become accustomed to the expectations of university life."
Ng Xiao Yu, who is also of the same age, and previously studied at SMJK Jit Sin, Penang, scored an ATAR of 94.60 with 3 high distinctions and 3 distinctions. Hoping to pursue a degree in Biotechnology in the near future, Ng said, "The lecturers at INTI were very helpful and they were willing to help me throughout my time here," enthused Ng gratefully. who was truly delighted to receive such good results.
Commenting on how her students' outstanding performance, Ms Hemalatha Murugiah, the Chief Executive of INTI International College Penang, attributed this achievement to the faculty and students collectively. "While we are very proud of our students for their hard work, perseverance, and these incredible results, we are also very grateful to our faculty who have put in great efforts to support the candidates of the HSC programme."
"At the Centre of Excellence for Pre-U Studies (CEPS) at INTI, students' grades are monitored closely throughout their term. In cases where students are struggling to keep up with their grades, the lecturers offer additional support and early intervention to support their students and help them build up their academic performance. Support systems like additional classes and INTI's mentor-mentee programme that provides one-on-one tutoring are deployed throughout the semester, depending on the students' needs," added Hemalatha.
In celebrating this achievement, INTI organised a HSC Top Achiever Awards Ceremony at its campus. The event saw achievers, parents and guardians sharing in the joy while students received certifications of recognition for their academic achievement, on top of their academic certifications.