May 16th is a special day when we pay tribute to our teachers, and thank them for developing us into what we are today. For students who have struggled with their academic performance more than others but ultimately made a major breakthrough with the help of their teachers, the feelings of gratitude often tend to be stronger.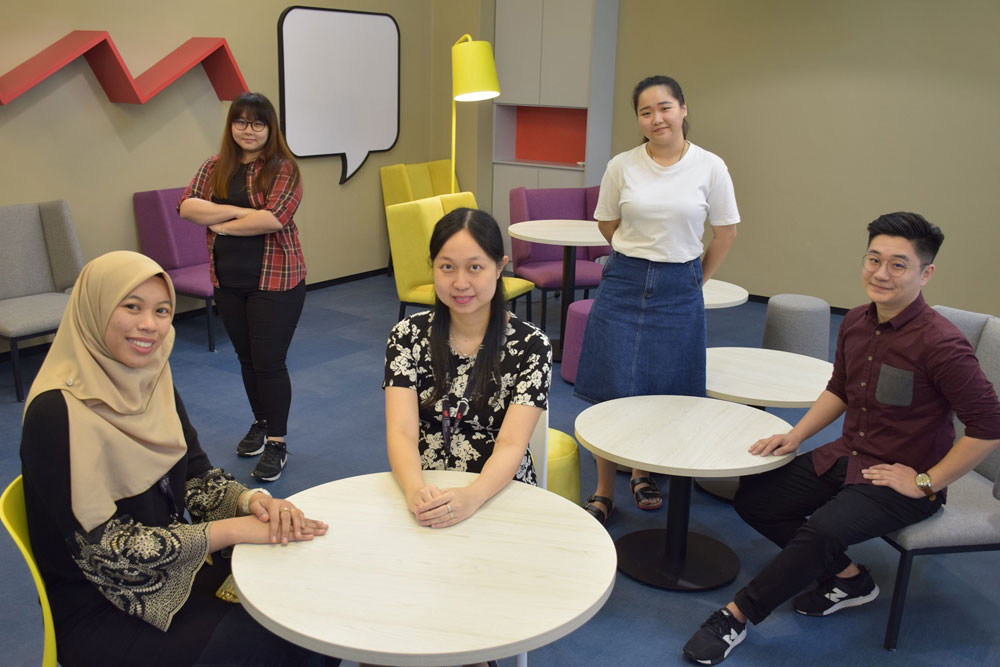 INTI's Certificate in Business Studies lecturers, Mahirah Saidah Marzuki (sitting 1st from left) and Leong Kah Mun, proudly celebrate their success in nurturing their students Kenny Eng Yon Kit (1st from right), Jasmine Teng Jie Jing and Ong Kai Yun.
Ong Kai Yun, 20, who came from Foon Yew High School, Kulai, Johor, with unfavourable results in both her SPM and UEC examinations in 2016, ultimately attained her Certificate in Business Studies with a CGPA of 3.96. Ong, who is now a Diploma in Business student at INTI International University, attributes this achievement to her attentive and dedicated lecturers.
Kenny Eng Yon Kit, 22, who came from SMK Sungai Besar, Selangor, once had to work as an administrative executive in the manufacturing line, as he resat his SPM's Bahasa Malaysia subject twice. Building up his courage to take on full time studies once more, he eventually enrolled into INTI's CBS programme in April 2017. "I tried very hard to continue my studies, and luckily enough, I met good lecturers who were willing to sacrifice their own time to provide me with one on one guidance. This enabled me to perform well in the examinations, and I got CGPA of 4.0 in the last semester," shared Eng, who is now doing his Diploma in Accounting studies.
The President's List of Achievers, which Eng is a part of, also includes Jasmine Teng Jie Jing, 20, who completed her SPM examination with only two credits from SMJK Chi Wen Bahau, Negeri Sembilan in 2016. "Having good lecturers played a significant role in bringing up my academic performance. When I came into college for my certificate programme, I met lecturers who really cared for their students and took the time to help us. Even though I am now a Diploma in Business student, they still care about my studies and will ask me how I am coping whenever I bump into them," enthused Teng.
Ong, Eng and Teng come from a common background, having once struggled with their grades and major examinations at secondary school level. With few options available, they pursued their Certificate in Business Studies (CBS) at INTI College Nilai in Negeri Sembilan, and made a stunning turnaround. All three have now furthered their studies at INTI International University.
Lecturing in business-related subjects such as Marketing, Introduction to Business, Office Management Skills, Effective People Skills, Management and Customer Service, Ms Mahirah Saidah Marzuki, 28, a lecturer for INTI's CBS programme sees every student as having the potential to be successful, and values them for their potential greatness. "For students who struggle with academic learning, coming into higher education can be daunting, or seem like an impossible dream. In their first semester, we take the time to change mind sets and help them realise that they can change and become the best version of themselves. We encourage them to always aspire for greatness and keep on supporting them. Many of these students have true hidden potential – all they need is trust and encouragement to motivate them to look beyond their challenges and past limitations."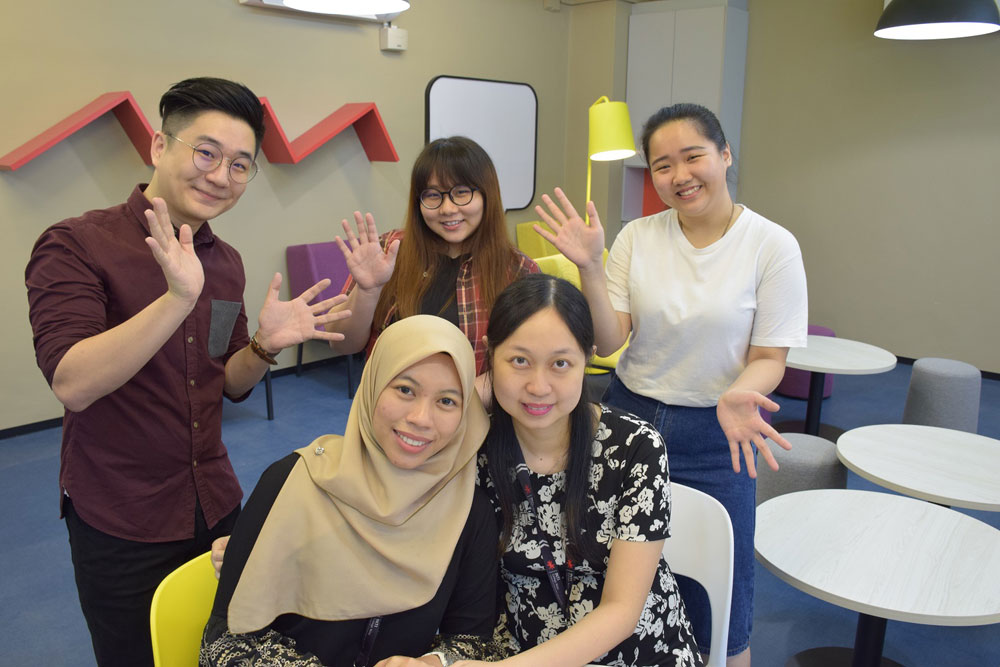 INTI students – Kenny Eng Yon Kit (standing from 1st left), Ong Kai Yun and Jasmine Teng Jie Jing, made stunning turnarounds and excelled academically and personally with the help of their dedicated lecturers – Ms Mahirah Saidah Marzuki (sitting from 1st left) and Ms Leong Kah Mun.
At work, Mahirah wears different hats whenever she encounters her students, all of which revolves around encouraging them to study hard to leverage the learning they gain from this programme. "Most of the time I play the role of a motivator both in and outside the classroom. Students sometimes look for me even when they face difficulties in life, other than their studies, so I make time to listen and if needed, I will carefully motivate them in a positive way to cheer them up," said Mahirah, who is in her fourth year of lecturing at INTI.
Throughout the one and a half years of the programme, Mahirah frequently witnesses students transforming into high achievers with good CGPA scores or even being listed in the Dean's List and President's List when they complete their programme.
"Performing well academically isn't the only indicator of how good one's future will be. In addition to the personal coaching in studies, I always make it a point to emphasise that students should develop a positive attitude. By approaching life positively, everything will seem possible, and this means a lot to students who have experienced challenges and emotional hardship at a young age," stressed Mahirah.
Ms Leong Kah Mun, 32, a bookkeeping lecturer for the same programme opined, "I feel proud for each student who has successfully completed the certificate programme, as we know the challenges they've had to overcome – more so than their peers. Some of them have progressed into a diploma or even degree studies. During their time with us, we are truly able to see how they have matured and what a boost of confidence they gain upon successfully completing their studies."
"I was also very pleased to learn that some of my graduate students had started their own business. Some of them still come back to seek for my help and opinion whenever they have questions related to accounting," said Leong, who previously worked as an accountant.
For Leong, students are like jigsaw puzzles. "All of them are different but none of them can be excluded," she stated determinedly.
INTI is home to outstanding lecturers who often go above and beyond their academic calling, and through whose efforts, 99% of its graduates gain employment within six months of graduating. INTI also supports young individuals to pursue their own careers, particularly entrepreneurship, by embedding industry modules into its curriculum. These include the Alibaba GET programme and IBM ICE programme which enhance entrepreneurial competencies in e-commerce and data analytics.