Analytical research Student perspectives on teaching quality in 2015 found that students pursuing their tertiary education regard in-depth knowledge as the most important quality in a university lecturer. Highly experienced faculty are undoubtedly the most valuable assets to an institution and often, the qualifications of university lecturers impact students' decisions about where to study .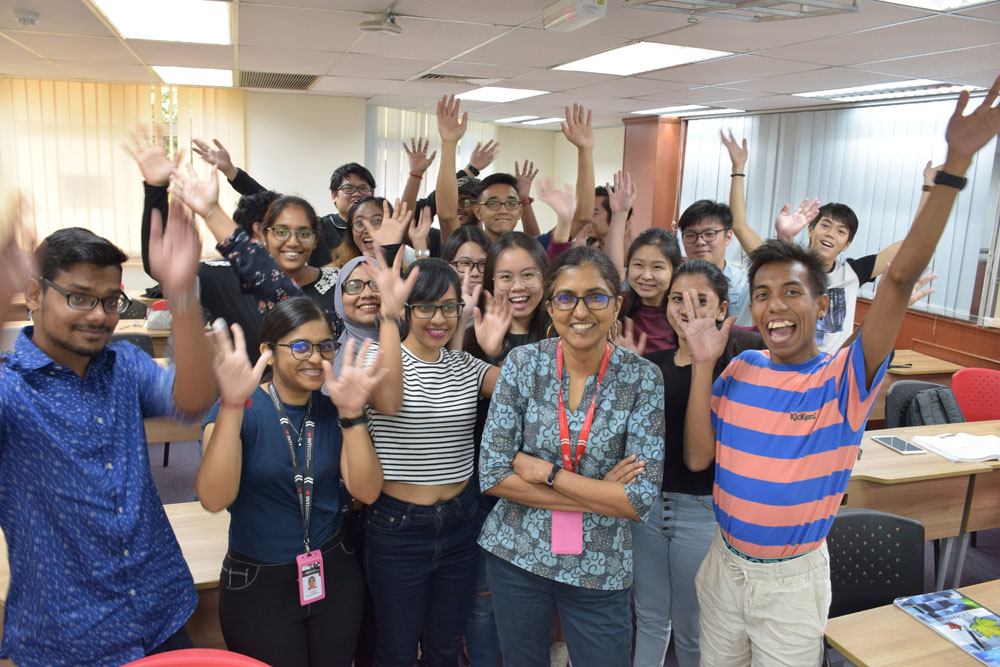 Associate Professor Dr Geeta Selvarajah (centre) having a casual moment with her Genetics students from the Bachelor of Biotechnology programme.
As we are entering into the era of IR4.0 which demands highly creative graduates who are with knowledge about ICT, ability to work with data, technical know-how and personal skills – how should the experienced lectures with years of knowledge innovate their teaching styles and curriculum to remain relevant and provide an education that meets 21st century needs?
In addressing the upskilling of academicians, INTI International University and Colleges ha has integrated the world-class learning methodology Blackboard Learning Management System across its six campuses, with almost all programmes now being taught through a combination of both online and face to face lessons and activities.
The outcome has not only enabled today's students, digital natives, to learn in an environment that leverages the platforms and technologies they use the most, but has also empowered lecturers to transform their teaching and learning methodologies to leverage new ways of teaching, assessments, monitoring and analytics.
"Besides advanced lab equipment for science experiments, I am using Blackboard tools such as 'Discussion', 'Blog' and 'Self-Peer Evaluation'. As face-to-face lecturing minimises how long students participate in classroom conversations, the 'Discussion' board feature is a useful platform in encouraging all students to share their ideas, even in a big class," explained Associate Professor Dr Geeta Selvarajah, who has 25 years' of experience in lecturing Biology, Genetics and Biotechnology subjects at INTI International University.
"Blackboard allows students to view and create their videos safely which is easily shared with all members of the class. My students are able to discuss bioethics issues seen in movies with their classmates. Besides that, Self-Peer Evaluation helps students to see how they are faring in their work compared to their peers and this encourages them to work harder," Dr Geeta adds.
Completing her bachelor's degree in Science majoring in Genetics at the University of Malaya, she went on to complete her Master's in Philosophy and Doctorate of Philosophy in the field of biology at the same university. Dr Geeta was awarded the Toray Research Grant in 2005. In 2013, she undertook a Masters in Higher Education majoring in teaching and learning from Walden University, USA.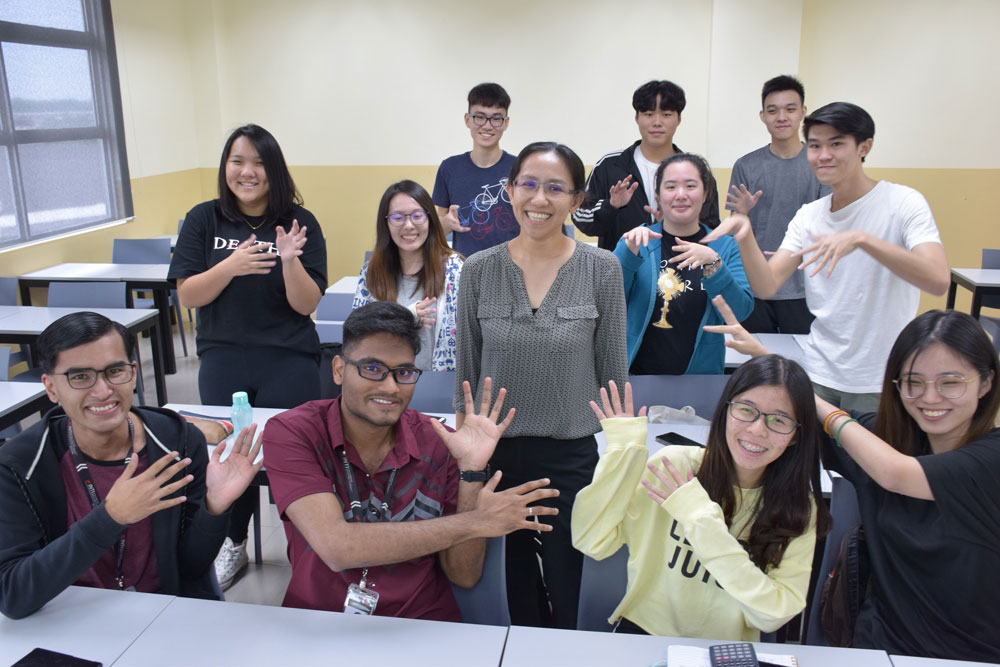 Dr. Kee Hooi Ling (centre) with her "College Chemistry" class from the American Degree Transfer Program.
Senior Lecturer Dr Kee Hooi Ling, who has been teaching for 10 years at INTI International College Subang opined, "Classroom delivery of subjects does not always have to be passive and dry. I advocate active learning methodologies as part of my teaching and learning approach." Since 2012, Dr Kee has successfully used flipped learning as part of her teaching and learning strategies in all her courses, which includes Introductory Chemistry and Organic Chemistry for the American Degree Transfer Program at INTI's Center of American Education (CAE).
"I like to explore different technological tools as I encounter them. Some of the tools I have utilized are 'Raptivity' to create interactive learning items, 'Kahoot!' and 'Socrative' to create engaging in-class formative assessments. I've also used 'Camtasia' to produce online video resources, Google & Microsoft Forms for feedback and Blackboard as the learning management system at INTI," shared Dr Kee, who obtained her PhD in Chemistry from Washington University in St. Louis, Missouri, USA.
She stated, INTI has been supportive in providing 'Camtasia', an indispensable tool for flipped learning. All these tools strengthen the learning process as they provide a "non-threatening" environment for assessment, and promotes student engagement and participation.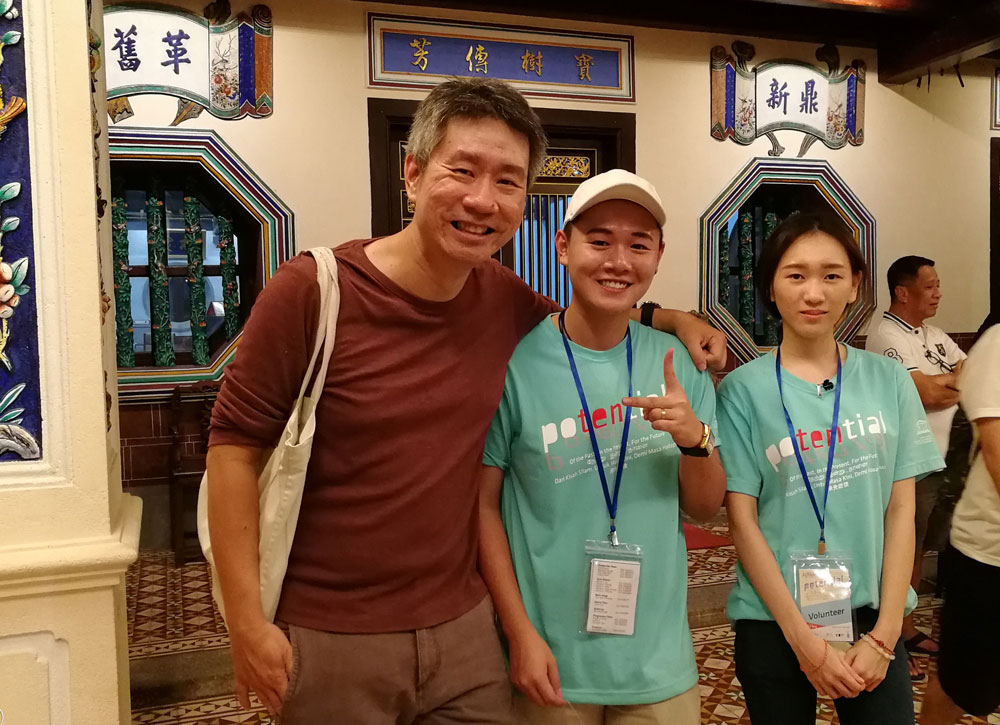 Mr Yee Aik Phoay (left) with his students who volunteered in a cultural event.
Mr Yee Aik Phoay, Senior Lecturer at the School of Business, Law, Communications and Accounting, INTI International College Penang, lectures economics across foundation, diploma, bachelors and masters' programmes. According to him, technological tools should be used in a timely manner to yield the best results in student engagement and knowledge retention.
"My current experimentation with 'PearDeck' has been very positive. This tool enables me to gather real-time feedback from the students. It allows me to design multiple choice questions to check students' understanding during class. In addition to this, there is an option for students to share their thoughts by writing short texts. The drawing feature also helps me to gauge students' mastery in illustrating graphs for Economics," shared Mr Yee.
Elaborating on his teaching methodology in improving students' overall performance, Mr Yee continued, "In my opinion, simplifying the content into a structured flow helps the students to grasp the essential concepts of a particular subject. This is then complemented by formative and summative assessments to reinforce their understanding." Upon completing his first degree in Economics, an external Bachelor's degree awarded by the University of London, he furthered his Master's studies in Universiti Kebangsaan Malaysia. Mr Yee has been teaching at INTI Penang for more than 13 years.
Having dedicated their lives towards nurturing future talents within different fields, the trio find satisfaction and feel proud when they see students working hard in overcoming challenges, seeing them take charge and attain self-actualization in their behaviour and maturity in thoughts, and when their students realise their hopes, dreams and future undertakings.
"Seeing our graduates who have matured and progressed in their lives inspires me towards becoming a better educator," Dr Kee expressed warm-heartedly, while Mr Yee chimed in, "All my students are successful in their own ways. I've seen them grow and expansion their responsibilities and capabilities."
When asked what they would like to say to their students, Dr Geeta stated, "Dare to know. Dare to try. There is no failure when you try, only learning."
Dr Kee encouraged her students with this line, "Don't race against others. Race against yourself," and Mr Yee advised, "Bitterness in life is often frowned upon but these 'ingredients' complement sweetness. For life to be complete, we need to be open to all 'tastes' in life – bitter, sweet and sour."