Since Jacob Hezron Andreas entered the world of gymnastics at the age of ten, his career has only seen upward growth. Despite starting out in a small town in Sabah, his talent, passion, and perseverance has helped the Beluran-born gymnast to shine.
"I remember watching talented gymnasts training at a complex in Kota Kinabalu when I was little and their acrobatic skills caught my attention. I wanted to be like them," he said.
It was after that incident that he requested to join a gymnastics trial class. While his parents were initially hesitant, Jacob finally got his trial class and was even put into the elite group two months later with the recommendation of his coach.
"I am fortunate to have flexibility, strength, body control and endurance which expedited my learning in gymnastics. Shortly after, I was selected to join the team representing Sabah in the Malaysia School Sports Council games for artistic gymnastics at the age of 11," said the 22-year-old of Kadazan-Dusun descent.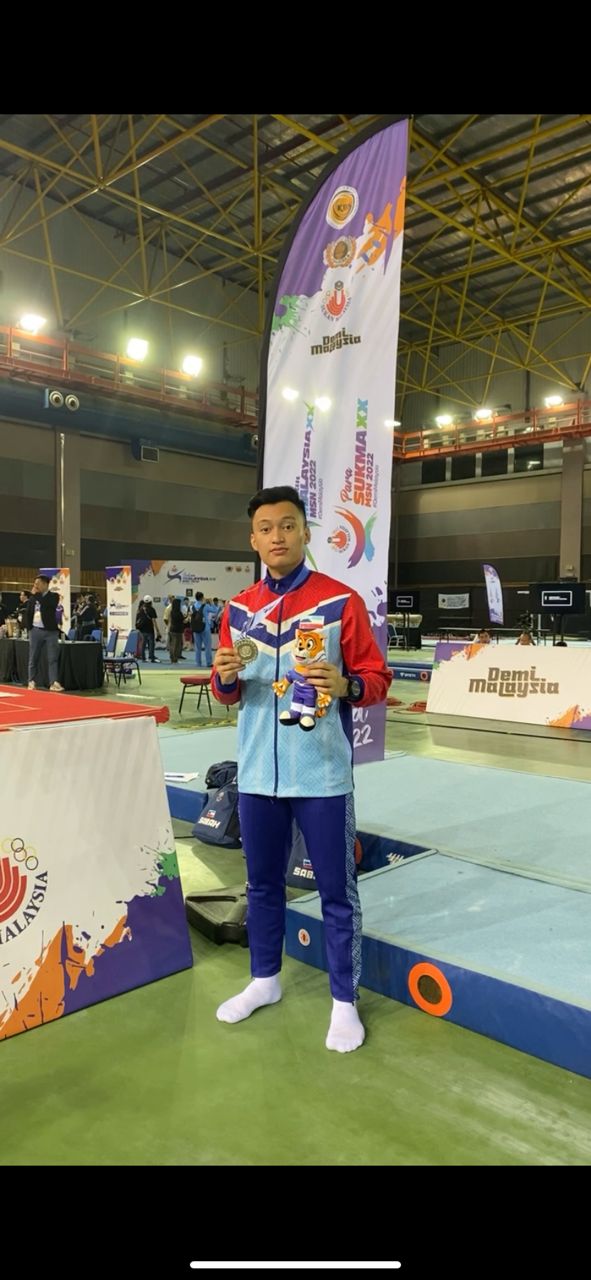 Jacob Hezron Andreas won the silver medal in men's gymnastics at the recent Sukma Games 2022.
The young gymnast, who currently resides in Kota Kinabalu, is currently pursuing Bachelor of Arts in Business Administration at INTI College Sabah after having received a sports scholarship. The financial aid awarded would allow him to obtain quality education while also pursuing his love for gymnastics and training at Sabah Sports Council.
According to Jacob, artistic gymnastics involve six apparatus which the gymnast needs to master in order to become a state representative.
"My first competition was at the District Sports School Council (MSSD) level where I competed in Sandakan and managed to secure a spot for the Malaysia School Sports Council (MSSM) in Kota Kinabalu. I competed against talented gymnasts from around Sabah to be in the group representing Sabah for the MSSM games in Johor. Being able to join a state team at the age of 11 was a huge achievement for me," said Jacob as he recalled one of the happiest moments of his life.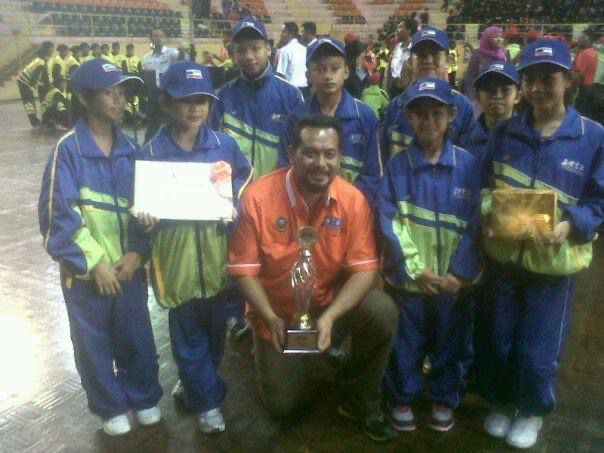 Jacob Hezron Andreas (fourth from left) in a photo from the Malaysian High Performance Sports competition in 2011.
He also added that gymnastics has had a positive impact on his life.
"It makes me feel stronger and more confident. I also love it when I hear my name being called – it motivates me to push through and compete in more games. It drives me to practice harder so that I can achieve more in this sport," he said.
Jacob, who took the silver medal home from the Sukma Games this year, has won multiple medals at state, national and international levels.
While he has grown tremendously as a national gymnast, the journey has not been as smooth sailing. Intense training is required to improve balance, strength, flexibility, agility, coordination, dedication and endurance, which at times can be painful because of the injuries sustained.
"Injuries on the back, head, leg, hand, and chest are part and parcel, but I don't give up because it's my passion and I believe I can do it. Besides, the pain won't be there forever," said Jacob, adding that he trains almost daily for skill and stamina and there are times when he had to force himself to get up for class despite the pain.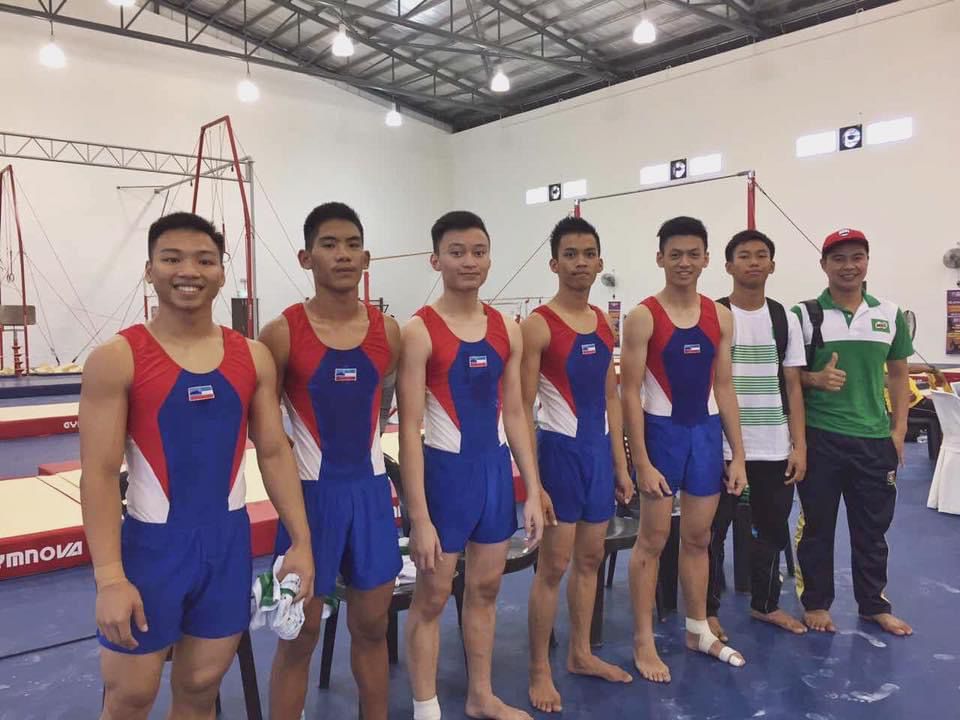 Jacob Hezron Andreas (third from left) shared that it was normal to sustain injuries when training but he does not let it break his spirit.
According to Jacob, keeping to a strict diet was something he struggled with. As a gymnast, he was required to consume less calories and eat more healthy food to maintain an ideal body mass index and weight as required by the National Sports Council (MSN). On top of that, he also had to carefully manage his time for training and studies. He said college was different from school where there was only homework and no assignments, projects, or deadlines.
"It was difficult at first, but as time passed by, I learned to overcome the challenges and put everything in place. Now I'm already in my third year of degree and I have another two semesters to complete my degree in business administration," he said.
He added that having amazing coaches who were always by his side is definitely an advantage and a comfort.
"My coach knows that life as a gymnast is not easy. There were times when I contemplated about giving up, but it was my coach who encouraged me to keep moving forward – always there no matter what. I'm blessed," said Jacob.
When asked about his plans after graduation, he was enthusiastic when sharing his plans.
"I'm looking at doing part-time coaching to recruit young talent and I hope to start my own clothing business one day," he concluded.