Inflation, weak growth momentum, supply disruptions and food insecurity due to war are said to be among the factors contributing to a gloomy global economic. To shed light on the local economic situation in Sabah and share a broader perspective on the topic, INTI College Sabah (ICS) and Institut Sinaran conducted the Economic Outlook Talk which was attended by over 90 students from INTI College Sabah and Institut Sinaran.
The hybrid session held on 5 November, featured a keynote speech by Ir. Dr Chong Vun Leong, a member of Institut Sinaran's Board of Governors, who said that we should embrace the impact prepare ourselves to face the challenges of the future. In his address, Dr. Chong talked about uncertain factors such as disruption of a supply chain, depression in Ringgit, high inflation, and conflict of main players in the world that is affecting current and future economic development globally and locally.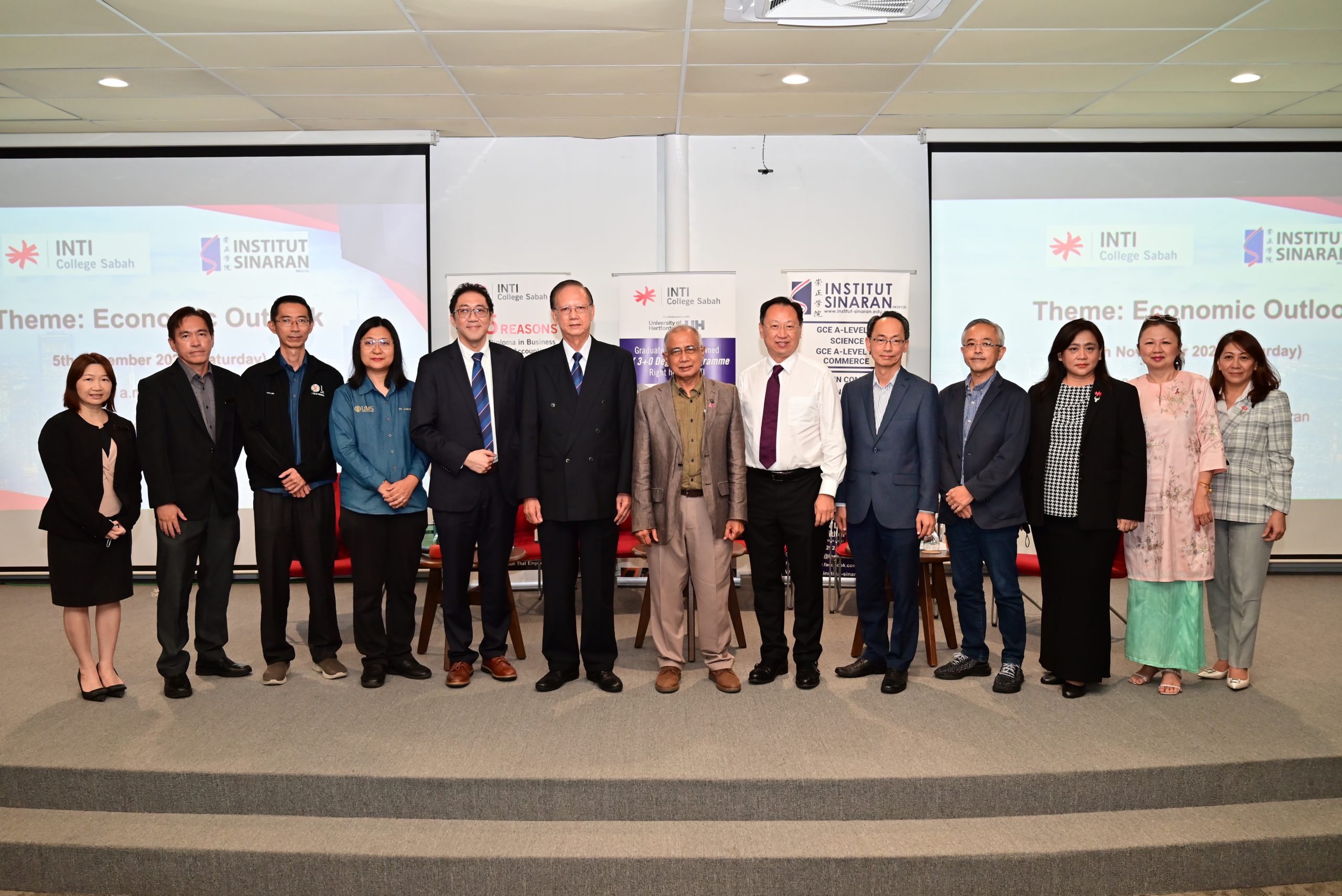 Guest speakers and members of the audience pose for a group photo during the event.
Associate Professor Dr. Janice Nga Lay Hui from Universiti Malaysia Sabah (UMS) presented on the economic outlook, during which she spoke about the effectiveness and efficiency of assessing the economic aspects through the lens of Sabah.
"Sabah is an important contributor to the nation's Gross Domestic Product (GDP) but after being hit hard by COVID-19 and due to the uncertain global economy, we need to know how to operate effectively and efficiently as we have the policies, plans and so on to improve the economy," she said.
She also suggested exploring areas in foreign investment rather than just focusing on existing sectors.
Meanwhile, Dr. Lim Thien Sang, also from UMS, delivered an overview on managing economic uncertainty in which he said the spending of money will eventually have an impact on the economy. Therefore, it is crucial to have a detailed economic forecast, allocate resources that require careful planning and spending, increase spending power among communities to re-activate the economy, and find alternative solutions to address disruptions in the supply chain ecosystem.
"The production of goods and services including food and non-food should continue to run well. All of this is necessary because the impact could have a significant impact on society, so long-term planning is essential," he mentioned.
"Aside from that, we should pay attention and understand what is happening beyond Malaysia because the external factors have a considerable influence on Malaysia's economic growth and we will be affected directly or indirectly," he added.
Dr. Lim believes that while every business is unique, quick and bold action is critical to address moments of uncertainty thus he advises to act early but not blindly.
The event also saw a panel session moderated by Ir. Dr. Chong which involved academic and industry experts from USM, DESA Dairy Cattle Farms and Poultry, Kota Kinabalu Industrial Park and Sabah Employers Association.
The discussion revolved around the way forward to strengthen the Sabah economy where good infrastructure, resources, and education are critical to accelerating economic development. Reliable and efficient infrastructure enables trade, powers businesses, connects supply chains, and creates opportunities for communities. Resource efficiency can boost the industry's competitiveness, create jobs, stimulate innovation, and help secure the supply of key resources.
Education is the key factor to productivity and higher income, thus one of Sabah's long-term plans is to focus on skills training and human capital development to equip youths with relevant skill sets. A changing business landscape is requiring employees to multitask and upskills themselves in order to remain valuable.
SEDIA has implemented various initiatives that address the workforce of the future, career and talent, digital economy as well as workforce expansion to tackle the issue of high unemployment. In addition to that, government agencies and the banking sector have come up with good schemes for the younger generation so that they can start businesses, but they are also encouraged to be more proactive in looking for opportunities.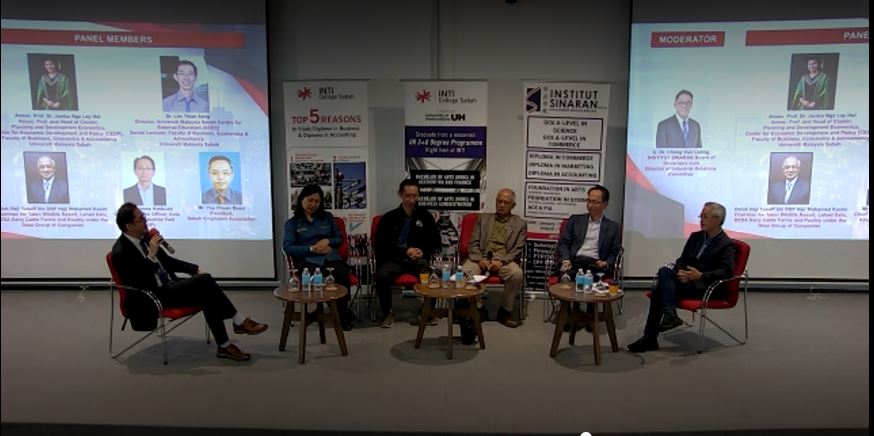 Panellists from academia and industry provided their insights and recommendations based on their expertise.
Institut Sinaran Chief Executive Officer Michael Chin expressed that many sectors and businesses need strategies to successfully weather the storm during a period of economic uncertainty.
"With this talk, we aim to expose our students to intellectual discussion from the perspective of Sabah," he said, adding that he hoped this platform would offer students key learnings on the challenges of the current situation and prepare them for the challenges of the future.
INTI College Sabah Chief Executive Roselyn Chua lauded the organisers of the event for providing an avenue for students to get invaluable insights from experts in the field.
"As the economy regains strength from the pandemic and businesses rebound, it is important for students to have opportunities such as this to better understand the reality of our economic situation and how to maintain economic growth from an academic and business standpoint," she said.