Outdoing a total of 5,304 entrants worldwide, INTI International College Subang student, Jenny Teoh Jia Ni, clinched the semi-finalist spot and the Special APAC Honourable Mention award of the Adobe Design Achievement Awards (ADDA) for her entry on the Hiang Liang Rebranding project.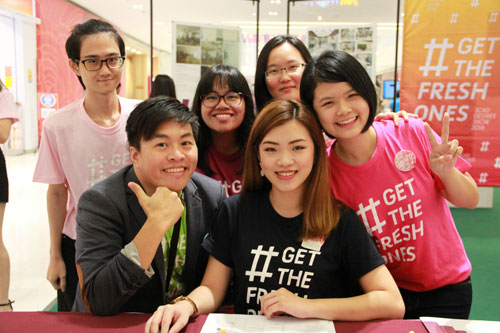 Jenny Teoh (first row first from right), graduate from the class of 2016 was selected as the recipient of ADAA's APAC Honorable Mention award for her project Liang Hiang Rebranding.
The ADAA is a global digital media competition for student creators which helps connect students to industry professionals, academic leaders, and top brands, in a bid launch the next generation of student careers.
The 26 year old recently graduated from the INTI's Bachelor of Arts (Honors) in Graphic Design in collaboration with UK's Sheffield Institute of Arts, part of Sheffield Hallam University. Her wining project focused on Liang Hiang Sdn Bhd, a local grocery store which has been in existence for more than 30 years. In a bid to help the store's owners build a new identity to target younger consumers while maintaining its current elderly customers, Jenny worked at conceptualizing a design that showed a balance of vintage and modern feel.
"To infuse the brand with both modern and nostalgic elements, I chose green as the primary colour for this project. Liang Hiang sought to break out of the already intense local competition by providing customers with a new sense of retail atmosphere and experiences. By using risograph printing to complete the branding for this project, I was able to retain some of the original aspects of the brand while giving it a modern look and feel," shared Jenny.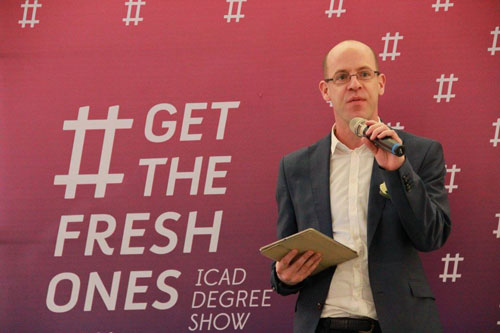 Dr. Craig Paterson, Principal Lecturer at Sheffield Hallam University giving his address during the ICAD Degree Show.
The Liang Hiang Rebranding project was also exhibited at INTI's Centre for Art and Design (ICAD) Degree Show 2016 themed #GTFO (Get The Fresh Ones), held at Da Men Mall. The exhibition showcases the works of the class of 2016 graduates from INTI's Graphic Design and Interior Design programme. The exhibition further served as a platform to expose ICAD's graduates to potential employers from the industry.
This year's showcase theme #GTFO (Get The Fresh Ones) demonstrates that the freshest graduating class is ready to take on the working world and the hashtag represents the work that is always in trend and current.
"INTI's Centre of Art & Design provides an excellent and exciting environment for students to grow in. Its facilities are comparable to what we have in the UK and there's a very high level of commonality between our programmes. I think all the ingredients are in place for INTI and its creative design programmes to develop and thrive," said Dr. Craig Paterson, Principal Lecturer at Sheffield Hallam University.
Empowered with the ability to apply their talent and artistic techniques in the creative process, and express their ideas in their own distinctive style, ICAD's graduates can look forward to becoming versatile, adaptable and enterprising professionals that are always on top of the latest trends.