INTI Centre of Art & Design (ICAD) student Jesyln Tan Yoke Teng, 22, studying Graphic Design had two passions – art and charity. Little did she know that she would be able to combine her passions for the 'Rakan Raksasa' Project, an initiative by the ICAD students from INTI International College Subang and Pusat Jagaan Cahaya Kasih Bestari, an orphanage based in Subang.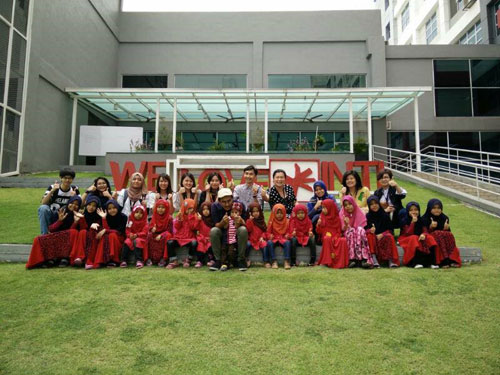 Tong Yin, the Dean of ICAD at INTI Subang (fourth from right) and Chee Keong Lee, the Head of Programme of ICAD at INTI Subang (fifth from right) together with the ICAD students taking a group photo with the children from Pusat Cahaya Kasih Bestari.
The Rakan Raksasa Project allows ICAD students to turn the creative drawings by the children at the centre into digital artworks – allowing it to be exhibited at INTI's Subang campus.
"Our students have consistently demonstrated their ability to turn compassion into art and have always collaborated with charity homes to give back to the society. But the Rakan Raksasa Project is definitely an innovative step in their education experience," said Ms Ang Tong Yin, Dean of ICAD at INTI Subang.
"Our students brought the children from Pusat Cahaya Kasih Bestari to our campus where the children were asked to draw their most creative interpretation of a 'monster', as far as their imagination could take them. Once the children finished their drawing, our students transformed them into a digital artwork," she added.
The exhibition at the INTI campus eventually attracted the attention of the organisers of the Malaysian International Invention, Innovation and Technology Exhibition (ITEX) 2017, prompting them to display the artworks at the event.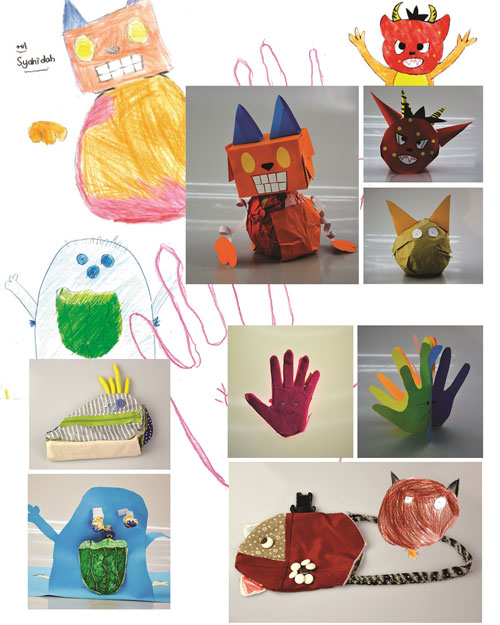 Some of the digital artworks that were displayed.
"We were very excited to showcase the artworks of the children and students at ITEX 2017. This is definitely the hard work of the children and we are glad to have played our part. As an aspiring Graphic Designer, I have always believed that creativity and art can make a difference and to create an impact such as this feels really rewarding and I think that gives our life meaning." said Jeslyn, currently in her 3rd semester at ICAD.
Empowered with the ability to apply their talent and artistic techniques in the creative process, and to express their ideas in their own distinctive style, ICAD's graduates can look forward to becoming versatile, adaptable and enterprising professionals who can make a significant impact in the world.
This coupled with INTI's strong industry linkage with over 450 companies has resulted in INTI's high employability rate in 2015 as validated by BDO Governance Advisory with 98% of INTI graduates being employed within six months of graduation, 82% earning incomes higher than the market average and 25% of graduates receiving job offers even before they graduate.