Among the academics and independent researchers who gathered at the 9th International Conference on Humanities and Social Sciences in Hatyai, five Malaysian undergraduates stood out from the crowd with their research presentations. These final-year students included Marina Leong, Chuah Lee Ren, Beh Shue Mei, Lim Ee Xian and Alvin Chuah from the University of Hertfordshire Bachelor of Mass Communications programme at INTI International College Penang (INTI).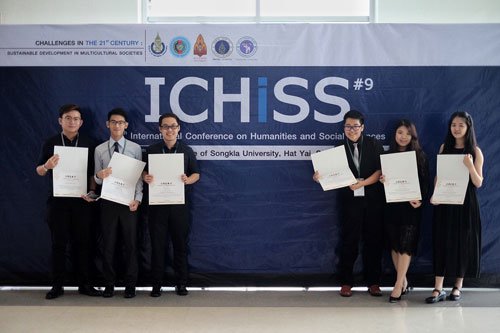 Elween Loke, third from left, and INTI students receiving their certifications for participating in the 9th International Conference on Humanities and Social Sciences.
Attended by about 60 academics from Malaysia, Thailand, China, Cambodia and other countries in the region, the conference was held at the 60th Anniversary of His Majesty the King's Accession to the Throne International Convention Center and was jointly organised by the Prince of Songkla University, Khon Kaen University, Mahidol University, Chiang Mai University, Thailand and the National Defence University of Malaysia.
The students presented four diverse presentations which included Shue Mei's research on environmental awareness and advocacy for the Kuala Sepetang Fishing Village in Taiping; Ee Xian's findings on users' habits of self-disclosure on Facebook; as well as two joint research projects by Marina, Lee Ren and Alvin on online learning, and the Penang Hokkien Dialect.
Elween Loke, INTI's Head of Programme for the Bachelor of Mass Communications course, said, "We are very proud of our students for having received this unique opportunity to speak before established academics at this conference, as they were the only undergraduates selected to present their research. Many academics expressed how impressed they were by the quality of our students' research and their knowledge of statistical analysis and this served as an encouragement to these students to further their research, especially those who are keen on continuing into their postgraduate studies."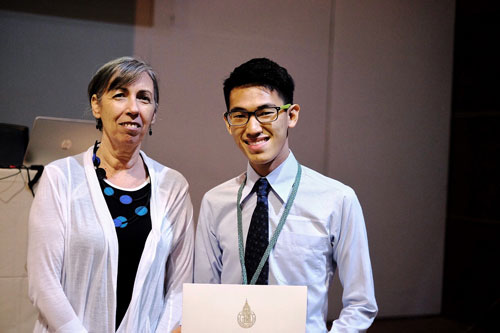 Lee Ren (right) receives his certificate for presenting his research on online learning, and the Penang Hokkien Dialect, from Dr Kathleen Nicoletti, Session Chair and Professor, Prince of Songkla University, Thailand.
Lee Ren, a final year student at INTI, shared, "Being selected to represent INTI and the country at an international conference was a truly incredible experience. When we first submitted our applications, we were not sure what to expect or if we would even be selected as we were undergraduates. While it was hard work to balance between our studies and develop our research, it was a once-in-a-lifetime opportunity to stand before established academicians and share our ideas."
Loke explains, "This opportunity provided an invaluable experience for students to develop their capacities beyond the classroom. Today's workplace requires graduates who are not only academically excellent, but who have had real life experiences which they can draw from as they step into their careers. The conference has served as a good opportunity for them to broaden their perspectives as well as enhance their personal development."
In addition to offering world class programmes, INTI ensures that students gain a holistic learning experience that encompasses practical experiences such as attending conferences, competitions as well as working closely with its more than 450 industry partners in gaining actual insights into the industry. Such experiences resulted in outstanding employability outcomes in 2015, with 98% of students being employed within six months of graduating, 25% securing jobs even before they graduate, and 82% being offered higher salaries than the market average – which were validated by BDO Governance Advisory.
INTI will also be hosting its 10th International Student Based Conference, which will be held from 6 to 8 October 2017.