What can happen when a community unites with a common purpose is truly incredible. At INTI International College Subang (IICS), this unity was realised in conjunction with the 47th Student Government (INTIMA), as they collaborated to organise a forum addressing an often-neglected subject: mental health. The event, titled "INTIMA IICS Presents: Would You Care to Overshare?" took place on October 14th in the Tan Yew Sing Auditorium on campus, attracting a diverse and enthusiastic audience.
This gathering was not merely another date on the calendar. It was deliberately scheduled to coincide with World Mental Health Day on October 10th, highlighting the significance of initiating open discussions about mental health. The objective was clear: to dispel the stigma and misconceptions surrounding this crucial topic through candid conversations.
The audience was treated to heartfelt stories from a line-up of distinguished speakers. These included YB Michelle Ng, a respected figure in local governance; Tan Sri Dato Sri Dr. Hj. Noor Hisham Abdullah, recognised for his vast contributions to healthcare; Andrew Ngo, an entrepreneur who's made waves with his business, Stoned & Co; and Dr. Jane Lim, a key figure at INTI International College Subang. Each speaker shared vital insights and personal experiences, inviting listeners into their world and fostering a deeper understanding of mental health.
Reflecting on the evolving landscape of mental health discussions, YB Michelle Ng remarked, "When I was elected in 2018, the reality on the ground in Subang Jaya was striking. Nearly every month, we encountered either attempted suicides or suicides. Conversations during that time were challenging because mental health was still considered a taboo subject. Many people were defensive when we tried to discuss it and wanted to avoid the conversation."
"However, in just five years, we have seen significant change. There has been noticeable progress, with high-ranking government officials at the federal level openly acknowledging the issue. Both state and federal governments now allocate funds to support mental health initiatives, highlighting its increasing significance," said the Subang Jaya assemblyman.
She explained the Selangor Selangkah application, stating, "The Selangor Mental Sihat (SEHAT) feature in the application includes a stress test that offers guidance to users, encouraging them to consult a doctor if their score raises concerns. Notably, the state government subsidises up to 10 sessions, each receiving a maximum of RM250 to alleviate the hospital burden."
Tan Sri Dato Sri Dr Hj. Noor Hisham emphasised the need for a shift in healthcare focus, asserting, "Traditionally, our efforts were primarily directed at physical health, focusing on curative measures such as expanding hospitals and clinics. However, the high costs associated with this approach have prompted us to pivot towards preventive mental healthcare measures, recognising the widely accepted fact that prevention is more effective than cure."
When addressing the challenges posed by the COVID-19 pandemic, he stressed the importance of equipping individuals to handle stress, stating, "Facing and managing stress and crises are crucial life skills. It's not a matter of whether you'll encounter stress or crises but how you face them. Empowering individuals with the tools to manage stress is essential, and possessing knowledge and skills to address situations, even during a crisis, is pivotal."
Discussing public stigma, he addressed misconceptions related to mental health diagnoses, saying, "There's a common misconception that a lack of religious devotion leads to mental health issues. Religion is a significant part of our lives, providing guidance and strength." He added, "It's important to understand that people interpret religion in their unique ways, sometimes deviating from its core principles. We have our interpretation of religion, and it's not our place to pass judgment or conclusions. While offering compassion and support to those going through tough times and respecting diverse religious perspectives, we should aim to do our best and leave the final judgment to a higher authority."
Further emphasising the importance of preparedness, he stated, "Today's readiness shapes our response for tomorrow. Learning from our successes and mistakes allows us to better prepare for future challenges, including potential outbreaks or pandemics. Cultivating resilience and crisis management within our families, communities, and nation is crucial."
Dr Jane, who is Vice President of Academic Support & Partnership at INTI International University & Colleges and Chief Executive of INTI International College Subang, stressed the pivotal role that universities play in addressing mental health challenges, noting, "Students frequently turn to our counsellors for assistance, but the persistent stigma surrounding mental health creates anxiety about their peers' judgments. Unfortunately, this can lead to discrimination and exclusion, which dissuades those in need from seeking help."
She added, "Each of us has a part to play. Friends and peers may observe when something is concerning with a fellow student and can recommend reaching out to a counsellor. A wealth of mental health resources is available, and students increasingly realise that seeking help is a positive step. Supporting one another and recognising the signs can make a significant impact."
Regarding the importance of collaboration between institutions of higher education and the government in addressing mental health, Dr. Jane said, "Institutions of higher education should collaborate with the government and the Ministry of Higher Education to tackle mental health challenges. The Ministry's recent inclusion of a module on integrity and anti-corruption as part of the MPU subject is a source of inspiration for extending this focus to mental health in the future."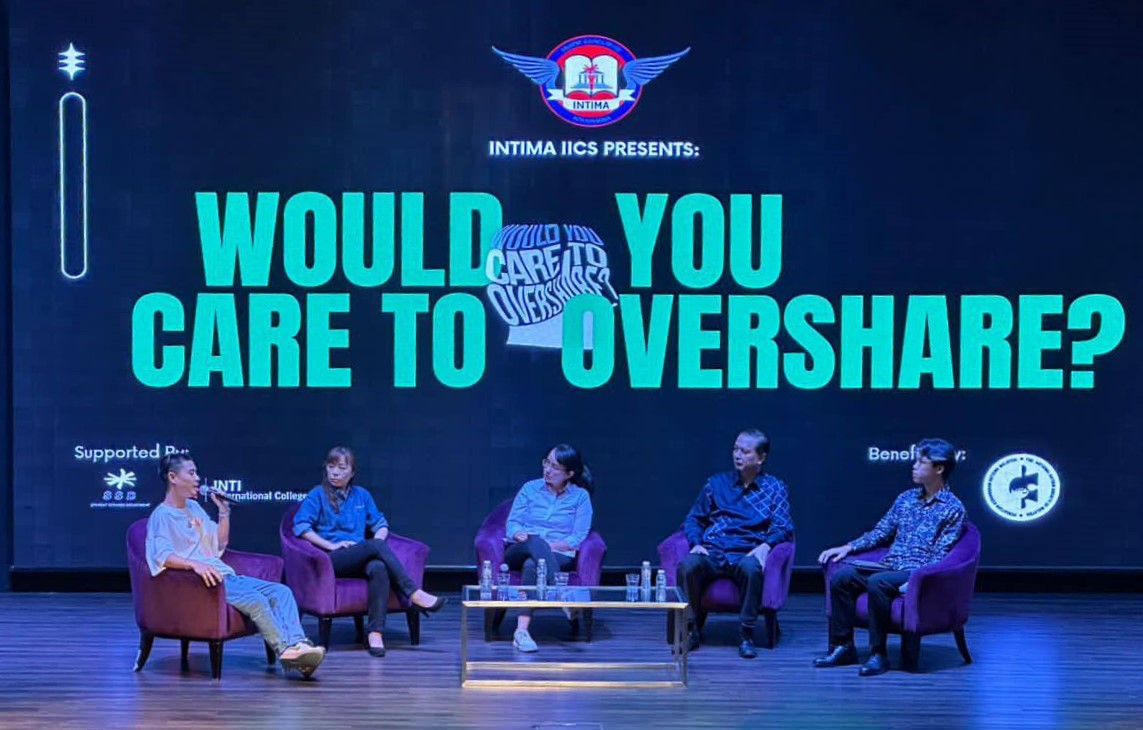 The speakers at INTIMA's "Would You Care to Overshare" offered engaging and insightful discussions on mental health.
Andrew Ngo candidly shared his experiences, reflecting on how his lowest point as an entrepreneur coincided with the COVID-19 pandemic. He explained, "When the pandemic hit, I was on the brink of significant business expansion, having just opened new stores. It taught me the importance of financial preparedness and planning for my family's future. Even after the worst of COVID had passed, it left a lasting impact, resulting in economic challenges and shifts in consumer behaviours."
He also highlighted the evolving awareness of mental health, saying, "A decade ago, back in my college days, discussions about mental health were rare. I once feared that seeking help for mental health concerns might label me as crazy, particularly while pursuing ambitious goals. Many of us would keep our stress to ourselves, hoping it would eventually fade."
Furthermore, Andrew addressed the influence of social media on perceptions of happiness, stating, "In today's world, social media often portrays an image of perpetual happiness, highlighting people's achievements and joyful moments. It's crucial not to compare ourselves to others, especially during challenging times."
The event marked a significant stride in empowering the community to support and better comprehend mental health. Sharing personal stories and fundraising efforts demonstrated how openly discussing mental health can effect meaningful change. Events like these contribute to a future where conversations about mental health are normalised and embraced, affirming that transformative progress is achievable when we unite in our efforts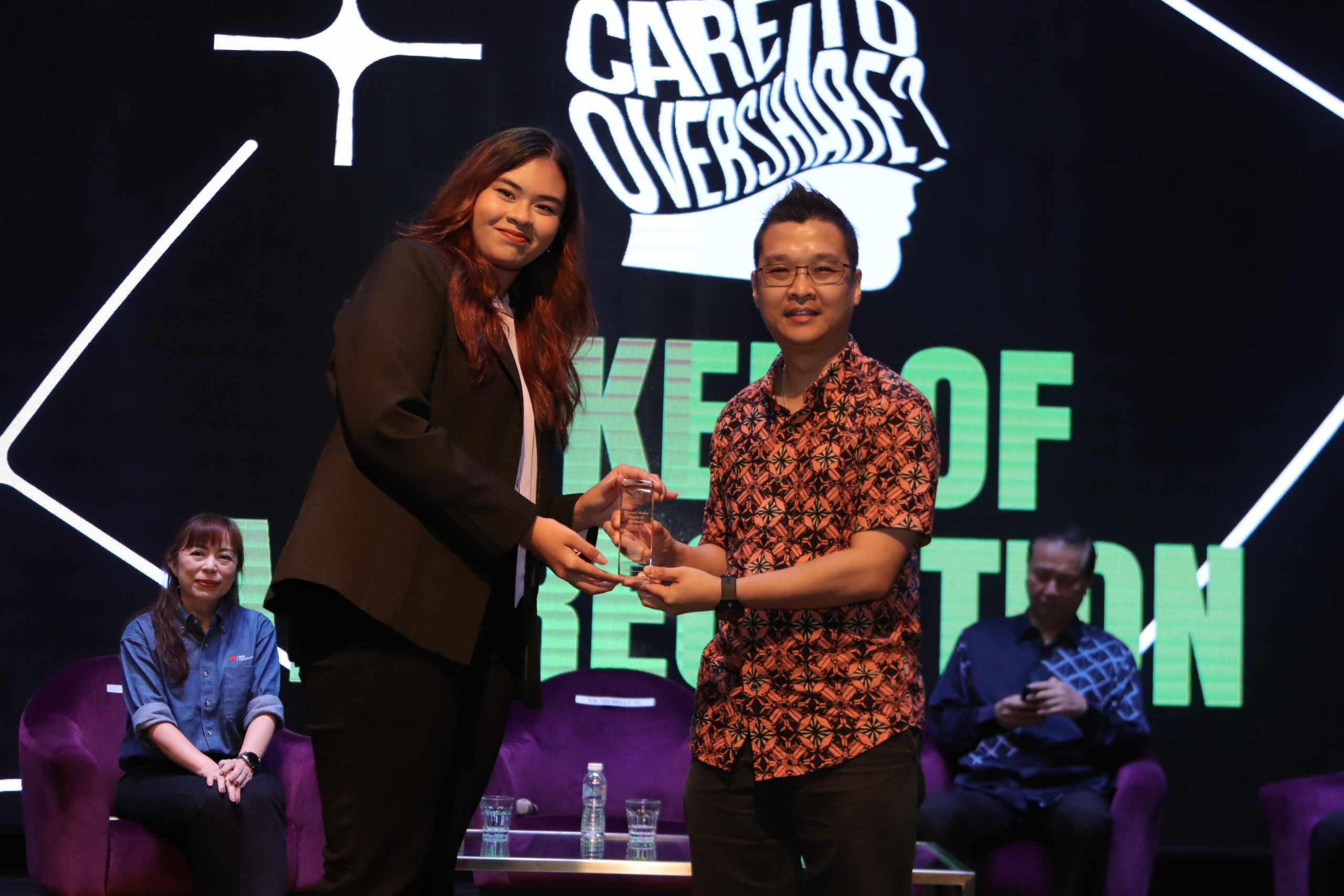 Samantha Anthony Joy, the 47th INTIMA Vice President of Activities and Event Organizing Chairperson, presented a token of appreciation to Julian Wong, Chairman of NASOM.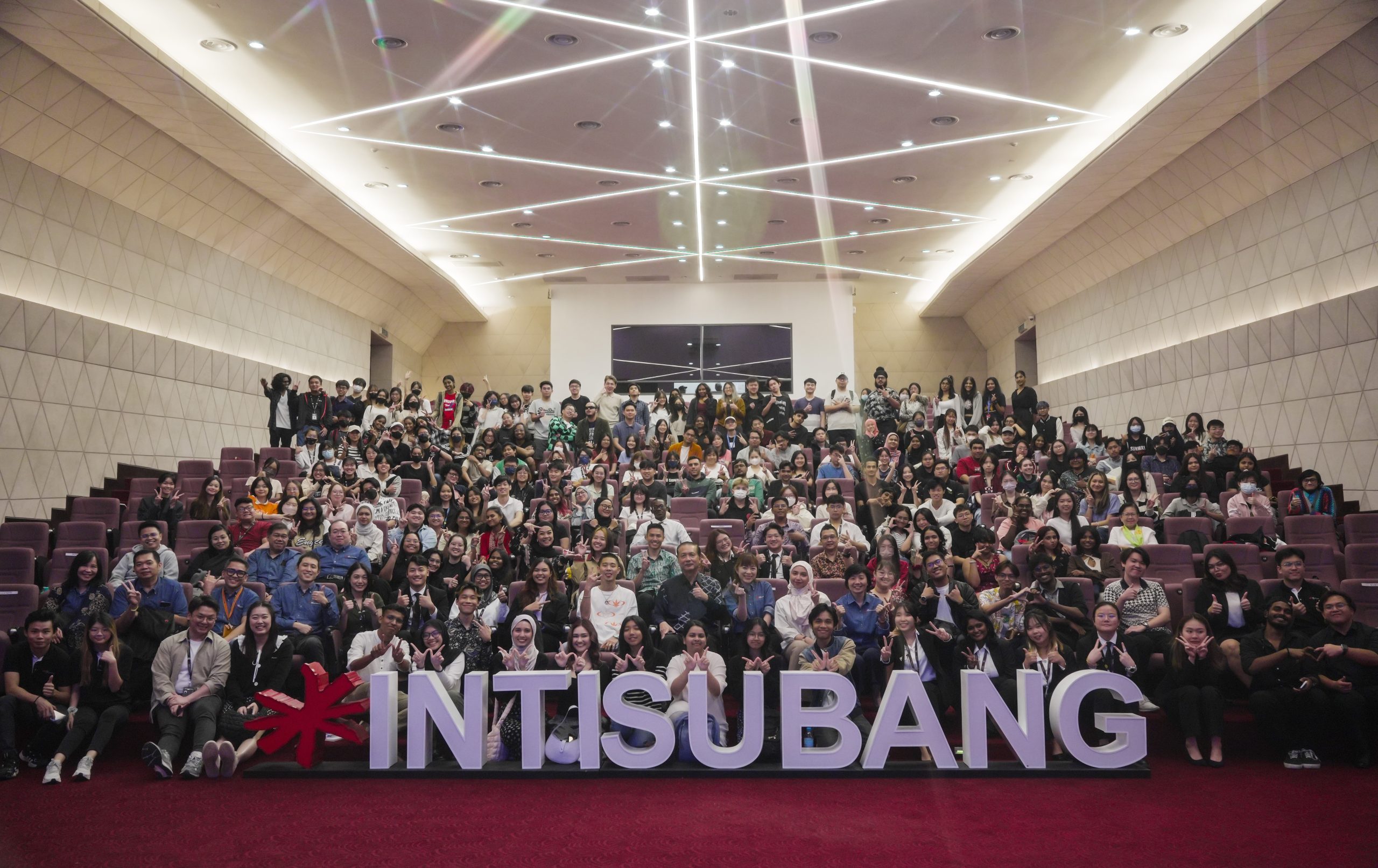 Speakers and participants posed for a group photo at the end of the event.