INTI International University has taken a step forward in its commitment to environmental sustainability by collaborating with SWM Environment Negeri Sembilan. They have launched the Waste Management Awareness & Exhibition initiative to promote environmental responsibility among the community. This initiative aligns with INTI's ecological goals as part of its ESG commitments and highlights the university's active involvement in adopting green practices.
The exhibition is an integral part of INTI's support for the KITARecycle programme, highlighting the significance of involving students and staff in recycling efforts.
"Through the KITARecycle programme, we are providing the means for our university members to make a real contribution to sustainability," explained Umi Kalsom Kassim, Head of Programme at INTI International University's Faculty of Business and Communications.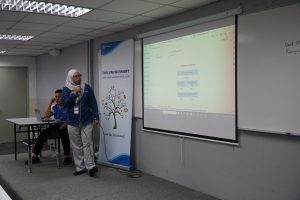 Siti Mariam Binti Abdul Aziz shares the success story of KITARecycle, which promotes recycling in the southern region of Malaysia.
She passionately added, "We're not just educating our community; we're inspiring them to take actionable steps to lessen their environmental footprint."
Siti Mariam Binti Abdul Aziz from SWM Environment praised the initiative, sharing that since the KITARecycle programme's 2018 launch, "456,662 kilograms of recyclable materials have been collected, thanks to the 6,352 members who have joined our recycling movement." She explained that participants only need to scan a QR code to join and start earning Recycling Points, which can be exchanged for cash.
INTI's commitment to a more sustainable future goes beyond just raising awareness. The university has incorporated practical elements into campus life, such as the 'R4G Room', which provides a convenient way for the community to sort and recycle waste. This facility is a concrete manifestation of INTI's ESG-focused philosophy, and it encourages environmentally conscious habits among its members.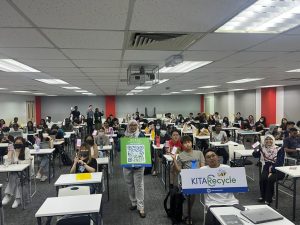 Siti Mariam poses with the audience at INTI International University.
The KITARecycle programme is designed with simplicity and impact in mind. From registering on the app to attaching QR codes to recyclables and sending them to the correct collection point, every step is part of a cohesive system that promotes participation and rewards sustainable behaviour. This systematic approach showcases how INTI integrates environmental responsibility into its operations and community engagement, making it an excellent example of sustainable living.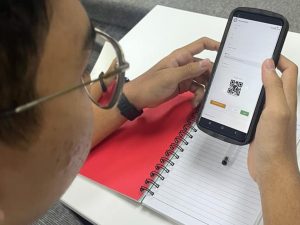 Implementing KITARecycle: A step-by-step guide to recycling success through QR code scanning.
SWM Environment shares INTI's environmental aspirations and has adopted the broader educational mission of promoting recycling under its 3R (Reduce, Reuse, Recycle) campaign. Since acquiring the concession for solid waste management in the southern region of Malaysia, the organisation has been working tirelessly to encourage the public to adopt recycling habits through various outreach programmes.
INTI International University is demonstrating a solid commitment to environmental stewardship and ESG principles through its latest initiative. By partnering with SWM Environment and getting its community involved in the KITARecycle programme, INTI is not only establishing itself as an academic institution but also as a proactive advocate for environmental conservation.