In the current sluggish global economy, digitalisation is essential in supporting governments, businesses, and organisations to boost economic growth and employment. Now more than ever, it is essential for businesses to leverage on digital presence to stay relevant.
With this in mind, INTI International College Penang's School of Business, in collaboration with IHS Markit, the Penang Youth Development Corporation (PYDC) and University of Shih Chien (USC) from Taiwan, recently organised the INTI – USC Competition in the Business Service Sector. Carrying the theme "Digitalisation as a Growth Driver", the focuses on digitalisation as a growth driver and aims to nurture essential digital marketing knowledge among students and prepare them with the right skills to thrive in the age of digital disruption.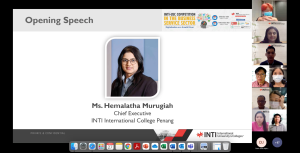 Opening speech by Hemalatha Murugiah, Chief Executive of INTI International College Penang.
The two-day day virtual event conducted via Microsoft Teams & Blackboard Collaborate Ultra, saw the participation of some 20 teams from the two universities. The opening ceremony saw the presence of over 100 undergraduates, as well as Hemalatha Murugiah, Chief Executive of INTI International College Penang, YB Soon Lip Chee, State Executive Councillor of Penang for Youth and Sports, and Shaun Lee, IHS Markit's Penang Site Leader and Global Order Management Director.
The main activities lined up for the event were the competition itself and workshops to help participants learn about digital marketing, expose them to its real-life application, and give students an opportunity to compete and present their digital marketing strategies to real organisations.
During the opening ceremony, Hemalatha spoke about the significance of the event.
"I would like to express my gratitude to all of INTI's industry partners for their participation in this event. Today's theme, Digitalisation as a Growth Driver, is both current and futuristic for all industries and life expectancies, both on a national level and globally. IR4.0 pillars are now definitely used in a wide range of industries and lifestyles.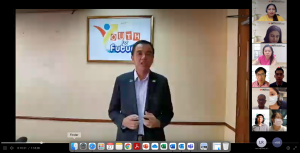 YB Soon Lip Chee, State Executive Councillor of Penang for Youth and Sports, delivering a speech at the opening ceremony.
"With the help of digitalisation and technology, the years 2020 and 2021 provided us with many new challenges and opportunities. The unprecedented global pandemic has fuelled digital transformation, increasing demand for virtual events like this one. Technology has also been a catalyst in defining new norms, including in the education industry," she said.
Hemalatha further explained, "Without a doubt, social media like Facebook and Twitter have embraced technology for many years, to the point that I'm not sure if anyone here still reads textbooks or newspapers in hardcopy. Many businesses have shifted to digital marketing, and as a result, the entire business landscape has altered, but perhaps for the better. Businesses may now communicate with clients across the globe."
In her speech, Hemalatha also shared that she has always believed that learning from the achievements and failures of others is a terrific approach to speed up the process of reaching objectives and goals. She explained, "By simply learning from people who are willing to offer their knowledge and experience, students might avoid stumbling blocks. That, I feel, is why we have PYDC and our industry partners, as well as INTI and Shih Chien University, to assist the students."
Before she ended her speech, Hemalatha encouraged students to take advantage of the workshops and the competition and wished them the best.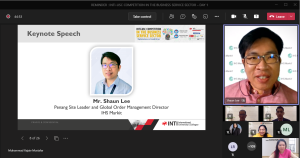 Shaun Lee, Penang Site Leader and Global Order Management Director from IHS Markit, delivering the keynote address.
Meanwhile, YB Soon expressed his appreciation to the organising committee and all the industry partners and students participating in the event. "In collaboration with INTI International College Penang's School of Business, this project aims to enhance and leverage the digital marketing abilities of our younger generations so that Penang can thrive in the digital age."
"Penang's youth must be proactive in mastering digital knowledge and skills to improve their employability, professionalism, and economic prosperity and better prepare for the current needs of the labour market. I am hopeful that our youth will gain significant insight and knowledge as a result of this programme. Together we shall work on developing the youth of Penang. Until then, stay safe!" he said.
Meanwhile, delivering the keynote address, Shaun Lee expressed appreciation for being a part of the event and applauded efforts taken by INTI. "INTI holds a special place in my heart as I was among the first group of students when INTI was established as INTI International College. In some ways, reconnecting with INTI has been nostalgic but also meaningful. I have enjoyed working directly with INTI and creating a significant influence between our company and the university for the past two years.
"Today, I am excited to see so many future marketers participating in this amazing competition as part of your educational programme. I can't agree more about the significance of the event's theme and issue."
According to Adobe's recent research on digitalisation, Shaun shared that many marketers were suffering digital marketing distress. Nearly 76 per cent of respondents believe that marketing has evolved dramatically in the last two years compared to the past fifteen years.
"Particularly in the middle market, B2B companies are typically slow to adopt modern digital marketing. The majority of business owners are marketing traditionalists who believe that a newsletter, email, or other forms of publicity allows them to function without a marketing strategy," he said.
Furthermore, in Shaun's opinion, he shared corporate organisations like IHS Markit need to encourage and support innovative marketers who will bring new ideas and change to stay competitive and current in today's digital market.
"Digital marketing is now much faster than traditional marketing, maybe 10 or 20 times faster. Effective marketing isn't about searching for solutions, it's about producing them. Consider social media, for example. It wasn't until recently that it was taught in a classroom, and the same can be said about e-commerce. Nobody taught those expert digital marketers how to use social media; they had to figure it out for themselves, which is how marketing is done in the future.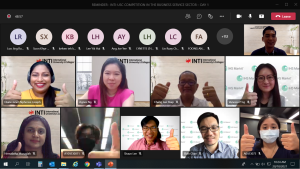 Group photo of participants during the opening ceremony of the INTI – USC Competition in the Business Service Sector.
"This competition also brings one very crucial component to each one of the students who participate: the importance of quantitative analytics, which is necessary for marketers to make decisions these days. So here I am, marketing our company in collaboration with INTI and their affiliated universities such as Shih Chien University. With the help of our management, we'll be able to make this collaboration a success. Kudos to all of you, and keep up the good work!" he concluded.
After the opening ceremony, Melissa Liew, Marketing Programs Manager from IHS Markit, briefed students on the case study before they separated into breakout groups with mentors.
Among the guests who graced the two-day event from IHS Markit were Elvin Chan, Brand Design Associate Director; Wong Pei Fang, Marketing Programs Manager; Yin Suet Hoon and Zabarie Talen, Brand Design Principal; Samuel Lee, Content Management Specialist and Vanessa P'ng, Senior Editorial Production Specialist.
Other guests included Siti Aishah Zainal, Communication Executive from Penang Youth Development Corporation (representing Dr Gwee Sai Ling, General Manager of PYDC) and Winnie Song, Professor from Shih Chien University's Department of Business Administration.