When Ng Zhan Hao and Mohnish Rajakumaran started working on a movie script, it never dawned on them that it would make it to the World Film Carnival (WFC), Singapore but they were nevertheless determined to produce something worthy of film festivals. Through their collaboration, their short film "Caffeinated Killer", received the Outstanding Achievement Award for Best Film Score – Soundtrack at the carnival.
"Caffeinated Killer" depicts the life of a caffeine-addicted student who falls prey to betrayal, heartbreak and bullying in a toxic social media culture which leads him down a path of murderous actions, allowing him to renew a sense of purpose in life.
"The writer, Mohnish, and I motivated ourselves to submit our work to any film festival. When I first received the script from him, I instantly wanted to make the film award worthy. He agreed and had had the same idea too. However, it was also support from our lecturers that motivated us even more. Awang Masrin, Mohd Khairul Irwan Mansor and Edi Hezri stood by us from day one until this pinnacle moment," shared 21 year-old Zhan Hao.
The e-certificate presented to the team by the World Film Carnival, Singapore. "Caffeinated Killer" was awarded Outstanding Achievement Award under the Best Film Score – Soundtrack at the carnival.
Beaming with pride, he further added, "It's a pretty good achievement but most importantly we're so grateful for the recognition and appreciation we got from the film festival. Having the words 'Outstanding Achievement Award' under the title of our short film is a huge relief that our hard work has paid off."
According to Zhen Hao, the Best Film Score – Soundtrack is a category which consists of films that have a good collection of music used in them.
Zhan Hao is also glad to be among recognised productions from international filmmakers.
"This is a huge milestone for the team. We put our heart and soul into making the short film and when we received applaud and recognition from the mass audience, we know that we have made it and that feeling is truly amazing and special," expressed Zhan Hao, a Diploma in Mass Communication student at INTI International College Subang.
The event was conducted virtually via the WFC – Singapore Facebook page and on FilmFreeway, a film submission platform for film festivals. The award was presented to the team via email, whereby the event organizers sent them e-certificates and laurels – emblems to be embedded in their short film posters.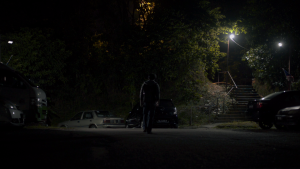 A scene from "Caffeinated Killer" which portrays the lighting techniques used in the short film.
WFC – Singapore is a global network that covers live screening events all over the world, successfully uniting all of the world's major cities and diverse rich cultural hubs. WFC hosts annual award ceremonies, offers distribution opportunities, and maintains an active global network of independent filmmakers, in addition to assisting independent filmmakers to advance their careers in a highly competitive field by showcasing their work on a global platform, earning them recognition and awards[1]. 
The carnival is a monthly live screening film festival. Each month more than 50 films from different categories are selected, of which at least one per category is awarded. The representatives are screened monthly at a prestigious venue in Singapore and are rated on their respective IMDB pages (if applicable). Monthly winners qualify for the annual live screening gala in the Lion City and can be nominated for the prestigious Golden Merlion Awards[2].
The team's collaborative effort was everything. Zhen Hao admitted that each person's contribution made the award submission smooth sailing and an exciting experience. Having co-founded Film Major Productions, Zhen Hao acknowledges it as another tick off his bucket list.
"The progress throughout the submission went on without much of a hassle. The WFC – Singapore is the first competition we submitted to as a team. Mohnish, Lewis Knight, who was the music composer, camera operator and actor in "Caffeinated Killer", and I forked out an equal amount of money to submit the short film into three categories – Best Student Film, Debut Filmmaker & Best Film Score," elaborated Zhen Hao.
It was after this that Zhen Hao and team received more invites from other film festival organizers to submit their film for awards.
"After submitting our applications to WFC – Singapore, we received emails from several other film festivals inviting us to submit our film into theirs as well. Mohnish and I scanned through the terms and conditions and also did our background checks to look up for the credibility of each festival prior to submitting our film," Zhen Hao explained.
Awang Masrin, a Mass Communication lecturer from the School of Business and Communications at INTI International College Subang, was also part of the award winning team.
"The 'Caffeinated Killer' film was awarded Best Score and Soundtrack because the students were able to grasp the importance of silence and sound in setting the tone and mood of a particular scene. The students had listened to a wide range of music before settling on the soundtrack and it helped that they have an instinct on the right frames to inject the original scores," shared Awang about the students' achievement in the film festival.
He is confident that this achievement will be relevant to the students' career growth.
A scene from "Caffeinated Killer" showing the main characters of the film.
"Knowledge itself does not guarantee competency. The fact that the students had applied what they have learned into creating a remarkable film, demonstrates that they are competent. Winning an award is a bonus; the most important thing is they have proof to show for and employers would be more confident and keen to hire them in the future," said the elated Awang.
Awang had a piece advice for the future graduates of INTI.
"Put yourself out there and test your limits. Joining competitions and awards like this exposes you to new sets of challenges that will push you to greater heights. Winning or losing is secondary, but the experience and learning the trade through its process is more important besides being valuable and worthwhile. It lets one see things in a different light. Never stop learning because you will never know the successes that await you," concluded Awang.
[1] https://worldfilmcarnival.com/wfc-singapore/
[2] https://worldfilmcarnival.com/about/