Students from INTI International University celebrated their win of the Merit Award at the Engineering Innovation Challenge (EIC 2021), an international competition that allows students to learn the importance of engineering in daily life.
The competition consists of four categories namely secondary, junior college, Institute of Technical Education (ITE)/Polytechnic and universities. INTI's team was made up of Tan Weng Kang, Chia Song Yew, Chu Jun Wei, Chew Mei Yan and Tey Yin Ting who are pursuing a Bachelor of Civil Engineering with Honours (BCEI).
"The moment we saw our group photo when they announced the winner of the Merit Award, happiness and tears of joy are the only expression that showed on our faces. This is the first international competition that we joined and it was very memorable and meaningful to us," said the team's leader, Tan Weng Kang.
Advisors Ts. Dr Lee Hoong Pin (back row, first left) and Dr Zuraidah Binti Harith (front row, first left) pose for a photo with the team who won the Merit Award at the Engineering Innovation Challenge (EIC 2021).
According to Weng Kang, who is currently a third year Civil Engineering student, their advisors helped them the most and their guidance greatly contributed to their project throughout the competition.
Their project on the SMART Pipe, which stands for Self-Mending, Alert, and Report Tool for Pipe, captured the interest of the judges. The piping reinforcement system detects and alerts end users to water leaks and immediately stops them with foam to prevent catastrophic effects in underlying pipes.
"Ionizing radiation is the main component that we used in this innovation. So we took the mechanism of a smoke detector, whereby it is triggered when smoke blocks the wave of ionizing radiation and causes the wave to become unstable. We used the same mechanism in our design, in which the system will be triggered when the water affects the consistency of the ionizing radiation wave," shared Chew Mei Yan who hails from Johor, Malaysia.
"We were unable to use ionizing radiation for our project as it is dangerous so we used the Arduino software to replace it. We used a rain detector and LED bulb to connect with Arduino and employed a 3D printer to print the whole prototype," she added.
Meanwhile, Chia Song Yew shared that the contest taught them how to communicate and cooperate with team members. He said a fruitful teamwork could not be achieved without discussion, communication, and the cooperation of all members.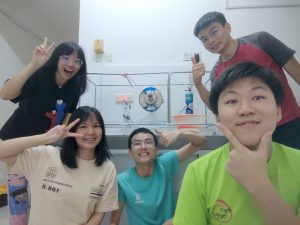 Tan Weng Kang, Chia Song Yew, Chu Jun Wei, Chew Mei Yan and Tey Yin Ting, who are currently pursuing the Bachelor of Civil Engineering with Honours (BCEI) programme at INTI International University, take a photo with their SMART Pipe project.
"In addition to that, an achievement at an international competition such as this will help our resume for when we start job hunting," he added.
Tey Yin Ting, who is currently enrolled in the third year of the Bachelor of Civil Engineering programme, acknowledged that the biggest challenge they faced was arranging for quick return to campus in order to prepare for the competition during the pandemic.
Chu Jun Wei shared the same view as Tey Yin Ting, saying that it was vital to meet in order for things to run smoothly.
"We had to create a prototype and it required us to do a lot of physical work. Doing it online would have been difficult. Fortunately, Dr Lee, who is our supervisor, arranged for us to work on campus where we could access labs," he explained.
Ts. Dr Lee Hoong Pin and Dr Zuraidah Binti Harith, the group's advisors and senior lecturers from INTI International University's Faculty of Engineering and Quantity Surveying, could not be more proud of the achievement.
"When the students told us the news, we were so excited! We knew the competition would be tough, but winning the merit award is as worthy as winning the main prize because this is the first time we participated in a cross-discipline competition.
"This competition is a platform which allows students to showcase their creativity and innovation. In order to achieve their goals, they need to work together and polishes their communication and thinking skills. These soft skills are not only useful when they study but also when they enter the working world," she said.
A poster on the SMART Pipe highlights its design concept, insights on the project, and the expected outcomes.
Dr Lee Hoong Pin shared that the biggest gain from the competition is being able to realise the theory into a practical prototype which can detect leaking water, give an alert, and self-heal the pipe.
"We are extremely proud of our students; this is what they deserve. They put a lot of effort to get it done, especially in a cross-discipline competition. We expect to see great things from them in the future," he said.
INTI International University believes students participating in the competitions such as Engineering Innovation Challenge can help the students boost their confidence, experience, and knowledge which the students may not learn through the books while INTI may also provide the students appropriate help whether mentally or practically.