After going through a rigorous selection process, several INTI International College Penang students were awarded the ASEAN Scholarship from the Singaporean government to pursue their tertiary education in the island city-state.
Horstann Ho Rui Yao, Bernard Lim Wee Shan, and Cheah Chun Jie, were among those who received and accepted the scholarship this year, proving that big dreams are possible as long as you have a plan.
These bright young students who completed their A-Levels at INTI share about their journey to excellence and their life experience as ASEAN scholars at Nanyang Technological University (NTU), Singapore.
Horstann Ho Rui Yao, who has always been interested in data science, machine learning, and fintech, is currently pursuing the Bachelor of Engineering in Computer Science programme. As a child, he was always enthusiastic about learning and exploring. He recalled, "Growing up, I was constantly dumbfounded by abstract mathematics and inextricable problems and am amazed that there are legitimate solutions for all. With each new chapter in the subject, I unfold a new facet of reality which reframes the way I see a problem."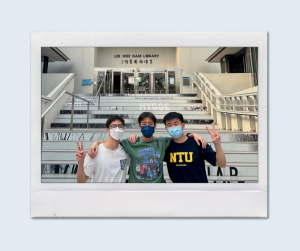 INTI International College Penang students Horstann Ho Rui Yao, Cheah Chun Jie, and Bernard Lim Wee Shan are pursuing their dreams at the Nanyang Technological University (NTU) in Singapore with the help of an ASEAN Scholarship.
He is the type of person who constantly pushes himself to work twice as hard as his peers. Recently, he obtained 4/4A* for his Cambridge A-Levels and took home silver in the 4th International Economics Olympiad (IEO) 2021, where he was one of only five students chosen from across the country to represent Malaysia and INTI.
Horstann recalled being extremely anxious as he and his parents awaited the outcome of the scholarship application. As part of a competitive selection process, applicants are screened based on academic, extracurricular, and leadership strengths, as well as a personal statement on a given topic.
"Only a small number of candidates are then invited to the final stage of the selection process, an interview. So, we were thrilled to hear the good news.
"I was happy and excited when I received my offer because it will relieve my parents' financial burden, allowing them to better provide for my two younger brothers and allow me to pursue a master's degree. It also demonstrates that Singapore's Ministry of Education (MOE) believes in my ability to excel as a student, for which I will be eternally grateful," he said, adding that the scholarship alleviated his concerns about his family's financial situation and will allow him to focus on his studies.
Horstann, who seeks to attain new skills, also takes online courses like Harvard's CS50x to further build on his computing skills and explore various interdisciplinary applications in Computer Science.
"I believe these complement what I learn at NTU and unlock a much larger world of opportunities. I'm extremely keen to apply data science in interdisciplinary spaces such as economics and finance, a combination that I believe holds enormous potential and continues to pique my interest to this day," he said with a smile.
When asked what strengthened his belief that NTU Singapore is the ideal institution for him and what his plans are after graduation, he responded politely, "NTU has always been an attractive institution with excellent opportunities. Since Singapore is an internationally recognised technological and financial hub, recruiters from prestigious firms will be at my doorstep."
Cheah Chun Jie, who is pursuing his bachelor's degree in Civil Engineering, shared that family and friends have impacted his life in many ways that have shaped him into the person he is today.
"As a child, I did not have the opportunity to experience and participate in some of the activities that children now have. When you think about it, today's generation is so advanced that it can't even be compared to ten years ago. I spent a lot of time socialising with my family, siblings, and friends when I was younger. How I grew up and what I experienced shaped me into the person I am today," he explained.
Getting accepted at NTU and securing a scholarship is undoubtedly big news, especially if you are a Penang boy with big dreams. Chun Jie talked about how he felt when he got the good news, "To be honest, I was overjoyed and could not believe it even when I received the email notifying me that I had been shortlisted for the interview!  Doing all those essays by the deadline while keeping up with my course work was a crazy amount of work and stress. Now I am beyond thankful that all the hard work paid off," he said, wincing at the thought.
The aspiring student who hopes to obtain a Professional Civil Engineering license one day further shared a tip for those applying for the scholarship, "Try not to memorise the facts or the script you prepared beforehand. Remember to speak confidently and express your point of view in response to each question. Finally, there is a Q&A session following the interview; remember to ask at least one question of the instructors to demonstrate your enthusiasm."
Horstann Ho Rui Yao, Cheah Chin Jie and Bernard Lim Wee Shan, are throwing themselves into a completely new environment to gain life experience.
When asked about his greatest motivation, he shared a quote that helps him keep striving forward by Norman Vincent Peale, which is "shoot for the moon because even if you miss, you'll land among the stars".
"My family, especially my parents, are important to me. I want to always aim for the best (moon) and give my family and parents the best star and life they deserve. I am proud of what I accomplished today and hope to achieve even more in the future," he said.
Bernard Lim Wee Shan, who is pursuing a bachelor's degree in Electrical and Electronic Engineering, shared that though he has always been an adventurous and inquisitive person, he still felt a little homesick during his first week at NTU.
"I miss home but studying abroad is a truly rewarding experience. Adapting to the culture was not too difficult as the lifestyle and weather in Singapore are the same as in Malaysia, but it can still be challenging. Without the comforts of home, studying and living abroad forced me to be more self-sufficient. I have to fend for myself, buy my own meals, do my own laundry, but it will all be worth it. I am learning to take more responsibility for myself and transitioning myself to become an adult," he said.
When you study abroad, you need to meet new people and make new friends from all over the world, just like Bernard.
"I joined the Christian Fellowship on campus as a starting point to help me get a foothold at the university. Meeting people from various backgrounds was a great experience for me, and it helped me settle in," he explained.
Bernard went on to say that studying abroad made him appreciate his home and family even more.
"Making my parents proud was my greatest source of motivation. Seeing them work hard every day to pursue my dream moved me deeply.  My goal is to make sure that I can provide for them in the future and that they can take it easy after all that they have done for my family and me," he said with a smile.
When asked if he had any advice for other scholarship applicants, he cited a quote from Muhammad Ali.
"Muhammad Ali said, it isn't the mountains ahead to climb that wear you down, it's the pebble in your shoe. You need to set a goal in mind, although sometimes our goals can seem so far away, it can feel like climbing a mountain. Muhammad Ali reminds us that the more we can identify and address the pebbles, which are the problems or distractions, the more we can focus on the climb," he concluded.