Engineering students from INTI International University recently did the institution and the country proud by securing a number of awards at an international engineering competition entitled: 'Introducing and Demonstrating Earthquake Engineering Research in Schools' (IDEERS).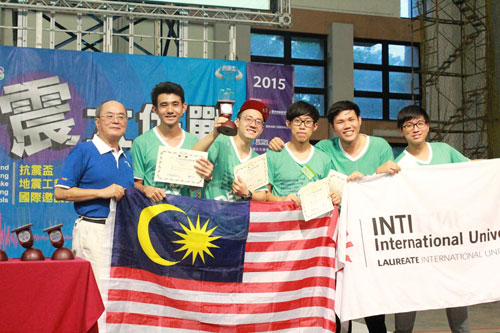 INTI students flying the Jalur Gemilang after being awarded third place in the IDEERS Postgraduate Category
The competition, which was held in Taiwan, was jointly organised by several agencies including the Taiwan National Center for Research on Earthquake Engineering and the Asia-Pacific Network of Centers for Earthquake Engineering Research. The event saw representatives from a number of countries including Vietnam, Japan, Korea, Taiwan and Singapore, coming together to compete and learn about the importance of earthquake engineering and seismic protection in the region.
Over the course of two days, students were required to design and build simple structures addressing common construction issues faced in earthquake prone areas. Students also exhibited their own prototypes and architectural designs, and presented to a group of judges on how their models functioned in minimising the impact of earthquakes. In one competition, INTI was selected as one of only six designs to be showcased among the best innovations from the competition.
Lee Hoong Pin, Lecturer from the Faculty of Science, Technology, Engineering and Mathematics, and the advisor for INTI's team said, "With the recent earthquake in Sabah, we can no longer remain complacent about this natural disaster and its effects in Malaysia. Participating in this event helped our students to gain hands-on experience in this increasingly important issue."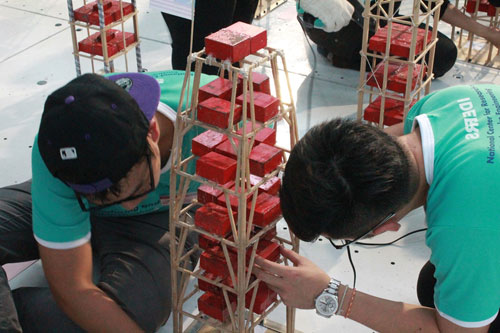 INTI students testing their earthquake load resistant system during the IDEERS exhibition in Taiwan
"It also offered them the chance to pit their skills against those countries with longer experience of earthquakes, and we were both surprised and very pleased when we surpassed countries like Japan and Korea to take the awards," he added.
In addition to receiving the overall 2nd runner up award for the Postgraduate Category – the winners of which were the National Taiwan University and the Hong Kong Science and Technology University in first and second place – the 10 INTI students representing Malaysia also secured other awards, including Best Design for Architecture and Aesthetic Design, Best Design Idea for Exhibits and 2nd place for the Innovation Award for Seismic Isolation and Energy Dissipation.
While the team was lauded for its efforts and presentation at the competition, the students were not without their challenges. From the get go they banded together to overcome issues such as identifying and securing the right materials, adapting available tools and technology to test their unique designs, and determining how to maximise their exhibition areas to showcase their ideas. Throughout the process, INTI ensured that students were given full support, not only in accessing its laboratories, but also through the practical assistance provided by its academic team and the lab technicians.
"By enabling our students to participate in such competitions, INTI offers them first hand experiences to work on practical ideas which have an actual impact on the society around them. Our aim is to empower our students to not only develop their skills and capabilities to compete against their global peers, but to equip them with the relevant exposure they need to stand out in their future careers," Lee concludes.