Increasingly concerned by the growing number of students who have had their education goals derailed due to the rising cost of living and the weaker Ringgit, INTI International University & Colleges (INTI) has developed an education stimulus plan aimed at assisting those affected by external financial pressures.
The stimulus package addresses key areas of concern and aims to provide new solutions to existing and future students seeking a globally recognised qualification with strong outcomes for greater employability prospects. Programmes delivered locally and overseas are included in the package.
The stimulus package comes at the back of a recent report by the London-based Expert Market, which ranked Malaysia as the 5th most expensive place in the world for a tertiary education based on household income. More worrying is the finding that parents in Malaysia spend 55% of their income on a child's education. This is nudged further upward when more than one child has to be educated at the same time."INTI truly believes that access to quality education is critical for the future of this country, as it spurs sustainable and viable economic growth. Therefore, by partnering with key stakeholders including education partners, the industry, financial institutions, parents and students, we have developed an education stimulus package that focuses on three key areas. We are confident that the creation of new programmes, innovative solutions and affordability packages that we are unveiling today will help them navigate through this challenging period," said Rohit Sharma, Chief Executive Officer of INTI.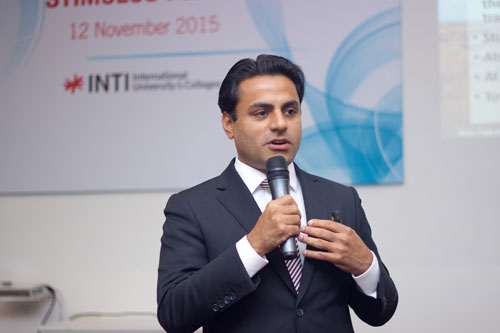 Creation of new programmes
To address the needs of students who have seen their higher education journey disrupted due to entering the workforce without a tertiary qualification, INTI has created new programmes with greater access and flexibility being the key focus. Reduced on-campus requirements and a significant increase in online learning, leveraging on the latest collaborative tools available, have made this possible.
The two programmes are the Bachelor of Arts in Business Administration (in collaboration with University of Hertfordshire) and Diploma in Business Management, and both have been priced differently to expand access.
"Due to financial pressures, we understand that many young people may have to start working straight after completing their SPM. We feel that it is important for these people to continue studying, as it will help them to improve their standard of living and achieve their dreams. So we took on the challenge to innovate our programmes to ensure that higher education remains within the reach of ordinary Malaysians," Sharma explained about the Diploma in Business Management.
When describing the Bachelor of Arts in Business Administration, Sharma said, "For those who have started working after obtaining their diploma or equivalent, we felt that it was crucial to design a learning model that is customised to meet their needs. Therefore, by leveraging on technology, we have developed an innovative learning approach, which ultimately means that they can boost their qualification and work at the same time."
Innovative solutions to expand access to education
To address concerns stemming from the performance of the Ringgit and higher living costs, which have become a major cause of concern for parents and students alike, INTI reached out to its international partners to offer new innovative solutions.
For instance, negotiations with partners in the US have resulted in cost savings of up to 65% in tuition fees for students.
In addition to that, INTI has partnered with Torrens University Australia, which is part of the Laureate network, which offers an accelerated delivery model that will see 40% cost savings and faster completion of the degree. This means that graduates from the university will enter the workforce much earlier than their peers.
"Gaining first-hand international experience is advantageous to students as this will prepare them for the challenges of the global marketplace. Unfortunately, many young people have seen this derailed due to external financial pressures. We want to address this by devising solutions that are tangible and sustainable."
"We hope that by offering these pathways to recognised international universities at a hugely reduced price, we are able to provide some relief to parents, thus boosting their ability to continue investing in their children's education," he stressed.
Affordability packages
INTI's education stimulus plan also includes an affordability package in which students can access an interest free monthly payment scheme to ease the burden of a lump sum payment for their education fees.
Alternatively, following the easy payment plan, those with a credit card account with either Maybank, Citibank, Public Bank or RHB Bank, can opt to pay their fees through instalments using their credit cards. This means that one does not have to fork out a lump sum at the start of the semester.
"As an education institution, we have a crucial role in helping the nation achieve its development goals. Data indicates that a significant proportion of the population do not have relevant tertiary qualifications and are therefore unable to achieve their professional and personal goals. We believe the solutions we are offering will help ease the burden of those seeking recognised qualifications, which will also help with their career goals.
Sharma added that these measures are part of a long-term strategy to expand access to higher education in Malaysia, and other new innovations are currently on the drawing board.
"We are confident that these solutions that focus on exceptional student outcomes will allow students to continue their education journey uninterrupted. This is in line with our vision to be the catalyst of change that provides an education that empowers," Sharma said.