If you're still in the Deepavali mood, swing by Pavilion KL where they are boasting a 500-metre long kolam which has over 100 different designs. The 'Journey of Colours' kolam runway project was the result of a successful collaboration between students of INTI International University & Colleges and Raffles College, which gave them an opportunity to stretch their creative wings.
"The students used the kolam to represent light triumphing over darkness, as well as to signify the beauty of Malaysia's diversity. It's an important tradition to continue despite the extraordinary times we live in as a way of spreading cheer to patrons and those working in malls," shared Wan Norazreen Wan Mohd Zamree (Erin), a lecturer from INTI's Centre of Art and Design (ICAD) at INTI International College Subang.
Many believe that kolams can be traced back to the Sanskrit epic of Mahābhārata, which depicts gopis (female cowherds) drawing kolams while their beloved Lord Krishna was away. However, historians believe that kolams were designed to guide shore dwellers on their voyage. They would draw out the constellations at the entrance of their homes before venturing into the sea .
Erin also acknowledged the effort made by Pavilion KL to uplift the moods of its shoppers.
"Committed to bringing the festive mood this Deepavali, the mall not only has bright and cheerful themes to welcome back shoppers but they've included new ways of staying in touch with consumers. 'Journey of Colours' is a reflection of their commitment. Students from ICAD produced 50 kolam designs in line with the mall's theme," said Erin.
The picturesque kolam designs are being showcased from the Connection Walk to Couture Walk of the mall.
Two students from ICAD, Nur Allysa Binti Zubir and Turmaloshni Asokan, who took part of the initiative, were excited to contribute their ideas and effort to beautify the mall in conjunction with the Festival of Lights.
Allysa, currently pursuing her Diploma in Fashion Design, was elated throughout the whole experience. According to her, it was a pleasant journey as they were given an opportunity to push their creativity from creating the kolam runway right up to the photoshoot at the end. She admitted that it was difficult to create the designs in the beginning as she comes from a different cultural background.
"Initially, it was tough to design the intricate traditional Indian ceremonial patterns because of my background. To be honest, I was struggling but with much effort and hard work, I managed to pull it off.
"This activity will definitely add more weight to my resume as it is a one of a kind effort by ICAD and Pavilion KL. Working with an organization like Pavilion has given me a glimpse of the kind of requirements that will be put on the table by a client when I embark on my professional pathway," shared Allysa who also recognised the need to improve her skills.
A student of the Diploma in Interior Design programme, 20 year-old Turma expressed what an amazing experience it was to be able to take part in the 'Journey of Colours' project. Above all, she said seeing her kolam designs showcased gave her a gratifying feeling.
It was also a learning curve for Turma. "As I rarely use the software required for designing, this was a platform for me to explore my skills. I'm thankful to be given an opportunity to experiment my ideas through the kolam designing process. Besides that, creating these designs gave me an excuse to take a break from all the assignments," she chuckled.
Erin concluded, "The crowning jewel of the 'Journey of Colours' has to be the enormous lotus flower kolam at the Crystal Fountain and main entrance. As the flower signifies eternity, purity, divine beauty and good fortune, it's expected to bring good luck to all visiting shoppers."
-END-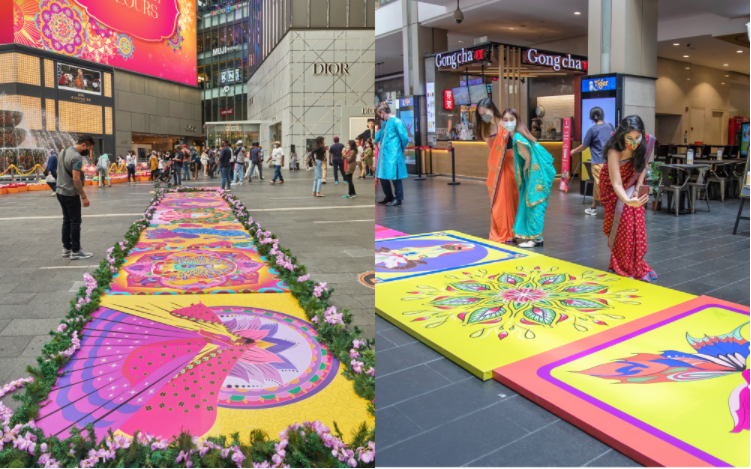 The 500-metre long kolam around the exterior of Pavilion KL which begins runs from Connection Walk to Couture Walk.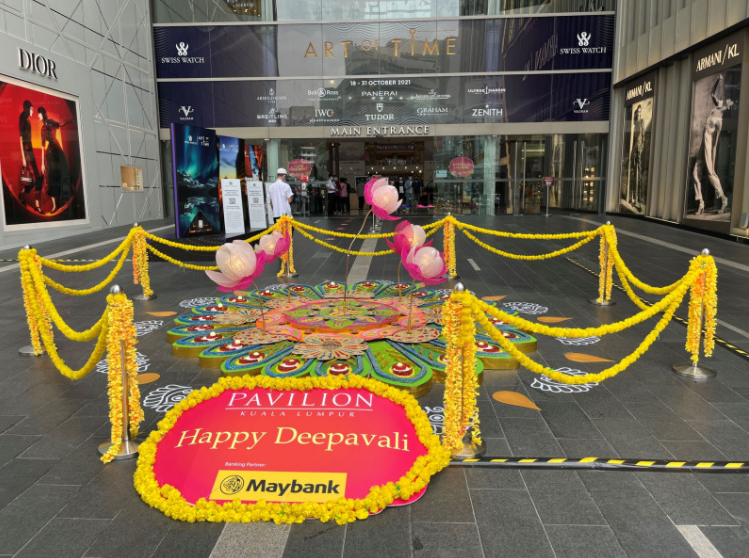 At the Bukit Bintang entrance to Pavilion KL, shoppers are greeted by a traditional rice kolam with a vibrant rangoli design.