Kenneth Francis Yap Wei Haan has always had a fascination for space and aviation. Today, commissioned as a United States (US) Navy Officer, Malaysian national Kenneth is not only realising his childhood dreams, but is also making his nation proud.
An interest was spurred
"It all began when my father introduced me to Top Gun and the original Star Wars. Ever since then, I have been intrigued by flights and becoming a military pilot was my primary goal. So, I chose to be a naval pilot as I thought it was cool to take off and land on a ship in the middle of the ocean," Kenneth said about his aspiration.
Naval pilots operate fighter aircraft and helicopters from aircraft carriers and ships at sea as well as maritime reconnaissance aircraft from ashore .
As Kenneth's lifelong interests always leaned towards space and aviation, it was only natural for him to pursue a degree programme that had both elements in it. Being a Bachelor of Sciences in Aerospace Engineering & Mathematical Science graduate from the Florida Institute of Technology, Kenneth admitted, "The Math degree was a happy accident as I had taken a number of Math electives during my undergraduate programme."
On the other hand, Kenneth had the push factor from his family to become a US Navy officer. "I have an aunt who married a US Navy officer. Every time we communicated, he would constantly encourage me to pursue my ambition and guided me through the processes. He is definitely someone I would look up to for his achievements and accolades," shared Kenneth.
The effort towards the dream
Kenneth began his higher education journey at INTI International College Subang.
"My parents and I were scouting around for a prestigious and qualified education provider after my Sijil Tinggi Pelajaran Malaysia (STPM) examination. We visited a couple of institutions to peruse their programmes which helped me weigh my options. Finally, we decided that INTI was the best fit for me as the American Degree Transfer Programme (AUP) offered attractive twinning programmes. We were able to choose from a wide range of US universities that INTI partners with.
"Besides being conveniently close to home, the tuition fees at INTI were affordable and it didn't burn our pockets. On top of that, I was able to score some scholarships from INTI as my STPM results met the criteria set by the institution," he shared
Hailing from Sungai Way, 32-year-old Kenneth was enlisted into the US Army Military Accessions Vital to the National Interest (MAVNI) programme, which has since been discontinued, after a year of working in the Optional Practical Training (OPT) programme for F-1 student visa holders, a type of non-immigrant student visa that permits foreigners to study academic or a language training program in the US .
OPT is a period during which undergraduate and graduate students with F-1 status who have completed or have been pursuing their degrees for one academic year are permitted by the United States Citizenship and Immigration Services (USCIS) to work for one year on a student visa towards getting practical training to complement their education .
Also, to be eligible for consideration for the MAVNI programme, applicants must be legally present in the United States and able to provide a passport, I-94 card, I-797 form, employment authorization document or other government issued documents proving legal presence in the United States .
"In exchange for regular army service as a helicopter repairer, the US government afforded me a citizenship. Nearing to the end of my contract, I applied to the US Navy and was transferred directly," said Kenneth about him reaching his dream one step at a time.
He further elaborated, "When one applies to any of the military branch services, there are basic aptitude tests involving Mathematics, Science, reading and more or basic aviation tests for pilots, usually a tonne of paperwork, criminal and credit checks, as well as a full medical examination."
Kenneth gained his US citizenship in April 2016, approximately seven months after he signed his army contract. He said USCIS conducted a thorough background check before awarding him citizenship, adding that his family and friends received surprise visits and calls from federal agents enquiring about him.
According to Kenneth, ultimately, the first step is to discuss with a recruiter. "Currently, enlisting requires a green card while commissioning as an officer requires citizenship and a Bachelor's degree. Thus, here I am today commissioned as a US Navy officer," shared Kenneth.
When asked about his next professional move, he said, "The Navy has a robust aviation program, and I am considering to apply to be a naval astronaut in the later part of my career."
Perks of a US Navy Officer
Kenneth was also generous to share about the perks of being a Navy officer.
"The basic pay is that which I can live comfortably with. In addition, they provide me allowances for housing, subsistence, flight or sea duty, and more. They also have a retirement investment scheme akin to the Individual Retirement Account (IRA) and regular pension," he stated.
Moreover, if he decides to further his studies, he will be privileged to be funded by the Navy. "The Navy would also fund my Masters or Doctorate if I so choose, or any other certifications that I am interested in," added Kenneth.
On top of that, healthcare services are guaranteed for a Navy officer. He also admitted that other benefits are more indirect and superficial. For example, he will be given a leeway to check in a lot more bags when flying around, skip the Transportation Security Administration (TSA) lines, waived fees and discounts on credit cards and selected retail outlets and the list goes on.
An unfulfilled dream
Although commissioned as a US Navy officer, Kenneth has a milestone that he has yet to achieve.
"While pursuing my degree programme in Florida, I was keen on enrolling myself in an additional flight training programme but never got to it as I had insufficient funds. I hope one day, when time permits, I will be able to tick that off my bucket list," concluded Kenneth.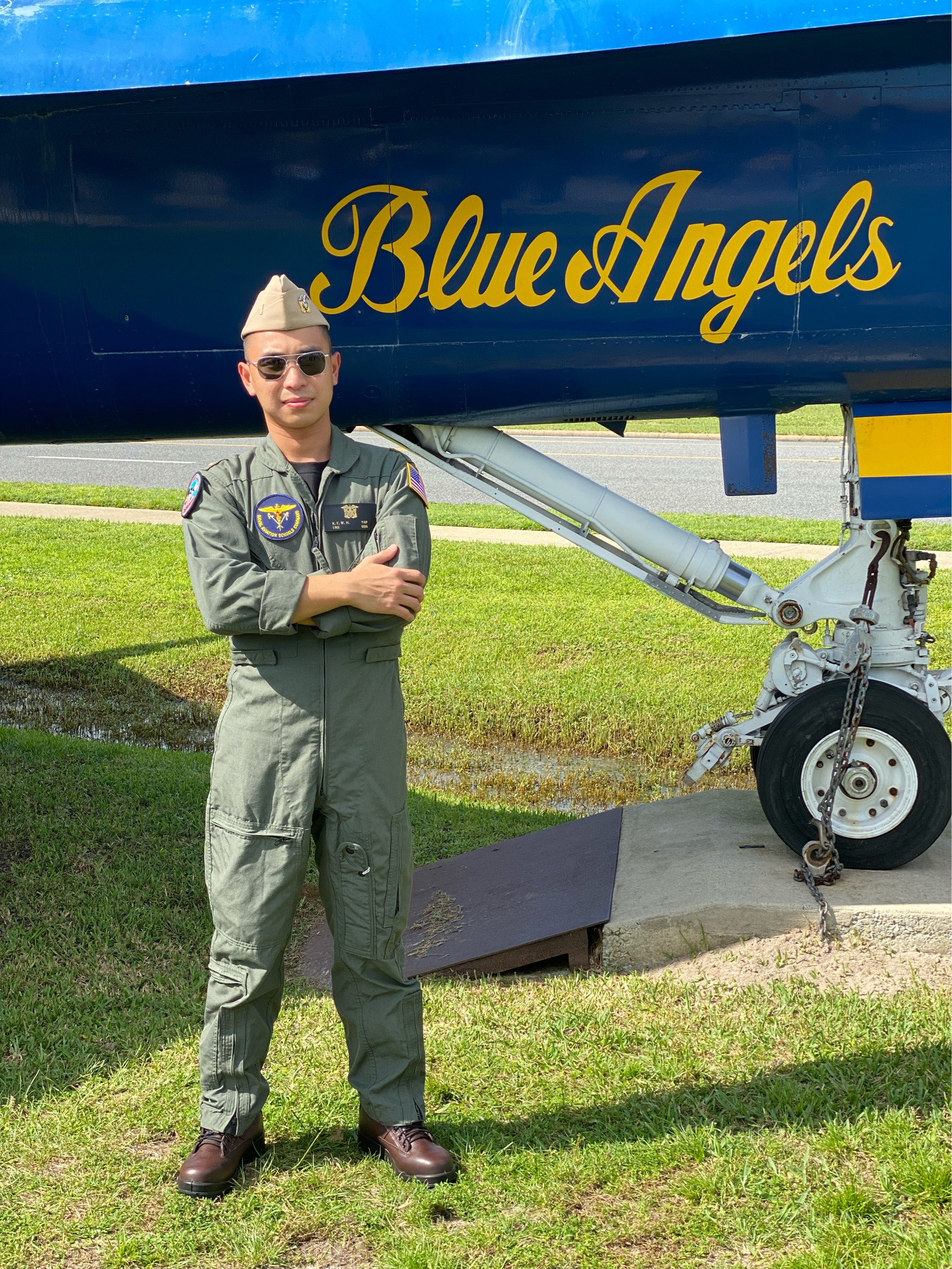 Kenneth Francis Yap Wei Haan at 'Flight Suit Friday', a tradition and celebration of wearing the suit for the first time after passing ground exams.