The COVID-19 pandemic has dramatically impacted and disrupted the daily lives of many homes and local communities. With a commitment to help those in need, students from INTI International College Penang's Leo Club continued their effort through the Box of Hope project.
The initiative, which ran from 1 August to 31 August 2021, encouraged people to support one another, especially during these uncertain times. Combining efforts to put together emergency food boxes has helped them to address food shortages locally and ensure that food is received by those who need it most during the pandemic.
Project coordinator Chou Xin Yi oversees an organising made up of members including Carol Uh Kai Rou, Erica Chuah Sze Jin, Shanon Ooi Jing Mei, Teoh Jin Lun, and Evelyn Gan Ee Ting.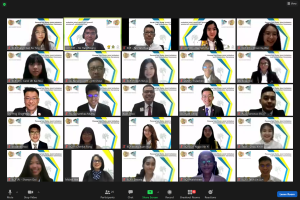 Students from INTI International College Penang's Leo Club.
"So many things happening in the world right now and we felt a need to do something. Many people are affected, and some even began looking for food in garbage cans late at night. This situation broke my heart.
"Even though many food banks have sprung up to assist, news reports show big crowds forming at the food banks, increasing the risk of virus spread. Thus, we came up with the brilliant idea of harnessing community power.
"With help from the community, this situation can be improved. The Box of Hope project will allow people to get the help they need while still maintaining social distancing," said Xin Yi.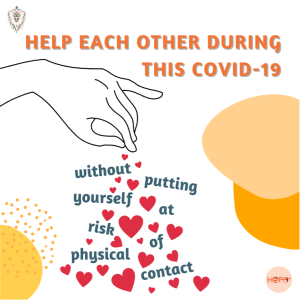 The goal of the Box of Hope project is to assist one another during these trying times without placing anyone in danger of physical contact.
Everyone was invited to participate in the food drive by donating canned goods, dry goods, and other items. Xin Yi explained, "This initiative urges members of the community to establish their mini-contactless-food-banks to help others in their community who are in need by leaving food and supplies outside their front door."
"More food banks will be established as a result of this, and more individuals will be able to get assistance. People will no longer have to endanger their lives by gathering in one location to receive and offer assistance," she said.
In addition to the Bendera Putih campaign, #KitaJagaKita, and #RakyatJagaRakyat movements, over 53 members of the Penang community have joined the Box of Hope effort. The Leo Club team believes that recipients of the food box will appreciate the gesture after all they have been through during this challenging period.
"Some participants sent us photos with the food box they prepared, and their smiles were so bright. Even though it's just simple stuff, they were so happy to participate. It's moments like these that keeps us going," Xin Yi enthuses.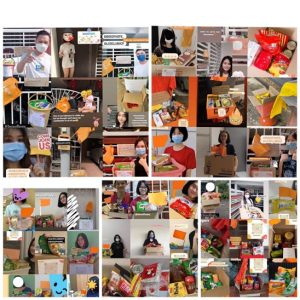 Box of Hope participants (O-rangers).
The team also organised exciting activities to promote healthy mental wellbeing via social media and urge more people to join the cause. Evelyn Gan, who is in charge of IT and Publicity, shared, "These activities include the Ah Box Weather Show, which reminded people to check the weather, and the Ah Box Game Show, which gives out limited edition Box of Hope badges to movement participants. These initiatives enabled us to have a lot of engagement with the public and encouraged them to join us."
Meanwhile, the project's secretary, Carol, said the movement has benefited and made a positive impact on the public. It reminds them that each little effort and contribution is critical, even for them as a group students.
At INTI, students and staff are always looking for ways to contribute back to the community.
Hemalatha Murugiah, Chief Executive of INTI International College Penang, said, "The global outbreak has made life difficult for people around the world. The problems faced by lower-income households have resulted in poor food intake due to a lack of income or none at all.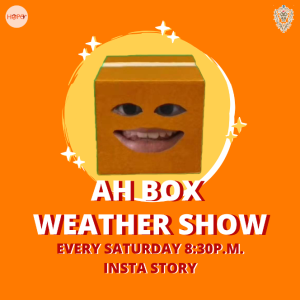 The Ah Box Weather Show promotes healthy mental wellbeing.
"It is even more important now that we ensure people in our community don't go to bed hungry. We must work together and aid those families who are most in need, especially children, so they have adequate nutrition to rebuild their lives and we can emerge stronger as a nation.
"No person or institution can exist in isolation. Serving the community, especially those closest to us, is our civic duty and responsibility as good citizens. The Box of Hope project is a tangible way for us to extend assistance to those affected by these uncertain times," Hema concluded.