The Student Action (STACT) Club of INTI International College Subang did their part for their surrounding communities by contributing sustainable garden towers to two old folks homes – the En Yuan Old Folks Home and Sungai Way Old Folks Home – in the Garden Tower of Life project.
On a mission to help the elderly in both homes achieve self-independence by managing their own green garden, the team came together to create something that the senior citizens could look forward to during the day.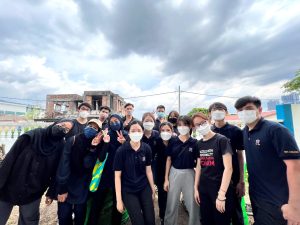 The Student Action (STACT) Club of INTI International College Subang posing at one of the old folks homes where they built sustainable garden towers.
"The garden tower is a method of planting seedlings using a tower. It allows an array of fruits and vegetables to grow in a limited amount of space. This method is especially useful when homeowners are short of space. Garden towers are sustainable as the plants will regrow and continuously provide harvest," shared 22-year-old Khong Yixiang Danny, one of the committee members of this recent initiative.
Danny further elaborated that this effort was initiated with the end goal of providing a continuous supply of food for the homes through the tower that the students helped to build.
"Using a garden tower, also known as the vertical grow system, allows you to grow food with no weeds, no soil, less disease, and there is less headache when dealing with pests.  It's almost effortless compared to traditional gardening methods. These towers also use less water, which is a plus point for the ecosystem and this method can produce up to 30% or more in yield than growing in soil," he said.
Danny also shared an interesting tip about the strategic location of the garden towers.
"If you want a successful garden, plan on placing your garden tower in a location that will receive six to eight hours of light per day. Most plants will require this for a healthy production of fruit or vegetables. If growing indoors, plan on supplying it with adequate artificial light and natural light whenever possible. Because most vertical grow systems are on wheels, you can even rotate your system if only one side of your tower receives light through a window," he added.
According to Danny, the monthly expenses of these homes can accumulate up to RM32,600, excluding medical expenses.
"The En Yuan Old Folks Home and Sungai Way Old Folks Home rely on donations from the public to run their daily operations and expenses. Therefore, efforts like these, especially by students or members of the society who are on ground to assist the elderly, will not only ease their financial troubles in the long run but will also be of great help," shared Danny who is currently pursuing his Diploma in Business at INTI International College Subang.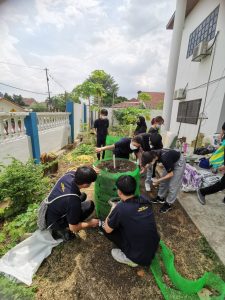 Members of the Student Action (STACT) Club busy building the garden towers which will provide senior citizens at the old folks home with nutritious and organic vegetables and fruits.
With two garden towers in each home, the management of these old folks homes will be able to provide nutritious and organic vegetables and fruits to more than 60 senior citizens for a long period.
Ng Zhi Ching from Kepong, another committee member of the Garden Tower of Life initiative, was pleased to have had the chance to take part in the project. He said, "This is our way of giving back to the community. The STACT Club did its best to help the elderly in both the homes. We hope it puts a smile on their faces and helps alleviate some of the concerns at the home."
Furthermore, access to a green outdoor or even indoor environment has been associated with better health in older people, however, little is known about the qualities of experiences in gardens that may promote health. Hence, Zhi Ching said the club contributed this effort to also stimulate and enhance the quality of life of the elderly in both the homes.
Zhi Ching, who is pursuing the Bachelor of Accounting and Finance programme in collaboration with University of Hertfordshire, UK, feels that INTI provides platforms for students to learn and grow in various ways. The Garden Tower of Life project is one such platform – teaching students to empathize and care for others in any way possible.
"This project has given us a platform to gain experiences as well as develop event organizing skills. Students with good organizational skills can create and maintain systems to keep track of information or materials. Developing this initiative from the beginning and producing a successful result was only possible with effective planning," stated Zhi Ching.
He concluded, "Our lecturers and mentors taught us that with effective planning, we could minimize the time invested in completing work, but not at the cost of the quality of the final results."