Choosing a career can be a great challenge for graduates and soon-to-be graduates worldwide. Which job skills will be in demand in the next five to ten years? Which jobs are most likely to decline under the double threats of automation and the disruptions caused by COVID-19? Young people who are uncertain about what to study and those about to embark on a new chapter in life are understandably anxious about such questions.
Higher education institutions like INTI International University & Colleges guide students in finding and building their career pathways through various projects embedded in their course structures. One such example was a collaborative project conducted between lecturers teaching Human Resource Management, Integrated Marketing, Service Marketing and Capstone Project. The project, which involved students pursuing the Diploma in Business and Diploma in Marketing programmes, is an exhibition of bite-sized video presentations or infographics.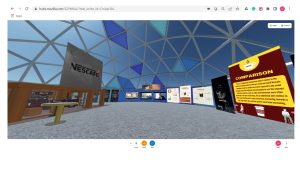 The virtual exhibition involving project outcomes of students from the School of Business and Communication brought to light trends in business, human resources, and marketing.
Claudine Shalani Kenel, a senior lecturer at INTI International College Subang's School of Business and Communication said, "The objective of this project is to enable students to understand and absorb the latest information pertaining trends and changes in the business, human resources and marketing industries."
According to Claudine, the project was designed to expose students to Hubs Mozilla, a virtual exhibition platform that is used less frequently compared to other applications like Microsoft Teams and Zoom which are utilized by most educational institutions and organizations worldwide.
"There are various features on Hubs Mozilla that individuals can explore. One will be able to import 3D models, images, videos and PDFs from all over the web including SketchFab, Google Poly, SoundCloud, Vimeo, Twitch, Crunchyroll, and more. Our intention is to introduce various online tools to students that will prepare them for their future, especially when they embark on their respective careers," added Claudine.
Guest speakers Dr. Maryam Abimbola Mikail and Dr. Idris Adewale Ahmed, who were present at the virtual exhibition to witness the final presentations, also addressed topics like trends of businesses post pandemic and insights of latest strategies in businesses post pandemic.
"Digital transformation has been touted as a priority by countless businesses for the last several years, but the term's meaning is often vague. Now that so many companies globally are digital by default, at least in terms of working remotely, using digital tools to communicate, and selling products and services digitally, the term digital transformation has some metaphorical meat on its bones. Companies understand that their entire organizations can be streamlined through the adoption of digital methods, from communication and transactions to deeper business functions," shared Dr. Maryam, founder and Chief Executive Officer of Mimia Sdn. Bhd.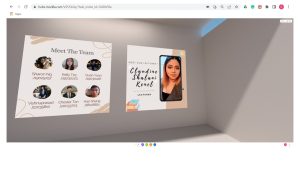 An infographic of Claudine Shalani Kenel, a senior lecturer from INTI International College Subang's School of Business and Communication (right) and her group of students, at the virtual exhibition on Hubs Mozilla.
Dr. Maryam and her husband Dr. Idris, who is co-founder of Mimia, founded the brand upon a mission to create high-quality products that are superiorly pure to nourish and revitalize one's skin. The organic products are highly concentrated and have been certified by a Good Manufacturing Practice facility .
Dr. Maryam, who has a PhD in Health Sciences from the International Islamic University Malaysia added, "With all that extra time so many of us are spending on social media, it's no surprise that influencer marketing is growing leaps and bounds. Influencers, and the brands that work with them, have a larger audience than ever before. The audience is ready to watch their reels, buy their products, and tap that heart on any post they find compelling."
A graduate of Formula Botanica, United Kingdom for training in organic skincare, Dr. Maryam is certain that the way businesses operate has undoubtedly been permanently altered, and we will continue to see these changes play out in the years to come. The challenge is to embrace these changes, using them to make companies stronger, better, and more agile.
To facilitate and survive the changing trends in businesses post pandemic, Dr. Idris shared some strategies to tackle these shifts with students to give them an outlook of the ever-evolving working environment today.
"The pandemic may have wiped our strategy slate clean or at least it feels that way, but we've also garnered invaluable experience. Now it's time to bring together the executive teams and use those lessons to reconfigure businesses and operating models for a new reality," shared Dr. Idris who is currently working as a research fellow at the Centre for Natural Products Research and Drug Discovery (CENAR), Universiti Malaya.
He further addressed the students, "From here, each organization will take its own path. Different departments within the company may have deviating ideas from one another. Some could reduce or retire specific activities; others could rescale or reinvent themselves yet more could return to their pre-pandemic baselines. As we shift from response to recovery, the key for the management teams is to make strategic decisions that will lead them to a renewed future state, however paralyzing the uncertain prospect may seem."
He explained that agile resets also build organizational resilience. As you weed out weaknesses in your business and operating models, an organisation is better positioned to weather the next disruption.
"Given the highly disrupted environment, creating a minimum viable strategy, and using adaptive strategy tools and techniques to iterate as your new normal emerges is vital. Strategic planning should be made a continual activity so it can respond quickly to the inevitable changes in the business context," ended Dr. Idris.