INTI student Ganesh Muren has risen among Malaysia's new generation of innovators and trendsetters by qualifying for the esteemed e@Stanford Program, an immersive innovation and entrepreneurship programme for startups by Stanford University, USA
Ganesh, a first year mechanical engineering degree student at INTI International University, is the founder of Saora Industries, which specialises in the development of portable solar powered water filtration systems. Following a highly competitive pitch organised by Malaysian Global Innovation & Creativity Centre (MaGIC), Saora Industries was among 20 high-potential local startups selected from a shortlist of 50 to participate in the e@Stanford Program in November 2014.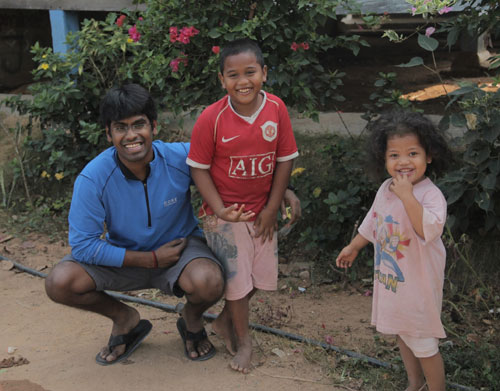 Ganesh (left) aspires to provide clean water in rural areas through his startup.
Set up to connect and encourage collaboration among entrepreneurs and increase visibility for startups, MaGIC also provides resources to individuals interested in starting a company in Malaysia. MaGIC has a partnership with Stanford University to foster and develop a vibrant startup ecosystem in Malaysia.
"e@Stanford consists of a week of immersive programme at Stanford University, followed by another week of networking in Silicon Valley. Stanford faculty and experienced entrepreneurs from Silicon Valley will be leading a hands-on and highly-interactive workshop that will provide immediate value to businesses. This will be a tremendous opportunity for Saora Industries to grow to the next level," said Ganesh whose round trip flight ticket and accommodation during the programme duration will be sponsored by MaGIC.
Ganesh will be learning from the likes of Mike Lyons, Consulting Associate Professor at Stanford University, who has taught entrepreneurship for 26 years and started nine companies as a serial entrepreneur, and Professor Tom Byers who has a decade of experience as an entrepreneur in Silicon Valley before joining Stanford's Department of Management Science & Engineering. He will also rub elbows with movers and shakers in the Silicon Valley.
Drawing upon his deep interest in renewable energy and having studied the living conditions of rural communities in Malaysia, Ganesh had devised a portable solar powered water filtration unit that is capable of providing up to 20,000 litres of clean water at a very low cost as his final year diploma in engineering project. The modular unit employs a physical filter and UV light to provide water that is safe for consumption. Ganesh has already been approached by several companies to commercialise his product.
Exemplifying the self-directed, motivated and independent learners that are nurtured at INTI via an education that empowers them with cutting edge knowledge and abilities, Ganesh currently works with a partner to develop a more advanced version of his water filtration unit. Through an approach that incorporates international exposure, innovative learning and individual development, students like Ganesh develop in-demand skills that include critical thinking, problem solving, collaboration and effective communication.
Aside from achieving personal success, students at INTI are inspired to make a real difference in the lives of others through community service, youth leadership and social responsibility. Service to others is emphasised and encouraged, which in turn allows students to develop their potentials as project leaders and productive members of society.
By virtue of being part of the global Laureate International Universities network, INTI's students have access to inspiring global events such as the Clinton Global Initiative which convenes global leaders to create and implement innovative solutions to the world's most pressing challenges, and Clinton Global Initiative University, a forum to educate and motivate young people to make a positive impact in the world.